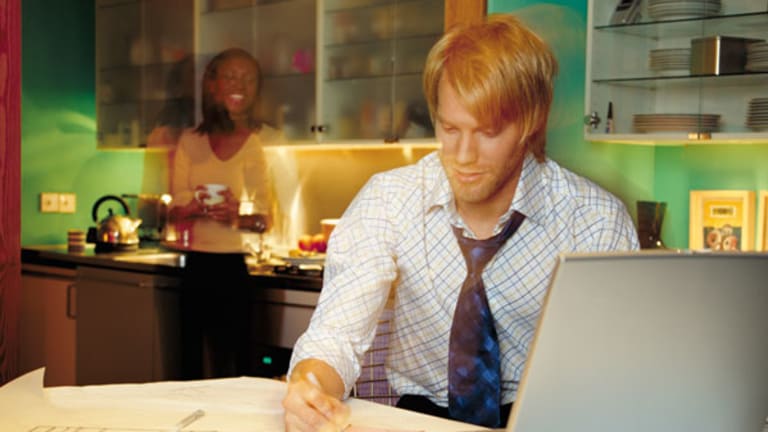 Security Software Worlds Collide
Symantec and McAfee gear up their latest consumer offerings while keeping one eye on Microsoft.
The combination of stock-option probes, a subpar first quarter and a jumbo-sized threat from
Microsoft
(MSFT) - Get Microsoft Corporation Report
have weighed on the security software sector for the past few months.
Now, companies such as
Symantec
(SYMC) - Get Symantec Corporation Report
and
McAfee
(MFE)
are gearing up to launch their latest consumer products, hoping to attract new business -- and spark their floundering stocks -- while keeping current customers from being seduced by the Redmond, Wash., behemoth at the same time.
There is still ample opportunity to gain market share in the consumer business. Fewer than half of computer users have an active subscription to antivirus software.
While it's difficult to predict which company is likely to benefit most from the looming battle for consumer dollars, those firms that can best attract customers with attractive pricing and innovation while fending off Microsoft -- and post better quarterly numbers -- should reward patient investors.
Security stocks have been essentially inert for the past nine months as investors have been unimpressed with lackluster earnings results and various other missteps.
Though McAfee
beat the Street's predictions in the last quarter, what little gains the stock made from the positive quarter were offset by the stock-options issue.
Meanwhile, Symantec shares have yet to show the benefit from its merger with Veritas last year. The stock
dropped off 26% in November after the company reported a weak September quarter, and the shares haven't been able to recover the loss since.
Game On
Microsoft launched Windows Live OneCare at the end of May, ahead of the two entrenched security firms. The debut gives the company "a chance to gain a foothold in the market," says Jonathan Singer, an industry analyst with Yankee Group.
At the same time, "Now that it's out, it's no longer a ghost," says Daniel Ives, an equity analyst with Friedman Billings Ramsey. "I think that's going to lessen some of the uncertainty in the space."
Microsoft sells OneCare, with free phone and online support for up to three computers, for $50. It sells on Amazon.com for $20.
"The Microsoft offering, at least as it stands today, is a pretty basic set of capabilities," says Frederick Ziegel, an equity analyst with Soleil Securities Group. "All of
the Microsoft features are included in the McAfee and Symantec products or offerings."
"To some degree, Microsoft is addressing yesterday's problems," he says. Yet "there are still a lot of consumers around who probably need to do something at some point, and I think that's what Microsoft sees."
Features such as automated online backup and restore, Web authentication and antiphishing tools, Ziegel says, are part of the new McAfee and Symantec suites but are not currently part of OneCare. Ziegel does not own shares of the companies mentioned, and his firm does not do investment banking.
As the fight for consumers shakes out, "I think that Symantec and McAfee will focus where Microsoft isn't -- to play up the capabilities included in Norton 360 and Falcon but not included in One Care," Ziegel says.
Many analysts generally agree that Microsoft's entry will expand the consumer security market as a whole, and that the company will likely gain the most share by attracting new customers rather than raiding the competition's.
Horatio Zambrano, an analyst with Wedbush Morgan Securities, says Microsoft's entry into the market is prompting the established players to do new things to better face the competition.
Trend Micro's
(TMIC)
new family pack is a direct response to Microsoft, he says.
McAfee, one of many tech companies hit with an
options probe, stepped out with a
beta version of its consumer suite, which is called Falcon, a few weeks ago.
The company has been delivering software as a service -- all of the companies are now moving from a product to a service model -- since 1999. About 90% of McAfee's consumer revenue is generated through McAfee.com, Ziegel says.
"The one that is most ready
for the consumer battle is McAfee," he says. "They've got a lot of time and experience delivering what the other two are just getting ready to do."
McAfee has four levels of security products in its Falcon suite, which will range in price from around $40 to $100, according to a recent Soleil note.
In addition to selling software as a service to consumers, vendors also are making deals to bundle security products on PCs at the point of sale, or selling security to Internet service providers, which then provide the technology to their subscribers.
"McAfee is very strong with ISPs," says John Pescatore, a security analyst with Gartner, noting that one of their customers is
Time Warner's
(TWX)
AOL. "I think it's more important that they focus on protecting those ISP and OEM channels than releasing the newest products."
The ISP channel is critical because as long as customers keep paying for Internet service, they are paying for antivirus protection, Pescatore said. "It's a much higher renewal rate." Gartner analysts don't own shares of the companies they cover, and the firm doesn't do investment banking.
Still, analysts say that the ISP channel is where Microsoft could make gains.
Microsoft is "very good at competing on prices," Yankee Group's Singer says. "
Price would be the major factor when ISPs make a decision. That's certainly an area where Microsoft can look to gain a bit of market share."
Microsoft has already inked a deal with
Qwest Communications
(Q)
to provide broadband subscribers with OneCare services.
Symantec's Norton 360 will be released in beta this summer, but the final product may not be ready until early 2007, depending on the success of the beta test and subsequent user feedback, the company has said.
"I think there's more execution risk with Symantec now," Zambrano says. The company is still working on its Veritas integration, and there is product-delivery risk. The company is reorienting its consumer product as a subscription service, and that's new for it.
Symantec "is going to look very attractive in 2007 if they can get these products out," Zambrano says.
And Symantec has the consumer name-brand recognition -- Norton -- that should help it, Pescatore says. It also has the largest installed base in the consumer security market, and he thinks the company is still in the strongest position in terms of selling software directly to the consumer. Soleil's Ziegel reports that McAfee currently has 19 million consumer subscribers and Symantec has 50 million users.
Despite Microsoft's thick wallet, McAfee and Symantec have the advantage as incumbents. Customers who have a comfort level with a certain security provider are likely to stay with them, Ives says.
Microsoft will gain share in the consumer market, but "the bark is going to be worse than the bite," Ives says.
New products aside, results are what will really spark the fledgling security stocks, Ives said. "With Symantec, they just need to put together a few good quarters in a row to get investors confident again," he says. "Now it's just about execution." His firm seeks to do business with the companies it covers in its research reports.
"Neither McAfee or Symantec is going to die," Zambrano says.