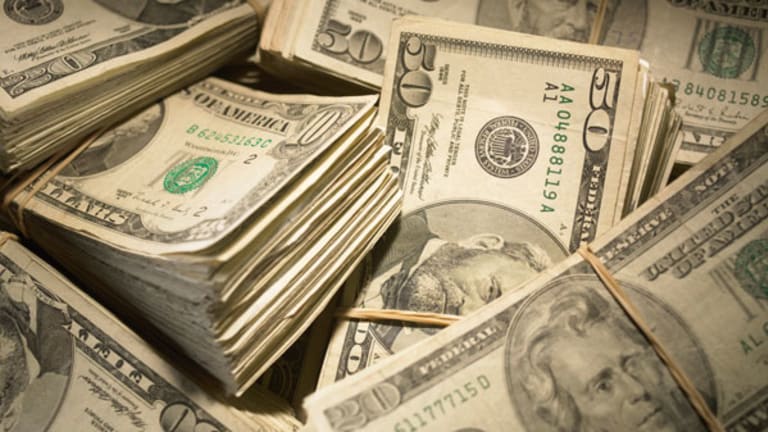 Publish date:
SeaWorld, Foot Locker Stocks Moving Higher Today
SeaWorld jumps after analyst says animal concerns will abate, while Foot Locker rises on an earnings beat.
SeaWorld jumps after analyst says animal concerns will abate, while Foot Locker rises on an earnings beat.
NEW YORK (TheStreet) -- Shares of SeaWorld (SEAS) - Get Report are rising after research firm FBR Capital upgraded the stock to Buy from Neutral, saying that concerns about the company's treatment of its animals are likely to fade.
WHAT'S NEW: Concerns about how SeaWorld treats its animals are the main reason for the company's weak operating results this summer and the 30%-plus decline in the stock, FBR Capital analyst Barton Crockett wrote in a note to investors today. Sparked by publicity around a critical movie and a bill in the California legislature, the concerns led to a drop of more than 15% in revenue at the company's San Diego park this summer, Crockett estimated. But SeaWorld has overcome similar bouts of bad publicity in the past, and its stepped up marketing efforts - along with its opening of larger, more natural environments for its killer whales at three of its parks - should give the company a boost, the analyst believes. He placed a $26 price target on the shares.
WHAT'S NOTABLE: On August 13, SeaWorld reported much weaker than expected Q2 results, and the stock closed at $18.90 that day, sharply down from its closing price of $28.15 on the previous day.
PRICE ACTION: In early trading, SeaWorld rose 3% to $19.50. The stock has tumbled over 30% so far this year.
Foot Locker jumps after earnings beat expectations
Shares of shoe and apparel retailer Foot Locker (FL) - Get Report are higher after the company reported second quarter earnings which exceeded analysts' expectations.
WHAT'S NEW: Foot Locker reported Q2 adjusted earnings per share of 64c, which surpassed analysts' consensus of 54c. The company's Q2 revenue was $1.64B, which was higher than analysts' consensus of$1.57B. Foot Locker's same-store-sales increased 7% and its gross margin rate was up 32% for the quarter.
WHAT'S NOTABLE: During the company's conference call, Foot Locker said third quarter comparable sales are positioned to experience mid-single digit gains. The company noted that it is making "good progress" on maintaining a "solid" flow of inventory and its inventory overall is well-positioned for the upcoming back-to-school and fall seasons. Foot Locker is still on-track to close just over 100 stores this year, but some closures are expected to happen at the beginning of FY15. The retailer is projecting to open 80 stores this year mostly in Europe and Kids Foot Locker, which is an increase from the company's initial projection of opening 60 stores. A high-single digit comparable sales gain has been experienced by the company so far in August. It anticipates a SG&A improvement of 30-40 basis points and gross margins to be up 20-40 basis points in Q3.
ANALYST OPINION: Two days ago, Canaccord said that they were positive on Foot Locker prior to Q2 earnings results since they foresaw the results to be "solid." The firm felt that the retailer was "well-positioned" to still benefit from its target of expanding toward casual athletic footwear. The firm maintained a $56 price target on Foot Locker with a Buy rating. Yesterday, UBS increased its price target on Foot Locker to $58 from $54 right before the retailer announced its Q2 results. The firm anticipated higher than expected earnings, positive SSS trends and the potential for increased guidance and valuation. UBS kept Foot Locker with a Buy rating.
OTHERS TO WATCH: Foot Locker competitor Finish Line (FINL) is scheduled to report its Q2 quarter earnings on September 25. PRICE ACTION: During morning trading, Foot Locker shares rose $1.60 or just over 3%, to $54.17, and Finish Line shares rose 19c, or 0.65%, to $29.62.
Reporting by Larry Ramer and Gina Gioldassis.
The Fly
provides comprehensive coverage of stock news and Street research and delivers it in real-time. The Fly breaks market-moving news and explains sudden stock movements in a rapid-fire, short-form story format. Follow @theflynews on Twitter. For a free trial, click