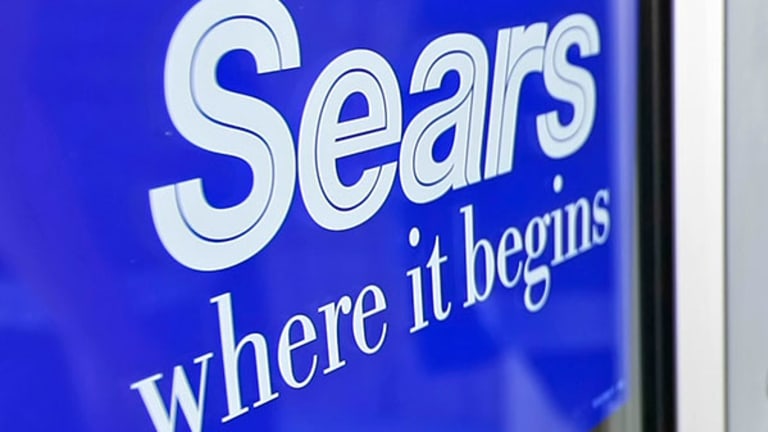 Sears Announces Dozens of Store Closures Amid Financial Woes
The plan to close 68 Kmarts and 10 Sears locations comes days after Sears entered into a $500-million loan facility to help meet financial obligations.
This article originally appeared Thursday on Real Money.
It's looking like death by a thousand cuts for Sears Holdings (SHLD) -- or, rather, death by 78 cuts.
The Chicago-based retailer announced after Thursday's market close that it plans to close 68 Kmart stores and 10 Sears locations over the next few months in an effort to return to profitability. The first store closures will occur by the end of this month and the bulk of the stores are expected to close in July.
"The decision to close stores is a difficult but necessary step as we take aggressive actions to strengthen our company, fund our transformation and restore Sears Holdings to profitability," CEO Edward Lampert said in a prepared statement.
Shares of the company rose as much as 6% in after-hours trading Thursday, up from Thursday's closing price of $18.01. In Friday morning trading, shares were up 2.2% to $18.41.
The stores to be closed are spread out throughout the country, including 6 Kmarts in Ohio, Pennsylvania and Illinois; 5 in Kentucky; and 4 in Alabama and California. As for the Sears closures, 2 are in New York and 2 in Pennsylvania, with the rest coming in a number of other states. A complete list of stores that will be closed can be found here.
The closing Kmarts will start their liquidation sales on May 12, while the shuttering Sears will start their sales on April 29, according to the company.
Employees affected by the store closures will receive severance and are invited to apply for open positions with the troubled retailer.
Thursday's announcement comes days after Sears entered into a $500 million loan facility, which bears an 8% interest rate, to help it meet financial obligations and execute its transformation. Of the $500 million Sears received, half of it was already founded by Cascade Investment, a Kirkland Wa., based investment firm that manages Bill Gates' money and ESL Investments, a firm controlled by Edward Lampert.
The already-funded portion is secured by the mortgages of 13 Sears properties and the remaining half will be secured by eight additional mortgages when the company makes future drawdowns.

Sears also closed on $750 million term loan earlier this month, bringing the total amount of capital it has raised to right itself to just over $1.2 billion. The proceeds of the term loan are expected to be used to pay off existing debts under its credit facility. When the term loan was announced, Moody's Investor's Services said it would improve Sears' liquidity, while Fitch Ratings said the new loan does not change the company's credit story.
Moody's rates Sears Caa1 and Fitch rates the company CC, both are well below investment grade.

Sears is also facing trouble from its underfunded pension. Last month it announced it entered into a five-year protection and forbearance agreement with the Pension Benefit Guaranty Corp.
Under the agreement, some of Sears' real estate and intellectual property assets will be protected unless it defaults on certain covenants under its agreement with the PBGC.
(The covenants require that Sears continue to make contributions to the plan and stay solvent, for example.)