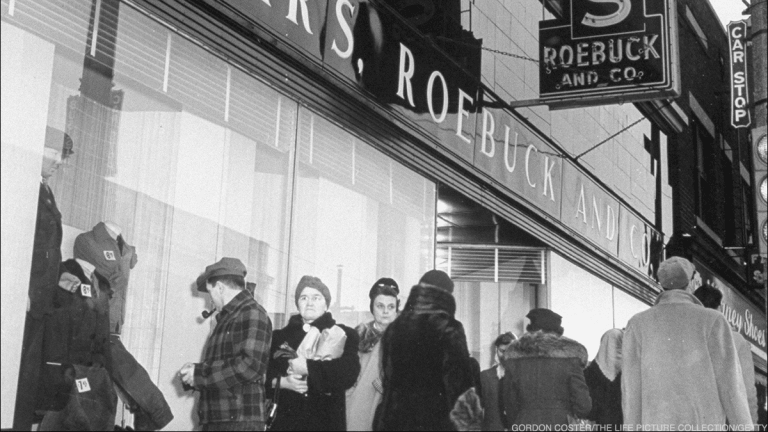 Sears Chairman Reportedly Makes Last-Minute $4.4 Billion Bid for Iconic Chain
Chairman Eddie Lampert was said to make offer right at the deadline for keeping 125-year-old retailer out of Chapter 7.
Sears Holdings (SHLDQ) -- once famed for its iconic catalog and department stores -- narrowly averted liquidating when Eddie Lampert, company chair, made a last-minute $4.4 billion bid to buy and save the company, according to multiple reports.
Lampert made the bid through his hedge fund, ESL Investments, according to CNBC, which cited people familiar with the deal. Reuters and Bloomberg posted similar reports about the bid Friday evening.
A representative at ESL Investments referred inquiries to two spokesmen who did not return requests for comment from TheStreet.
Earlier this month Lampert proposed to tentatively buy Sears for $4.6 billion. No other official bid had appeared by Friday.
Bloomberg reported late Friday that Lampert was seeking additional time to secure financing for the bid to save Sears, and Reuters also reported that Bank of America Corp. (BAC) , Citigroup Inc. (C) and Royal Bank of Canada (RY) would put up a "$950 million asset-based loan" and $350 million in revolving credit for the offer.
CNBC reported that the chairman's proposal called for ESL Investments to purchase 425 Sears stores, offering employment to up to 50,000 of the chain's 68,000 current employees.
Bids to acquire the retailer had been due in U.S. Bankruptcy Court on Friday afternoon. Lampert's previous proposal was the only bid -- but he hadn't formally filed it with the court amid questions about financing and other issues. The deadline for deciding on "qualified" bidders is Jan. 4, and if a bid by ESL Investments passes that hurdle, an auction would be slated for Jan. 14. 
Without an accepted bid from ESL Investments -- the chain's largest creditor and shareholder --liquidators would break the company into pieces.
Lampert's proposal has been criticized by the unsecured creditors committee because it releases Lampert and others from future lawsuits related to their oversight of Sears before the bankruptcy filing.
At the time of its October bankruptcy filing, Sears operated fewer than 700 Sears and Kmart stores. Just before the bid news, Sears said it was closing 80 Sears and Kmart stores later in 2019, in addition to the 40 previously announced stores to close next year, too.
Liquidation firms Tiger Capital Group LLC and Great American Group LLC have teamed up, and Gordon Brothers Retail Partners LLC and Hilco Global Merchant Resources LLC have joined forces in submitting bids, The Wall Street Journal reported.
Retail-stocks columnist Jonathan Heller ofReal Money, TheStreet's premium site for active traders, held out little hope for Sears, which acquired Kmart for $11 billion in 2004.
"I don't see Sears surviving and believe it will be liquidated," Heller said. "It's been one of the longest, slowest deaths of an American icon that we've seen; a very slow train wreck. Growing up in the 1970s, the Sears Wish book catalogue was everything -- I can still see the GI Joe layouts. The Kmart acquisition may go down as one of the worst ever. It's sad, but we've seen it coming for years -- all but a forgone conclusion."
Heller said Sears, founded by Richard Warren Sears and Alvah Curtis Roebuck in 1893, has been surpassed by other retailers.
"I recently went into our local Sears store, which used to be a mall anchor store," he said. "It was in the process of being closed, and everything was on sale. It was a sad shell of its former self.
"Unfortunately, there was simply no reason to shop at Sears any longer -- has not been in years, in my view," he said. "Home Depot and Lowe's took over as leaders in home appliances, which used to be huge for Sears. Land's End products in the stores was a draw for a while, but that could not save them."
Sears' rival J.C. Penney (JCP) is also under pressure, as it saw its shares dip below a $1 for the first time ever on Wednesday.
Adam Smith contributed to this story.
(This article has been updated.)