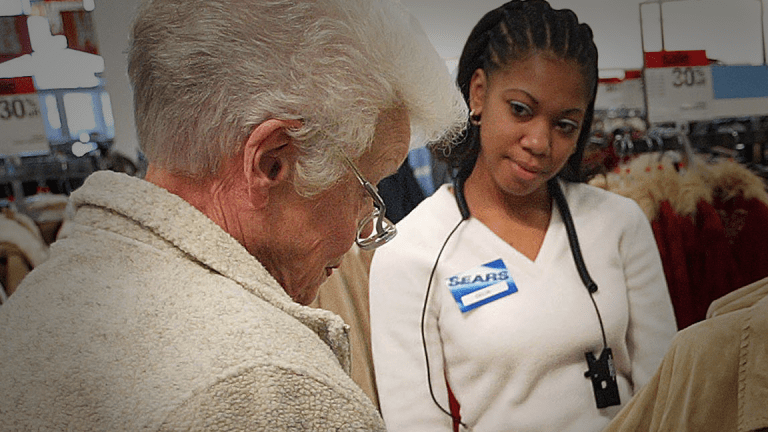 Service.com Bids for Sears Home Improvement Business
The retailer looks to sell its Sears Home Improvement Products business to Service.com for $60 million, subject to an auction, as its sale process gets underway in earnest.
The retailer looks to sell its Sears Home Improvement Products business to Service.com for $60 million, subject to an auction, as its sale process gets underway in earnest.
The most tangible signs to date of Sears Holdings Corp.'s sale effort appeared last week, with motions to aid asset sales and sell its Sears Home Improvement Products business.
The retail giant on Saturday filed court papers to sell the Longwood, Fla.-based unit, centered on a $60 million lead offer from Service.com Inc. The SHIP business provides home improvement services through more than 2,000 professionals and independent contractors.
Court papers show Service.com would pay $60 million, subject to adjustment, for the SHIP unit and would assume certain liabilities. The Farmington Hills, Mich.-based bidder, which connects homeowners with professionals for home improvement projects, would receive a 1.5% breakup fee if it lost at auction.
Interested parties would have until Dec. 11 to match Service.com's bid plus the breakup fee and deposit 10%. If Sears received a rival offer, it would hold an auction on Dec. 13.
Judge Robert D. Drain of the U.S. Bankruptcy Court for the Southern District of New York in White Plains would consider approving the sale on Dec. 18. Sears in a Saturday statement anticipated the transaction would close by early January.
Drain is set on Nov. 15 to consider the proposed bidding procedures for the business. At the same hearing he is scheduled to weigh a motion to aid all asset sales and a request for final use of bankruptcy financing.
On Oct. 15, Drain approved interim use of a $1.83 billion senior bankruptcy loan. Reuters reported on Sunday the lenders might reduce the new money in the final loan to $150 million in connection with a potential $450 million loan from Sears chairman, creditor and shareholder Eddie Lampert and other parties.
The motions filed last week are the first formal steps toward what Sears has said is a necessary paring of its operations.
"As previously discussed, these Chapter 11 cases must progress with all deliberate speed to stem the substantial operating losses that will continue to decrease the value of the debtors' estates," the retailer wrote in its global bid procedures motion on Thursday. "Accordingly, the prompt consummation of sale transactions that will maximize value for the debtors' estates and preserve as many jobs as possible is a cornerstone of the debtors' Chapter 11 strategy."
In its most recent motion, Sears said it has been marketing the SHIP business since January and that it received indications of interest this summer, including from Lampert's ESL Investments Inc. Indeed, Securities and Exchange Commission filings show Lampert in April proposed acquiring the SHIP unit and Sears' Parts Direct appliance division for $500 million and Sears divesting Kenmore. In August, he offered $70 million for SHIP, plus a potential $10 million contingent payment.
Sears, though, said it had determined Service.com's bid was the best offer and had made substantial progress negotiating terms of the transaction when the Hoffman Estates, Ill.-based retail giant entered Chapter 11 on Oct. 15. Sears asserted it was critical to sell the operation separately from the rest of its assets, as it has begun to deteriorate since the bankruptcy case began.
The retailer sought court protection ahead of a looming debt repayment with plans to close 142 stores and reorganize or sell its core locations. It looks to secure a lead bid for roughly 400 "go forward" stores by Dec. 15 and hold an auction by Feb. 2.
Sears's shares, once traded on Nasdaq, now change hands on the Pink tier of OTC Markets under ticker symbol (SHLDQ) . On Monday morning shares were at 19.1 cents, down 3.05%.
A Sears representative and its legal counsel did not immediately return requests for comment.
Want to Buy Stocks for a 10% or Greater Discount? You can with certain so-called closed-end mutual funds -- an often overlooked investment class. Click here to register for a free online video in which TheStreet's retirement expert Robert Powell and an all-star panel run down all you need to know.