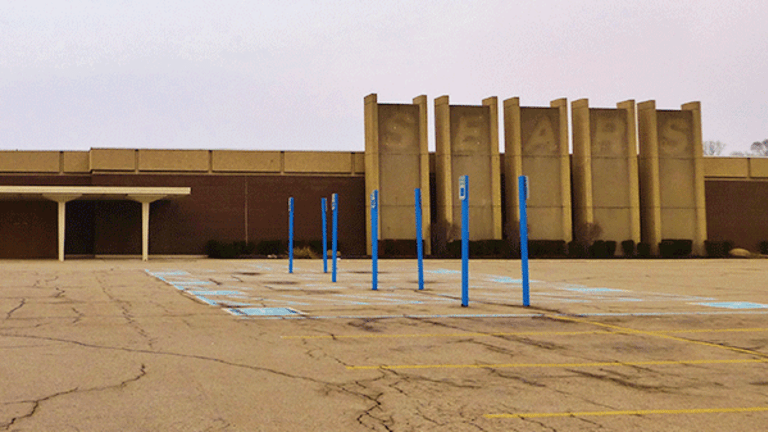 Sears Is Going Down in Flames So Look Out, It's Going to Be Messy
Bottom line.
Pay careful attention folks: Sears Holdings  (SHLD) is indicating to us all that it may have a very tragic ending at some point this year. 
The dying department store chain is reportedly closing another 66 stores in a bid to cut costs and try to stay in business a little longer. In short, the company is signaling that its efforts to preserve cash aren't enough. And best believe that Sears needs cash, and incredibly fast, as TheStreethas reported at length recently. 
"Sears' declining cash balance heightens its need to continue to source $2 billion of liquidity annually," David Silverman, Senior Director, U.S. Corporates at Fitch Ratings tells TheStreet. "The company's ability to continue to operate is dependent on their ability to continue finding these sources -- it currently has a number of unencumbered store locations which could be monetized."
And Sears may want to get moving on finding buyers for those properties, and brands such as Kenmore and DieHard.
Sears' cash fell to $264 million in the first quarter from $286 million to end 2016. For its part, Sears says it has $3.7 billion in total liquidity that likely reflects its inventories, cash and credit availability.
According to financial analyst Brian Sheehy of Iszo Capital, Sears is burning through $189 million a month in cash. The company only had $70 million left on its credit revolver and $264 million in cash, for liquidity of $334 million, for the quarter ending April 29, per Sheehy's calculations. As a result, Sheehy said Sears could be about to run out of cash sometime within the next month assuming its current burn rate.
Shares fell 2.6% to $6.67 on Wednesday in early afternoon trading.
Said Moody's vice president and senior analyst Christina Boni,"Clearly Sears' business is under pressure." 
The death spiral for Sears is about to kick into warp overdrive. Get ready business news writers.
Read This Or Lose Out
Tesla's (TSLA) - Get Tesla Inc Report stock valuation is insane. Yes, insane. Definitely agree with activist investor David Einhorn on this front. But Elon Musk's ability to drive hype about the company's future continues to be downright impressive. As long as this guy is at the helm, and if sales for new cars don't whiff, it's going to be hard to send Tesla shares down 80% anytime soon. Very Apple (AAPL) - Get Apple Inc. Report Steve Jobs-like is Musk. 
New battery factories, new cars are just some ways Musk captured investor attention and headlines at its shareholders meeting Tuesday evening. Read all of the TheStreet coverage of Tesla here.
Appleis a holding in Jim Cramer'sAction Alerts PLUS Charitable Trust Portfolio. Want to be alerted before Cramer buys or sellsAAPL?Learn more now.
Click here for the latest business headlines.
(This article originally appeared on Real Money on June 7, our premium site for active traders. Click here to get great columns like this from Jim Cramer and other writers even earlier in the trading day.)
Read More Trending Articles:
Tesla Is More Like Amazon and Netflix Than You Think