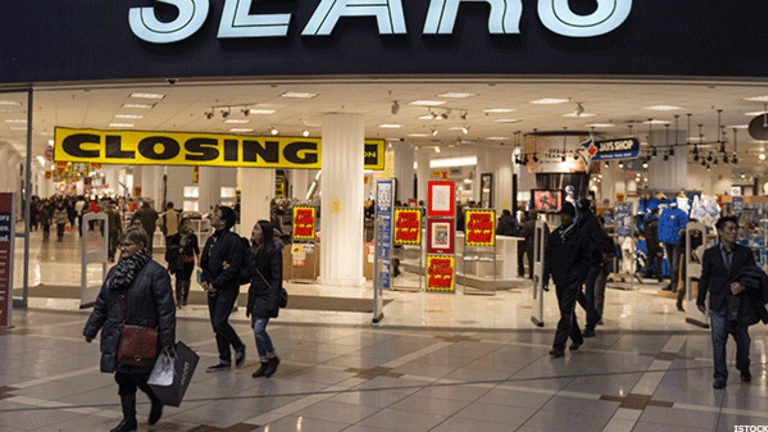 Sears Accepts $300 Million in Debt Financing to Shore Up Balance Sheet
Sears is getting more help with its debt after a dismal quarter.
This article is part of a Real Money series on 20 companies investors should consider adding to their distressed watch list.
Newly designated Stressed Out company Sears Holdings (SHLD) reported yet another dismal quarter as the losses just keep piling on. But the company is getting some more help with its debt.
"The single biggest thing that stood out to me from the company's dreadful second quarter was the dangerously low cash balances," wroteTheStreet's Brian Sozzi on Thursday.
Sears reported only $276 million in cash and equivalents, a decline from $1.8 billion a year prior. The retailer also has an unsustainable debt load, which totaled $3.35 billion as of this latest quarter. Sozzi called Sears "the worst stock on the planet" following the quarterly results.
But to address its low cash balances and massive debt, Sears accepted an offer from ELS Investments to provide $300 million of additional debt financing secured by a junior lien against its inventory. The offer is expected to close in seven to 10 business days.
"Under the ESL proposal, the company may, in its discretion, offer to third-party investors the right to participate up to an incremental $200 million of debt financing on the same terms and conditions," CFO Rob Schiesheim said during the conference call with analysts Thursday.
Considering the $300 million in debt financing is a step in the right direction for Sears, Schiesheim is optimistic about Sears meeting all of its financial obligations while also funding its transformation.
"We have financing resources available to us under our credit facility, our second lien debt capacity, and our unencumbered real estate assets," Schiesheim said.
But from the first quarter to the second quarter, Sears reduced its net debt by just a fraction -- approximately $260 million. And, moving through the year, the company expects to increase its borrowing capacity by $475 million to $575 million, citing growth in the borrowing base and changes to the Fixed Charge Coverage Ratio, a measure used to examine the extent to which fixed costs consume the cash flow of the business.
So while Sears is working to revamp its stores and stay afloat financially, debt continues to dominate its balance sheet.
This article was first published on Real Money at 12:58 p.m. on Aug. 25.