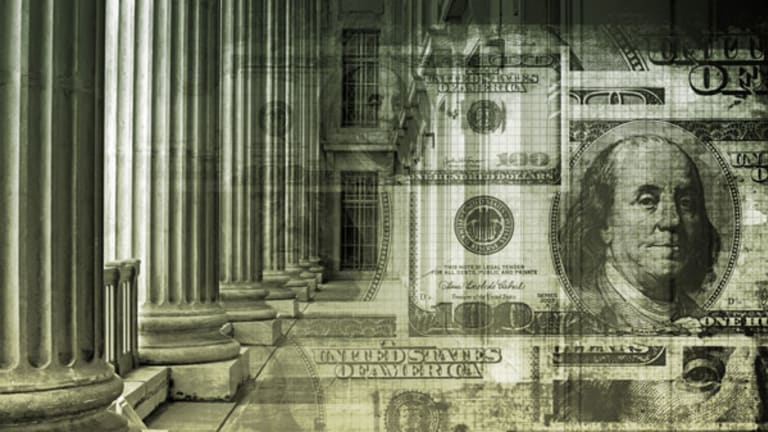 Searching For An Investment? China's Baidu Offers Big Growth Potential
Baidu, China's largest search engine provider, serves one of the world's largest populations and has done a good job of embracing innovation.
NEW YORK (TheStreet) -- Just like Google (GOOG) - Get Report (GOOGL) - Get Report   is primarily known for its search engine, so is Baidu (BIDU) - Get Report , China's largest search engine provider. Yet Baidu is likely the better buy for investors.
Baidu, which is focused on the Chinese-language audience, is largely unknown outside China and offers a range of products and services. Some analysts see significant potential for expansion because of the size of its potential customer base and willingness to embrace innovation.
 "You can still buy Baidu relatively cheaply at a $76 billion market capital and that it is projected to experience 41 percent growth in 2015 while Google is quite expensive at $360 billion market cap with smaller growth potential for 2015," said Gregory Sichenzia, a founding member of Sichenzia Ross Friedman Ference. "For this reason, Baidu is the better buy for stock investors, as Google, being a more mature company, is limited in upside for investors." 
 Others are more cautiously positive.
"We view Baidu as a microeconomic story set against the huge macro backdrop that is the Chinese consumer, internet, e-commerce and m-commerce markets," said Mathew Dahlberg, owner of Kansas City-based 111th Street Investments, adding that," While we are positive on the stock, at a 2015 forward P/E ratio of around 32%, the stock may be a tad expensive. However the PEG ratio is only barely above 1.0, which indicates that the stock is not too overpriced, as long as revenue and earnings growth can deliver."
Baidu offers comparable services to Google in many areas, with its own search and click-based advertising programs, maps, forums, video streaming and more. But should investors consider Baidu over Google stock?
Mandarin is also the world's most widely spoken language with more than a billion speakers. China's internet audience has more than 600 million active users. It is no wonder than U.S. companies want a piece of this market and Baidu seems to encourage it, making its cloud developer platform available in English and including a mobile and cloud test environment before final release. Sichenzia said that this willingness to reach out to new customer bases coupled with the size of its existing base indicate its room for growth. 
"There have been some negative connotations over China-based public companies but I would absolutely recommend Baidu as a buy," Sichenzia said. "The Chinese and Asian market represents well over 1 billion people which is almost four times larger than the United States market. Any market leader in a market of that size is a good bet."
Baidu, like Google understands that innovation is essential in an evolving technology field and Baidu is already integrating artificial intelligence and deep learning into some of its product offerings. Image and speech recognition technology are of more than passing interest to search engine companies as they enhance the user experience, making it more interactive and convenient than before. Baidu seems no less committed to research and development than Google in these areas.
In 2014, Baidu surpassed market leaders in both speech and image recognition, achieving impressive results with a supercomputer named Minwa that has several times more processing power than the one used in the Google Brain project. Baidu's research team is now led by Andrew Ng, formerly of the Google Brain project and director of Stanford University's artificial intelligence lab.
When it comes to acquisitions, Baidu does not lag behind the competition, as evidenced by its 85.63 percent revenue share among search engine providers in China. Google China is currently 4.78 percent. Google's relatively small share may be partly due to its stance on censorship that resulted in Google moving its search engine operations to Hong Kong.
In 2014 alone, Baidu purchased Peixi Urbano, (a Brazilian shopping portal with more than 30,000 merchant partners,) and 99Bill.com (an online payment service provider.) It has also invested in Indoor Atlas (a mapping software manufacturer) and Pixellot (a sports video production startup.) All of these tie into existing services and should increase company revenue both inside and outside China.
"Baidu is also an attractive investment vehicle for investors due largely to the way it is differentiating itself from competitors in the industry," Sichenzia said. "Just last month, Baidu invested a reported $300 million into R&D efforts, specifically around an artificial intelligence project, and recently they partnered with Hyundai in an effort to launch connected cars."
Baidu's most recent investment was in Uber, an app-based transportation network and taxi company with headquarters in San Francisco. Some speculate that Baidu invested $600 million in Uber but neither party has provided confirmation.
"Baidu is attaching itself to credible projects and companies in burgeoning industries, which will likely resonate with investors seeking tremendous upside," said Sichenzia.
To be sure, all these acquisitions and investments could generate investor risk. Dahlberg will be watching the company's execution of its strategy and ability to expand in a cost efficient manner, along with developments in the Chinese regulatory environment and currency risks. 
"We feel it will be very important to see that management can execute the current strategy, especially containing costs as the integration of past acquisitions and forays into new revenue streams weigh," said Dahlberg.
This article is commentary by an independent contributor. At the time of publication, the author held no position in the stocks mentioned.