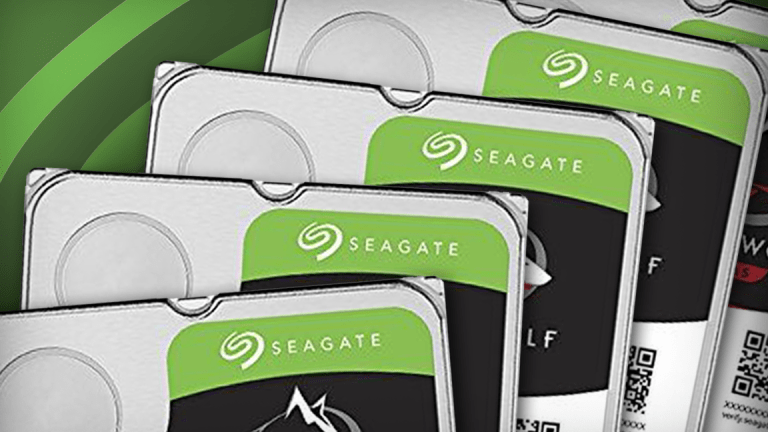 Seagate Technology Slips After Earnings Slide
Net income falls more than 50% at the data storage company in its fiscal first quarter.
Shares of Seagate Technology (STX) - Get Report slipped Friday, after the data storage company reported declines in profit and revenue for its fiscal first quarter ended Oct. 4.
Net income totaled $200 million, or 74 cents per share, down from $450 million, or $1.54 per share, a year earlier. Revenue was $2.58 billion, down from $2.99 billion.
Not surprisingly, the Cupertino, California-based company accentuated the positive.
"Seagate had a solid start to the fiscal year; we grew revenue, expanded non-GAAP operating income, and increased non-GAAP EPS quarter-over-quarter reflecting our focus on optimizing profitability to drive free cash flow," CEO Dave Mosley said in a statement.
"Exabyte shipments were near record levels in the first quarter driven by improving demand conditions for mass capacity storage. We are ramping shipments of our industry-capacity-leading, 16-terabyte drives to support strong customer demand."
Mosley acknowledged difficult global business conditions, but said "our innovative technology roadmap makes us well positioned to capture current and future mass capacity storage demand."
Seagate shares traded at $57.44, down 1.02%. The stock has rise 49% year to date.
Morningstar analyst Seth Sherwood sees Seagate as overvalued, giving it two stars out of a possible five. Before the earnings report he put fair value at $42.
"Seagate Technology is one of two leaders in the hard disk drive market. However, as the storage industry has been transitioning to solid-state drives, that leadership has provided less benefit," he wrote last month. "We do not believe the firm has an economic moat."
The author owns no Seagate shares.