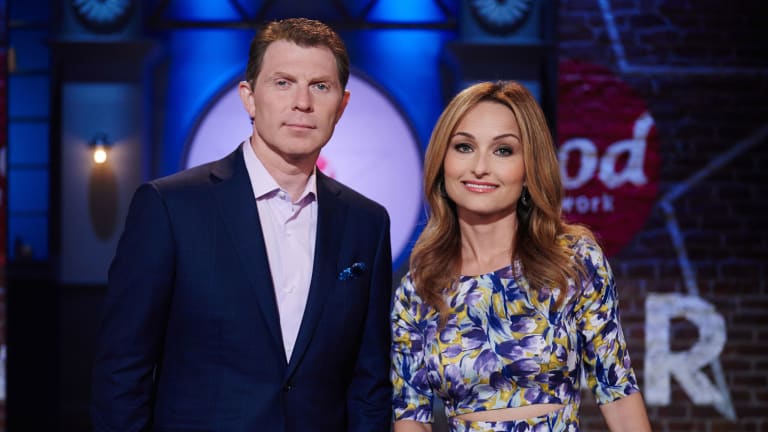 Scripps' Food Network Tweets Its Way to Strong Quarter, Content Costs Still Sore Spot
The Food Network ranks only behind ESPN and Amazon in how it is perceived.
The Food Network ranks only behind ESPN and Amazon in how it is perceived.
Foodies are buzzing about the Food Network.
The food orientated cable channel proved to the golden goose when Scripps Interactive Network (SNI) reported earnings Tuesday morning as the company said the Food Network's ratings for total day 25 year old to 54 year old viewers grew 4% compared to the prior year quarter. It also performed well in the second quarter, with revenues growing 5.6% to $240.1 million from about $228 million, the company reported on Tuesday.
Food Network was ranked as the third most social friendly brand, falling behind only ESPN and Amazon, according to a ranking by technology and data company Engagement Labs.
Food Network remains popular with a large audience.
The Food Network has nearly 10.5 million likes on Facebook, 4.14 million followers on Twitter - over 1.5 million more than CNBC. It also platforms itself on Vine and Instagram. The company's digital operations have about 40 people with 10, alone, manning the network's Snapchat.
With millennials constantly snapping pictures of their food, it isn't difficult for Food Network's content to go viral.
"We are seeing a generation not just identified by the clothes they wear but the food they eat," said Vikki Neil Senior Vice President and General Manager for Scripps digital media. "That connection to food is something really profound."
In order to gauge a company's social presence, Engagement Labs analyzed nearly 500 brands online and in conversations with nearly 36,000 individuals a year. It monitors whether conversations about the brands are positive or negative, how the brands perform among people with an influential social network, as well show often a brand's posts are shared on social media and how people are talking about promotional videos and digital content.
"A social presence something that is very hard to create over night," Neil said.
Companies cannot afford to neglect how they are perceived online and off, said Ed Keller, President at Engagement Labs and CEO of Keller Fay, a market research and consulting firm.
"Online and offline social presence is critical in terms of business performances, increasing sales for packaged goods, driving ratings for media companies," said Keller.
To what extent can social presence yield positive business outcomes? For advertisers wishing to stay culturally relevant, it's imperative, according to Keller.
"If they want to place their money on a socially active vehicle, the Food Network can broaden the definition of what a socially engaged audience is," Keller said. "The rating would suggest that it has that type of audience and is good place for advertisers to be part of."
A large social media presence may also have played a part in the company's stronger digital advertising performance for the most recent quarter. U.S. advertising revenue at Scripps grew by 9%, making it the first time that Scripps has generated $500 million in quarterly ad sales.
Companies also bank on customers staying loyal to a popular brand to avoid missing out in social situations.
"A big part of retaining customers is to what end a customer's social circle is going to be talking about it," Keller said. "It may make people think twice about cutting the cord, in The Food Network's situation, because if they do, they have just removed themselves from the conversation.
A large positive social presence may not be able to offset analysts fears.
"To grow, they need to simultaneously maintain HGTV and Food, grow Travel Channel, and decrease content investment," wrote Todd Juenger of Bernstein in a Tuesday morning note to investors. "We don't believe it's likely they can do all three."
The Knoxville, Tenn.-based media company reported earnings before the open on Tuesday. It generated revenue of $892.8 million in the period, below estimates of $903.7 million. Adjusted earnings were $1.58 per share, higher than estimates of $1.50 per share for the quarter.
Shares of Scripps Interactive Networks fell 7.22% to a closed of $61.30 per share Tuesday.