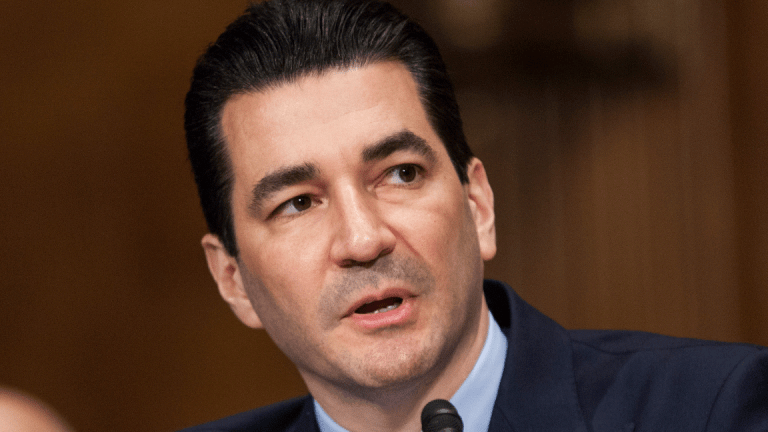 FDA Head Scott Gottlieb's Exit Sends Tobacco Stocks Higher
Gottleib has been a vocal critic of teen vaping, and his exit could ease some of the pressure on the tobacco industry.
In a move that has the tobacco industry breathing easier, U.S. Food and Drug Administration Commissioner Scott Gottlieb, a vocal critic of the vaping industry's influence on teen users, is leaving his post. The Department of Health and Human Service said Tuesday that Gottlieb will step down to spend more time with his family -- news that sent tobacco stocks higher.
Cigarette giant Altria Group (MO) - Get Altria Group Inc Report jumped by about 1.5% as soon as news of Gottlieb's departure broke at about 3 p.m. ET, although MO later dropped back to close at $52.88, +0.8% on the day. British American Tobacco (BTI) - Get British American Tobacco plc Report  likewise popped some 1.5% on the news, then ended the day ahead 1.9% at $38.46.
Gottlieb, 46, has served as FDA commissioner since 2017, after having served as a clinical assistant professor at the New York University School of Medicine. The FDA chief gave his notice just one day after he put 12 U.S. retail chains "on notice" for allegedly doing little to halt the sale of their products to minors.
"Retailers are on the frontlines of these efforts to reduce the health consequences of tobacco use and nicotine dependence," Gottlieb said in a statement Monday. "Walgreens (WBA) - Get Walgreens Boots Alliance Inc Report and other retail chains, should take seriously not only their legal obligations, but also the substantial public health importance of preventing tobacco product sales to minors at their stores."
The FDA said that 22% of Walgreens locations it inspected had employees selling tobacco products to minors. "If tobacco products are being unlawfully marketed and sold outside the FDA's compliance policy, we'll take action," Gottlieb said. "We simply cannot tolerate this behavior."
Walgreens fell 2.8% Monday following Gottlieb's threat, then shed another 2.1% Tuesday to close at $63.40 despite his departure.
Meanwhile, President Donald Trump praised Gottlieb in a tweet:
(This article has been updated.)