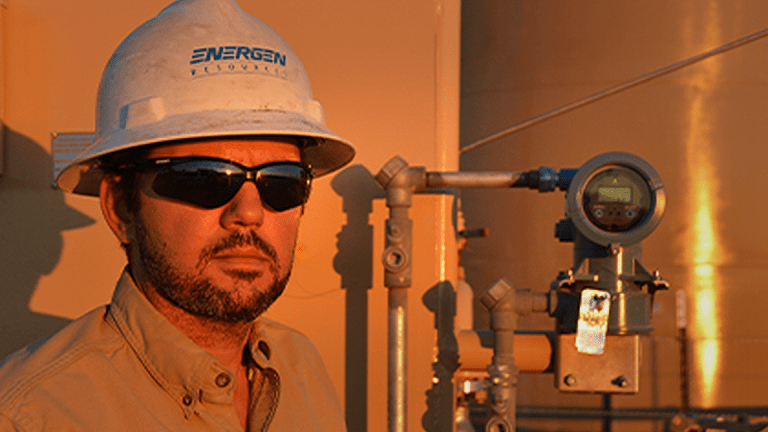 How to Trade These 2 Hot Oil Stocks
Both stocks seem to be breaking out with their group in response to higher crude prices and more favorable tax treatment.
I am trying to make an apples-to-apples comparison for oil services giants Schlumberger (SLB) and Halliburton (HAL) . To do so, I have placed both stocks on a 13-month daily chart, so as to catch recent extremes in market pricing. While both stocks seem to be breaking out with their group in response to higher crude prices and more favorable tax treatment, there are stark differences.
Let's take a look at the Fibonacci models that begin with the highs of late 2016 and run through the lows seen this year. For one, Halliburton bottoms out in August, Schlumberger not until November. Halliburton has also broken through a 38.2% retracement with some violence, and is threatening to reach the 61.8% level. As for Schlumberger, it is earlier in its recovery, and has not yet hit a 38.2% move. Expect some resistance there.
Both firms saw their daily moving average convergence divergence (MACD) turn bullish in late November. Again, though, when taking a look at money flow, Halliburton is further along in its recovery than Schlumberger, and is actually starting to show some green. That has led to relative strength that indicates an overbought condition. Schlumberger is not quite there yet.
My conclusion is that should WTI Crude take and hold the $60 level, both of these stocks should do well. My preference remains Schlumberger, which I am already long, because I believe it to be well behind HAL technically, and could still realize similar movement. Both the Fibonacci levels and the Pitchfork suggest that Halliburton is likely to hit some resistance at $50. A break there allows a move into the high $50s. Failure, and you are looking for support around $45.
Schlumberger is going to be tested at the $70 level. At that spot, the nature of the Pitchfork would have to be adjusted, but a move of another $5 to $6 to the upside would not be crazy. Support here upon failure would likely be found above $64. Winner, winner... chicken dinner.
(This is an excerpt from Stephen "Sarge" Guilfoyle's Morning Recon, which now appears exclusively on Real Money, our premium site for active traders. Click here for a free 14-day trial and receive Morning Recon every day, along with exclusive columns from Jim Cramer, James "RevShark" DePorre, technical analyst Bruce Kamich and more.)
More of What's Trending on TheStreet:
At the time of publication, Stephen Guilfoyle was long SLB, although positions may change at any time.