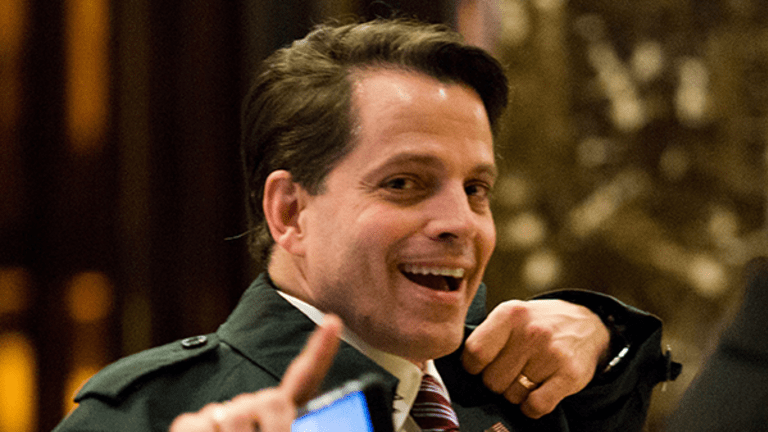 Scaramucci Out of White House and Likely Isn't Getting His Firm Back Anytime Soon Either
Now that he's no longer employed in the White House will the fund manager seek to get his fund of hedge funds back?
Hedge funder Anthony Scaramucci -- the Mooch -- lasted a little more than a week as President Trump's new communications director.
And his resignation raises new questions about whether China-based HNA Group Co. Ltd. can get U.S. government clearance for an acquisition it has underway for control of Scaramucci's fund of hedge funds business, Skybridge Capital LLC.
Skybridge, for its part, reiterated Monday that the transaction "remains on track and is expected to close by the end of summer."
Scaramucci in January agreed to sell his approximate 45% stake in Skybridge to the Chinese conglomerate -- the sale was a key precondition to getting a position in the Trump Administration.  The transaction was estimated to be valued at between $200 million and $230 million, which means Scaramucci would have netted about $100 million.
The deal was expected to be closed in June. However, the U.S. Committee on Foreign Investment in the U.S., an interagency government group that reviews cross-border deals for national security concerns, is still reviewing it.
At the same time, it doesn't appear that Scaramucci will land another job with the Trump Administration any time soon. White House spokeswoman Sarah Huckabee Sanders said Monday that he "does not have a role at this time in the Trump administration."
All of this raises the question about whether Scaramucci would try to unravel the HNA-Skybridge deal on his own so he could get his old job back.
Clif Burns, an attorney at Bryan Cave LLP in Washington, suggested that Scaramucci might get into trouble if he petitioned CFIUS to unwind the transaction.
"Can he now that he doesn't have a job go to CFIUS and say this is the worst idea in the world, you shouldn't allow it?" Burns asked. "Actively lobbying CFIUS to block your deal would lead to some sort of liability. You could be breaching your duty of good faith not to interfere with a closing condition. HNA might be able to sue Scaramucci."
Nevertheless, there is a real possibility that CFIUS could scrap the deal anyways. President Trump had made limitations on trade and dealmaking with China a cornerstone of his campaign. He hired Peter Navarro, the author the book "Death by China," to head a newly formed White House National Trade Council, which has a lot of influence over CFIUS.
The Trump Administration also has already raised concerns about Chinese acquisitions of U.S. companies. Commerce Secretary Wilbur Ross, a member of CFIUS, said at his confirmation hearing that he was concerned that the Chinese-U.S. dealmaking environment "wasn't very reciprocal." 
More specifically, HNA Group called off its $416 million investment into U.S. Global Eagle Entertainment earlier this month after failing to receive regulatory approval, a move that suggests that CFIUS could reject the Skybridge deal as well. All of this suggests that CFIUS rejects the deal on its own.
Burns, a CFIUS expert, said that since the deal hasn't closed yet it is likely that the interagency panel has already asked Scaramucci for more time to review it. He said CFIUS may have been looking at whether the sale represented an effort to purchase influence in Washington. With Scaramucci out that may no longer be a factor. "Is this an overly compensatory deal that is an effort to purchase influence," asked Burns.
In addition, the review board could be looking at whether the funds that Skybridge invests with own controlling interests in companies that pose national security risks, such as certain semiconductor businesses. Finally, CFIUS could be reviewing whether Skybridge has access to personal financial data that could be of interest to the Chinese, Burns said.
In addition, the deal could face trouble from Beijing, which has been working hard of late to stem a massive flow of excess domestic liquidity into foreign investments. The effort faces a backlash as Chinese companies, including HNA Group, are looking for stable investments abroad. Already two of HNA Group's overseas deals have hit hurdles, according to Reuters, citing sources, because of concerns from Beijing. HNA Group's $264 million acquisition of London-based International Currency Exchange and its effort to buy a larger stake in a Swedish hotel group may be in trouble. That could also spell trouble for HNA. 
Skybridge Capital had at one time held a number of investments with activist hedge funds. However, in recent years, it cut back significantly on activist fund manager investments after some didn't perform as expected.
In addition, it is unclear what impact Scaramucci's White House resignation will have on an annual SALT conference in Las Vegas that he had organized for nine years to help promote his fund. The conference was set to be spun off from Skybridge as a standalone entity. However,it is possible that Scaramucci could be brought back into the fold.
Conference attendees hear from some activist hedge funds every year. For example, in 2017, Salt heard from activists Bill Ackman of Pershing Square and Dan Loeb of Third Point. Other activists that have spoken at prior Salt conferences include Sandell Asset Management's Tom Sandell, Starboard Value's Jeff Smith, Blue Harbour Group's Clifton Robbins and Sachem Head Capital management's Kirk Ferguson. 
For more coverage like this sign up for the Activist Daily
More of What's Trending on TheStreet:
Tesla, Amazon, Altria Are Monday's Smoking Hot Tickers
Amazon Is Attracting Sizable Enemies and Its Stock Should Be Avoided, Doug Kass Reveals
Snap Has No Way to Make Money, One Analyst Says as Lockup Period Expires