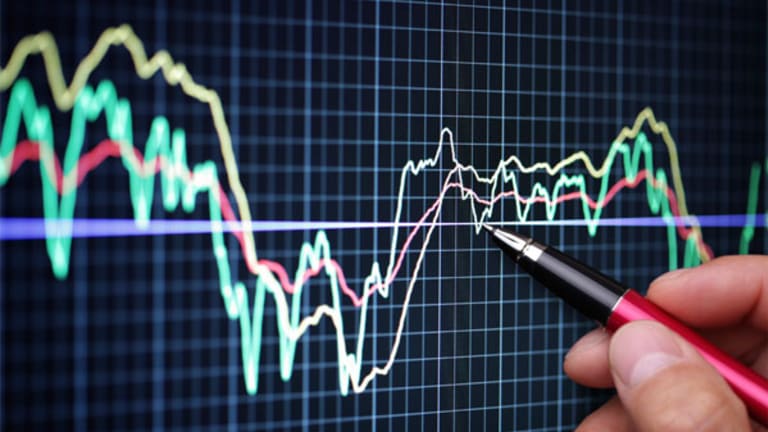 SBUX, K, PEP: Jim Cramer's Views
Cramer shares his views on looking at oil now that the election is over. Starbucks, Kellogg and PepsiCo are among the stocks discussed.
Jim Cramer shares his views every day on RealMoney.Click here for a real-time look at his insights and musings.
Cramer: Forget Trump, We're Back to Oil
Posted at 12:29 p.m. EDT on Friday, Nov. 11, 2016

Iraq's pumping record volumes. Iran's pumping record volumes. Russia and the Saudis are going full out. We are drilling again at a much faster level than before.
Action Alerts PLUS, which Cramer co-manages as a charitable trust, has no positions in the stocks mentioned.
No wonder they've pushed back the fabled November meeting until the end of the month, according to Bloomberg reporting.
They can't freeze. They can't stop.
Something has to give though, or oil will trade down to below $40 for certain. As it is now, the stock market is actually putting the Trump rally behind it and is now back to focusing on oil--and it doesn't like what it sees.
I am a believer that world growth will be stronger in 2017. Call me in the Chip Johnson school of thought--Johnson being the CEO of the very well run Carrizo Oil & Gas (CRZO) - Get Carrizo Oil & Gas, Inc. Report .
Johnson has a lot of production shut in, because of what he says is a reluctance to leave money on the table. He's thinking oil could be appreciably higher next year.
The problem is that you will not get there if there isn't some OPEC discipline -- and these production figures we are getting now are quite frankly insane vs. what's needed. Then again, though, it's not like the oil companies have some sort of marketing arm that can have them switch to another product. It doesn't work like that.
I say a couple of bucks down has brought out the OPEC put, and this time will be no different.
But the couple of bucks is going to hurt the stock market more than it will hurt the oils, because we are back with oil tail-wagging the stock-dog, again.
Cramer: Food Companies Are Ripe for Acquisitions
Posted at 3:28 p.m. EDT on Tuesday, Nov. 8, 2016

Let's see, hmm, Mondelez International (MDLZ) - Get Mondelez International, Inc. Class A Report up a buck ninety-five? Is that large shareholder Bill Ackman sabre rattling for a deal with 3G, which is reportedly raising $8 billion to $10 billion for a buyout fund, according to The Deal this morning. Or is he trying to marry it up with Kraft Heinz Foods (HNZ) in order to make up for Valeant Pharmaceuticals (VRX) ? Makes sense. Totally get it. Certainly worth provoking if you were him.
Action Alerts PLUS, which Cramer co-manages as a charitable trust, is long PEP.
Is Campbell Soup (CPB) - Get Campbell Soup Company Report or General Mills (GIS) - Get General Mills, Inc. Report ripe for the taking? A buyer of 2300 Mills November 65 calls can sure make that happen. Same with 1400 Campbells' November 57.5s. Not a lot to lose there.
Why not?
Rates are low.
Price is right.
Is Kellogg (K) - Get Kellogg Company Report once again in the cross hairs of someone bigger than it?
It's been weeks since we have heard of those rumors so I guess it's time. We've been devoid any food takeovers for a bit now and I am sure someone's cooking up something for the moribund group that always seems to catch a bid after a period in purgatory.
Why does it happen? I think it's because of a perception that these deals work. There is no growth in the center of the supermarket. None. These companies are just duking it out over every square inch. Plus they see PepsiCo (PEP) - Get PepsiCo, Inc. Report , which has the highest turns of any food company, encroaching all over the place. They have to make moves.
I keep coming back to the success of the Kraft-Heinz deal: Two companies with little growth that just reported a weak quarter and are up anyway.
Or if you look at all the anti-competitive beer deals you see some real gains, too.
If I had to buy one of these I would buy General Mills. It's down a huge amount on a missed quarter, but I think it has ammo to do a ton of things including what ConAgra (CAG) - Get Conagra Brands, Inc. Report just did in terms of spinning off products or what Danone did in terms of buying WhiteWave Foods (WWAV) . I like Mondelez because of Ackman--I love the "Peak Ackman" piece that Doug Kass put together. These all just make too much sense to ignore.
So speculate away.
I bet Ackman makes something happen in this group. He needs it. What Ackman used to want he used to get.
Now with Valeant hobbled, it is time to pull the rabbit out of the hat. The food group is saying that.
Just seems ripe and will be very hard to shoot down without earnings to stink up the joint.
Cramer: Let's Look Beyond the Ballot Box
Posted at 4:03 p.m. EDT on Monday, Nov. 7, 2016

So the markets love Hillary Clinton?
No, the markets were building in a Trump victory and the news from the FBI that there would be no indictments from these new emails makes voting for Hillary seem less futile, which is why we rallied.
Today Joe Kernen asked me in my morning crosstalk with him before "Squawk on the Street" whether I missed just talking about earnings.
What a blessing of a question because I sure do. I long for the market to be, well, the market again, where we value companies on how well they are doing, not as part of a vast basket that goes up or down depending upon how certain we are about the White House.
I admit that for the first time in about 30 years I didn't even crack open the charts book, or at least didn't bother to download the charts that the S&P 500 sends me each weekend.
What was the point, I figured? We don't know who is going to win so we don't know what we should be looking at.
But if the futures are right, and there is a lot of money betting that way, and this isn't like Brexit where so many people got it wrong, then we are going to return as we normally would after this week and ask, "Ok, who had good earnings and who didn't?" That's right, we will begin to make judgments about companies themselves, not about the ballot box.
So who did the best so far, keeping in mind that we still haven't heard from the retailers, which is this week's business?
First, hands down, it was the banks. They simply generated much bigger profits than we thought possible. JPMorgan Chase (JPM) - Get JPMorgan Chase & Co. Report delivered a stellar quarter with excellent loan growth, good sales and trading and some excellent merger and acquisitions advisory. Just superb.
Bank of America (BAC) - Get Bank of America Corp Report blew out the numbers and built out a ton of capital. I thought that both loan growth and credit concerns were about as great as you can get. Deposit growth remains strong.
Citigroup (C) - Get Citigroup Inc. Report may have been the biggest upside surprise, both in earnings and in prospects for the future. It has a book value that is scrubbed clean and it's got $15 points of upside just to catch up to the rest of the group.
Goldman Sachs (GS) - Get Goldman Sachs Group, Inc. Report and Morgan Stanley (MS) - Get Morgan Stanley Report delivered excellent numbers and can still travel far before they run out of gas.
The regionals had extraordinary numbers and I would highlight Key (KEY) - Get KeyCorp Report as having the best growth and the best net interest margin. BB&T (BBT) - Get BB&T Corporation Report was no slouch either.
In fact the only disappointment came from Wells Fargo (WFC) - Get Wells Fargo & Company Report, which not only had one of the most lackluster quarters but is now regarded as the most scandalized of banks. I am grateful that my charitable trust, Action Alerts PLUS, owns shares in Citigroup but horrified that it has a big position in Wells Fargo. We have told club members to Action Alerts PLUS in our bulletins that it can do well in a raised interest rate environment and that's what we will get in December considering the strong employment number that printed on Friday, with the non-farm payrolls report.
Of the soft financials you had to be impressed with numbers from Visa (V) - Get Visa Inc. Class A Report , MasterCard (MA) - Get Mastercard Incorporated Class A Report and American Express (AXP) - Get American Express Company Report . All of them were much better than I was looking for and remain reasonably valued given their excellent earnings and guidance.
The second group that performed well? The social mobile and cloud stocks, including Alphabet/Google (GOOGL) - Get Alphabet Inc. Class A Report and Facebook (FB) - Get Meta Platforms Inc. Class A Report and Amazon (AMZN) - Get Amazon.com, Inc. Report discussed elsewhere, but also Adobe Systems (ADBE) - Get Adobe Inc. Report , Workday (WDAY) - Get Workday, Inc. Class A Report and in many ways, the best of the best, ServiceNow (NOW) - Get ServiceNow, Inc. Report . Best of the best meaning fastest growing. These stocks are widely perceived as not hostage to politics, even as we know that if Trump is elected president we have to presume that some of their international business could be in the line. Let's not forget that the semiconductor companies, with the exception of Intel (INTC) - Get Intel Corporation Report , had uniformly fabulous quarters and are subjected to oodles of mergers and acquisition talk.
One other darling: Accenture (ACN) - Get Accenture Plc Class A Report . This consulting company has become the "Teflon Don" of the group.
The next sector's a puzzler: the transports. I can't think of a single rail or airline that made its numbers but I can't think of a single one that won't be better next year and when it's November that's what we care about. I like United Continental (UAL) - Get United Airlines Holdings, Inc. Report as a comeback kid in the airlines and I think that Norfolk Southern (NSC) - Get Norfolk Southern Corporation Report truly impressed as a carrier that should have had far worse numbers than it did.
The basic industrials surprised in a lot of ways, but three that stand out are for an increase in Chinese business, a turn in Europe and a robust airline cycle. Boeing (BA) - Get Boeing Company Report was the leader here and I think it can go higher. United Technologies (UTX) - Get n.a. Report and Honeywell (HON) - Get Honeywell International Inc. Report also delivered good numbers.
We got mixed numbers from the consumer packaged goods group and I would call out only PepsiCo (PEP) - Get PepsiCo, Inc. Report and Procter & Gamble (PG) - Get Procter & Gamble Company Report as two that really were compelling, both because of excellent top-line numbers, the latter really surprising. They are both buys here.
Energy was profoundly mixed, too. If you had fantastic growth as EOG Resources (EOG) - Get EOG Resources, Inc. Report in the independents or Chevron (CVX) - Get Chevron Corporation Report in the majors you were saluted with higher prices. But if you had no growth or spent too much, think Exxon Mobil (XOM) - Get Exxon Mobil Corporation Report and Occidental (OXY) - Get Occidental Petroleum Corporation Report respectively, you did yourself no favors.
Now let's talk disappointing. The restaurants were miserable. Other than Cheesecake Factory (CAKE) - Get Cheesecake Factory Incorporated Report the results were simply nothing to write home about. The group seems to have very little upside. Starbucks (SBUX) - Get Starbucks Corporation Report was mixed last week. You didn't get the upside surprise we were so spoiled by but it wasn't disappointing. It's being carried up by the tape, I fear, though, and could drop back if the futures take a header. Domino's (DPZ) - Get Domino's Pizza, Inc. Report ? What can I say, best in show but it really is a technology company that delivers speedy pizzas. (Visa, Alphabet, Facebook, PepsiCo, Occidental and Starbucks are holdings in Action Alerts PLUS.)
The home improvement thesis took a huge step backward this quarter with weak numbers from Masco (MAS) - Get Masco Corporation Report , Sherwin-Williams (SHW) - Get Sherwin-Williams Company Report and PPG Industries (PPG) - Get PPG Industries, Inc. Report . I was very let down by that group. I know that Home Depot (HD) - Get Home Depot, Inc. Report is still a long-term buy but let's face it, the luster seems lost for now. My charitable trust picked up some Newell Brands (NWL) - Get Newell Brands Inc Report after CEO Mike Polk's presentation on "Mad Money" but it seems like only the futures are powering it higher today. I don't sense real buyers, meaning funds that want hundreds of millions of dollars in Newell's stock, just managers who want exposure to equities via the futures.
The apparel segment got hit hard led by Nike (NKE) - Get NIKE, Inc. Class B Report and Under Armour (UA) - Get Under Armour, Inc. Class C Report , which have gotten into some weird Claymation death match without winners.
And then there's healthcare. We are getting a nice snap-back rally in the group, which got severely oversold, but it is time to recognize that there are winners and losers in a group that had formerly just had the former. Of the drug stocks Merck (MRK) - Get Merck & Co., Inc. Report delivered the best that I saw and was understated about the possibilities of Keytruda being a true anti-cancer blockbuster franchise. I am still reeling from the lack of respect given to Celgene (CELG) - Get Celgene Corporation Report , although it was able to put up some reasonable amount of points today. Johnson & Johnson (JNJ) - Get Johnson & Johnson Report reported eons ago and it was fantastic, totally undeserving of the punishment meted out to it. Valeant (VRX) which reports tomorrow, remains a total mystery.
The cost containers, meaning the health maintenance organizations away from UnitedHealth (UNH) - Get UnitedHealth Group Incorporated Report and the pharmacy benefit managers and the generics, were almost all universally miserable and any lift to me means that you have to examine how yours did in the current quarter but there were more losers than winners.
So, if you look at where the money wants to go, and you figure that this election will pass and a week from now we are going to talk about companies again provided there is no contested election, I think that the above description of the earnings season to date will hold up until year-end. It's where the justified gains are. It's where they will be.
Action Alerts PLUS, which Cramer co-manages as a charitable trust, is long C, WFC, GOOGL, FB, V, OXY, PEP, NWL and SBUX.
Action Alerts PLUS, which Cramer co-manages as a charitable trust, is long PEP, C, WFC, V, GOOGL, FB, OXY, SBUX, NWL and PEP.