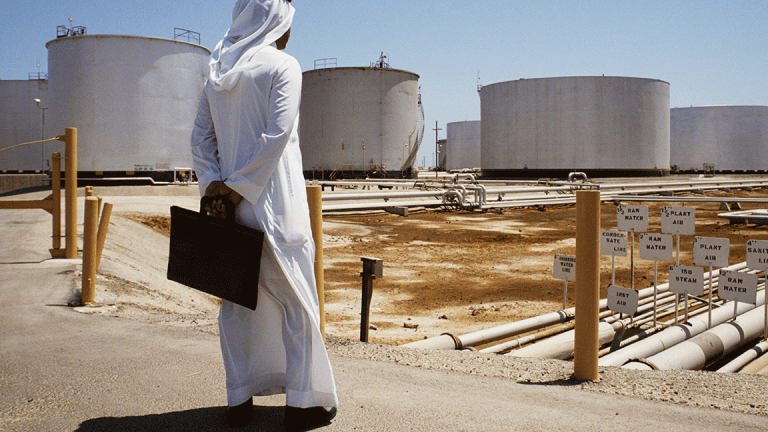 Saudi Aramco Prepares for Biggest Ever IPO with Huge Budget Hike
Saudi Arabia's state-owned oil company will spend $414 billion over the next decade to maintain oil output and diversify into non-oil projects.
Saudi Arabia gave an insight into what investors will be getting if they buy into a planned initial public offering of its state-owned oil company, announcing an almost 25% increase in the business's capital spending over the next decade including a significant allocation to non-oil projects.
Saudi Arabian Oil Co., or Saudi Aramco, will spend $414 billion on drilling and infrastructure projects, including renewable energy operations and chemical processing plants, the company's executives said on Tuesday, December 12.
The budget is $80 billion higher than the $334 billion that Aramco said last year that it planned to spend over the following 10 years.
Interest in Saudi Aramco's spending has increased since the Middle Eastern nation announced plans to sell down an about 5% stake in the national oil company in 2018 through an IPO that it claims will value the company at about $2 trillion. Assuming the sale, it could raise about $100 billion making it the biggest IPO of all time.
Investors in that IPO will still be getting a relatively pure play oil company, judging by the group's spending plans announced on Tuesday.
The bulk of the cash earmarked for investment over the next 10 years will flow into Saudi Aramco's oil business in order to maintain capacity at about 12 million barrels of oil per day. Saudi Aramco will spend $134 billion on drilling and well services and a further $78 million on field development to maintain its output potential, said Nassir Al Yami, general manager of procurement, at a conference in Dammam, the capital of Saudi Arabia's Eastern Province.
Yet the business clearly has its eyes on diversification too.
"We are into so many sectors now," CEO Amin Nasser said on Tuesday according to comments quoted by Reuters.
Aramco recently created a department for renewables, and in February launched a tender for the first of an estimated $50 billion of wind and solar energy projects. On Nov. 26 it signed a partnership with Saudi Basic Industries Corp., a petrochemical business, to develop a $20 billion oil-to-chemicals project - though a final investment decision won't be made until 2019.
Saudi Aramco has also been lined up to support the Kingdoms push to develop home-grown small and medium sized enterprises that will provide services and technology to its oil business and jobs for its citizens.
Nasser said that domestic investment would account for about 70% of Saudi Aramco's budget and could help create a target 40,000 jobs within the kingdom.
More of What's Trending on TheStreet: