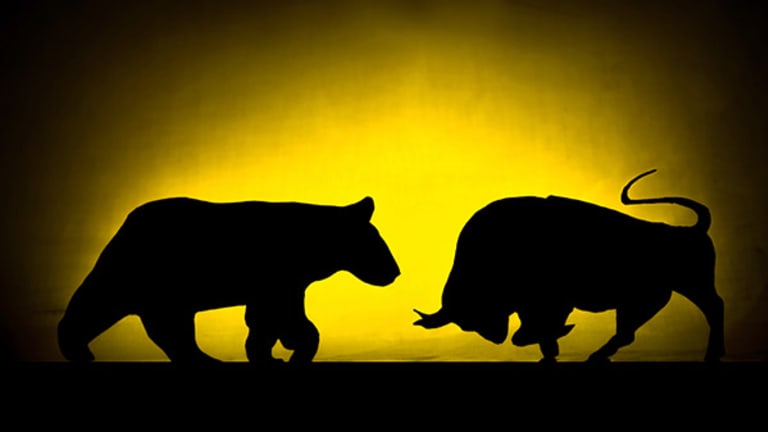 Sarge: I'm Not 'Selling in May and Going Away'
Here's what I'm buying instead.
Here's what I'm buying instead.
I've been hearing the adage "Sell in May and Go Away" ever since I was an eager young gofer carrying bags of sandwiches and cigarettes around the New York Stock Exchange trading floor in the early 1980s. Is there any truth to that old saying or it just pure nonsense?
What the Record Books Say
To be honest, this really should be just a lot of noise (even what I like to call "malarkey"). You should base investment decisions on external factors like earnings, valuations and policy, as well as internal factors like your income, your investment objectives and your risk tolerance. The calendar shouldn't even be a consideration based on timing alone.
And May hasn't historically held a specifically negative bias for stocks anyway. I looked at the numbers back to 1928 (when the Dow industrials were "modernized" to include 30 names) and May has been positive for the index 50 of 89 times between then and 2016. The best May performance came in 1933 when the index gained 23.1% for the month. The worst occurred in 1932, when the Dow lost 23.9%. All told, May's average return over those 89 years has been ... wait for it -- 0.0%. I kid you not.
However, there's the slightest bit of truth to the belief that in winter, stocks tend to outperform their summer results. This is sometimes referred to as "The Halloween Indicator" because you use Oct. 31 as buy signal and hold stocks through May 1.
Now, this difference in seasonal performance doesn't seem to be statistically significant in most years. But Mark Hulbert noted in The Wall Street Journal back in February that in the third year of almost every presidency over the last 120 years, the DJIA's summer performance outperformed its winter showing by roughly 11%. But oddly enough, it was only in those third years of a presidential term.
This is probably the actual source of both the Halloween Indicator and the saying "Sell in May and Go Away." Hulbert also pointed out that a 2013 University of Chicago study found that an index of uncertainty about economic policy also hit its highest levels during the winter months in the third year of every presidency. Odd but true. Or maybe not so odd if the third year of a presidency is when markets are most confident in a president's policies.
What Now?
Now that we've educated ourselves about the history of "Sell in May and Go Away," the question is: "What should investors actually do?"
I think there might be some folks who will go to cash, but I don't think you'll see a lot of professional money following that lead.
It's true that, the S&P 500 is up 6.7% year to date as I write this, while the Russell 2000 is +4.1%. Valuations are also high by most metrics. You would think this would be a negative, but that conclusion has yet to pan out. And first-quarter earnings reports have not only been far superior last year's, but are also much better than anything we've seen in quite a while, possibly negating some overvaluation.
Now, it's true that government policy remains uncertain, which is definitely a negative. Obamacare, tax reform, profit repatriation, fiscal spending, interest rates and the Fed's balance sheet all have the potential to put a whammy on the market.
But as Byron Wein who once said: "Disasters have a way of not happening." Strength has also returned to the marketplace as Europe has removed at least some of its uncertainty.
Tweaking My Portfolio
Here's how I prepared my portfolio heading into May:
I lightened my load in banks, but am ready to buy them again at the right price. After dropping Bank of America (BAC) - Get Report in March, I finally took profits and exiting JPMorgan Chase (JPM) - Get Report . However, I doubled up on Keycorp (KEY) - Get Report at the stock's recent lows, and I held on to my stake in Citigroup (C) - Get Report based on the bank's price-to-book ratio. I'm also looking to buy back BAC if the stock falls to around $23.25 a share. (It closed Wednesday at $24.15.)
From the tech side, I still like SeagateTechnology (STX) - Get Report for its dividend and Intel (INTC) - Get Report because someday it might turn around.
I like Coca-Cola (KO) - Get Report  for its dividend (and because I believe Credit Suisse's take on the name). And I love, love, love the fight that Wal-Mart Stores (WMT) - Get Report has put up against Amazon (AMZN) - Get Report . I remain long both, but have added to my WMT stake and can't help but to root for them.
I've reduced my holdings in Walt Disney Co. (DIS) - Get Report . I still love the stock, still love the company and still like ESPN -- but sometimes you're up so much on a name that you have to take some of your money out and just play with the "house's dough" for a while. It's a discipline thing.
What I Want to Buy (and What I Don't)
Two names have utterly surprised me recently are McDonald's (MCD) - Get Report , and Hasbro (HAS) - Get Report .
Wow! Is it too late to buy either of these? (OK, I'm not one to chase stocks that I've missed.)
I held MCD for a while, but I took my profits way too early. But now, I'm not convinced that I believe the company's "story," so I've gone long on out-of-the money puts at several strike prices in response to Micky D's recent blow-out earnings. We'll see on that one.
On the other hand, Hasbro has me convinced. I love its products, love its approach to a family-subscription game offer and love the tie-ins with Disney. I'll buy a portion of my intended long for this name the next time HAS sells off hard, and then see which way the wind blows.
(This column originally ran on May 1, but has been updated to reflect new information.)
Sell in May and Go Away:
This article is commentary by an independent contributor. At the time of publication, the author held positions in KEY, LUV, DAL, STX, INTC, DIS and puts in MCD, although positions may change at any time.