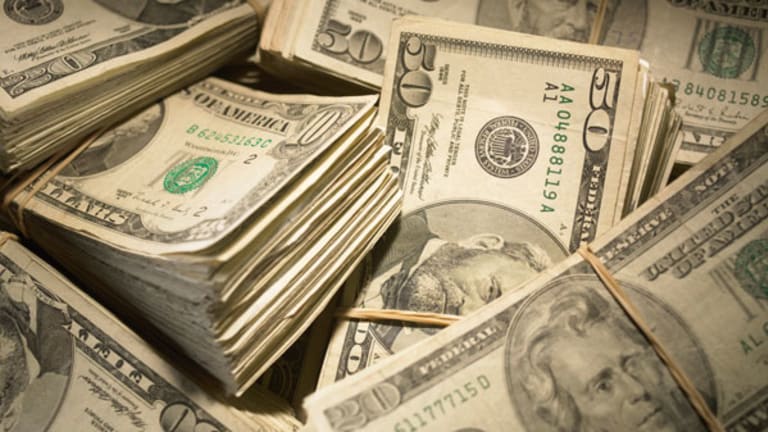 Sarepta Soars After Announcing Publication of Ebola Drug Candidate Data
Shares of Sarepta Therapeutics are soaring this morning following the publication of Phase I clinical study results for its Ebola and Marburg virus drug candidates.
NEW YORK (TheStreet) -- Shares of Sarepta Therapeutics (SRPT) - Get Sarepta Therapeutics Inc. Report are soaring this morning following the publication of Phase I clinical study results for its Ebola and Marburg virus drug candidates. Sarepta is a drug company engaged in the development of treatments for rare and infectious diseases, including those two as well as Duchenne muscular dystrophy, or DMD.
WHAT'S NEW: On Thursday, Sarepta announced the publication of results from two studies involving its Ebola and Marburg treatment candidates, which demonstrated no clinical or toxicologic safety concerns. The two Phase I studies were randomized, double-blind, placebo-controlled trials designed to characterize the safety, tolerability and pharmacokinetics of single doses of IV formulations of AVI-6002 or AVI-6003 in healthy adult volunteers. Michael Wong, senior medical director at Sarepta, said in a statement that "We believe these promising early clinical safety results, coupled with the strong safety and efficacy data generated from animal studies for all four PMO compounds, reinforce the use of our PMOplus chemistry platform to pursue potential treatments for deadly infectious diseases such as Ebola and Marburg." The results of the study are set to be published in the November issue of the American Society for Microbiology's journal, Antimicrobial Agents and Chemotherapy.
WHAT'S NOTABLE: Earlier this year, shares of Sarepta plunged after results from a trial involving the company's eteplirsen drug for the treatment of patients with DMD fell short of expectations. A study published in medical journal PLOS One following the progression of Duchenne muscular dystrophy supports Sarepta's push for accelerated approval of eteplirsen, TheStreet's Adam Feuerstein recently reported.
OTHERS TO WATCH: Other drug companies that are working on experimental Ebola vaccines or treatments include Tekmira (TKMR) , Peregrine Pharmaceuticals (PPHM) , BioCryst (BCRX) - Get BioCryst Pharmaceuticals Inc. Report , Chimerix (CMRX) - Get Chimerix Inc. Report and NewLink Genetics (NLNK) - Get n.a. Report . Some companies that offer protective clothing and waste disposal which have risen as the Ebola outbreak has gained increased attention include Lakeland Industries (LAKE) - Get Lakeland Industries Inc. Report , Alpha Pro Tech (APT) - Get Alpha Pro Tech Ltd. Report and Sharps Compliance (SMED) - Get Sharps Compliance Corp. Report .
PRICE ACTION: In morning trading, Sarepta shares are up $1.58, or 7%, to $23.88. Year-to-date, Sarepta shares are up about 17%.
Reporting by Laurie Pasternack Chan.
The Fly
provides comprehensive coverage of stock news and Street research and delivers it in real-time. The Fly breaks market-moving news and explains sudden stock movements in a rapid-fire, short-form story format. Follow @theflynews on Twitter. For a free trial, click