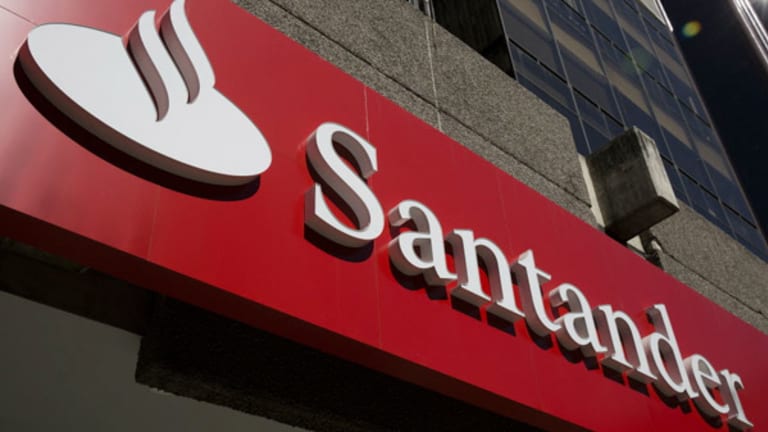 Publish date:
Santander Rises as Brazil Shines
Spain's biggest lender beat analysts' forecasts after a strong performance in Brazil offset a decline in U.K. earnings.
Spain's biggest lender beat analysts' forecasts after a strong performance in Brazil offset a decline in U.K. earnings.

Banco SantanderSAN beat analysts's third-quarter profit forecasts after strong results from Latin America and consumer lending units offset a post-Brexit slump in U.K. earnings.
Underlying profit for the three months to the end of September was €1.69 billion ($1.85 billion), up 0.9% on the same period last year and 9% ahead of the analyst forecast of $1.55 billion. Underlying earnings per share were €0.112, in line with a year earlier and up 2.8% on the second quarter of this year.
The result was "above our expectations and with better than expected performance across all profit and loss lines," noted Exane BNP analyst Sanitago Lopez Diaz. "We believe we have reached, at least for the time being, the end of the consensus earnings downgrade cycle, which might help the share price outlook."
Santander shares traded Wednesday morning at €4.50, up €0.06, or 1.3%, on their Tuesday close.
The strong results come less than a month after Santander chairman Ana Botin cut the bank's three-year profitability targets, citing record low interest rates and higher regulatory costs.
"While the low interest rate environment within developed economies remains a challenge for parts of our business, the resilience of our business model has allowed us to continue to deliver, with our Latin American and consumer finance franchises growing particularly well throughout the year," Botin said in a statement on Wednesday.
Brazil proved the highlight of the quarter for Santander, with net profit rising to €488 million, up 27% year-on-year, on strong lending and higher fees. The result beat analysts' consensus forecast by 24%, according to Goldman Sachs. Brazil is now Santander's biggest market, accounting for about 20% of underlying profit over the first nine months of the year, placing it ahead of the declining U.K. business, which accounted for 19%, and Spain, at 14%.
Santander's U.K. profit fell by nearly a quarter to €364 million in the third quarter compared with a year earlier, hurt by Britain's 8% bank tax surcharge and the precipitous decline in the pound since the country voted to leave the European Union in June. Spanish profits also fell, down 13% to €270 million, mainly due to lower interest rates and a fall in demand for loans.  
In the U.S. profit fell 24% year-on-year to €141 million as the company continued to invest in IT systems to rectify reporting shortcomings that saw it fail regulatory capital and risk management standards for the third consecutive year in June.
Santander's fully loaded Core Tier One ratio, a key measure of bank strength, was 10.47% at the end of the third quarter, up from 10.36% in the second quarter of this year, and from 9.85% year-on-year.
Separately, Bankia (BNKXF) , a Spanish rival to Santander, said Wednesday that its third-quarter net profit fell 17% to €250 million, beating analysts' consensus estimates of €240 million. Bankia shares fell 1.5% to €0.79.