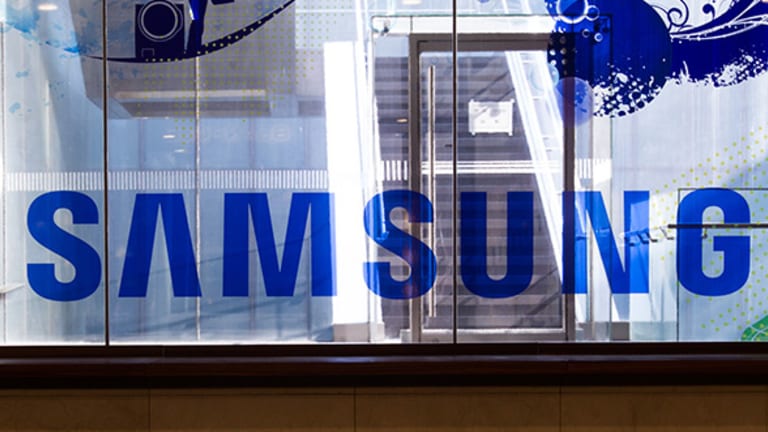 Samsung Plays 'Chips and Displays' Card in Earnings Comeback, but Is It a Winning Bet?
Samsung's fourth-quarter comeback looks based on chips and displays sales, but intensifying competition raises sustainability questions.
SamsungElectronics' (SSNLF) determination to put the Galaxy Note 7 fiasco behind it looks to have succeeded, at least in terms of profit guidance, but it has also raised questions about the sustainability of its new bet on chips and display sales.
The Suwon, Korea-based maker of everything from smartphones and TVs to semiconductors and refrigerators shook off investor concern about the impact of the abrupt discontinuation of the Galaxy Note 7 in October Friday by saying it expects to report the highest quarterly operating profit in three years on Jan. 24.
Samsung believes operating profit jumped 50% year on year to 9.2 trillion won ($7.7 billion) despite sales remaining largely flat at around 53 trillion won for the fourth quarter. 
While Samsung did not provide any segment breakdown for neither quarterly sales nor profits, growth is largely seen to come from the semiconductor and the display panel segments, with a consensus of 40 analysts expecting 9.6% and 9.0% expansions from each on a year-on-year basis, according to FactSet. Those stand in stark comparison with a 10% drop for the IT and mobile communications segment and a 0.3% slide for the consumer electronics segment.
In in its third quarter earnings report, Samsung highlighted the semiconductor segment, and high-end flash memories such as V-NAND SSD, as growth areas. It also remained assured about NAND products, including 3D NAND, which are a denser, faster, and cheaper to make than conventional 2D NANDs and are in high demand by smartphone makers.
Indeed, demand is likely to remain strong for the segment, with the global market size for 2D and 3D NAND flash memories expected to soar by more than 150% to $80.3 billion between 2015 and 2025, according to Statista.
But there is no denying Samsung needs to stay on its toes to keep ahead of the pack.
While Samsung has led the NAND market for at least the last six years, it has gradually lost share to SanDisk (SNDK) and SK Hynx (HXSCL) . Samsung, which represented 40% of the market in the second quarter of 2010, saw its share of the pie drop to 36% in the second quarter of 2016, according to Statista. In the same period, biggest rival Toshiba (TOSYY) and Micron (MU) - Get Free Report also saw their shares drop from 33% to 20% and from 12% to 11%, respectively. Meanwhile, SanDisk has cropped up to recently mark a 16% share, while SK Hynx added presence from 8% to 10%.
Samsung also remains committed to the display business, which research firm MarketsandMarkets says could reach $155 billion by 2020, as demand related to mobile devices, TVs and a wider host of products grows.
But it's also a tough market.
In addition to its conventional rivals such as LGDisplay (LPL) - Get Free ReportInnolux, and AU Optronics (AUO) , some other names cannot be ignored, includingFoxconn, also known as Hon Hai Precision Industry (HNHPF) and a major contract manufacturer for Apple (AAPL) - Get Free Report.
In addition to reportedly telling Samsung it would no longer supply it with LCD TV Panels from this year, Foxconn has also said it would invest $8.8 billion to set up a factory in China with Sakai Display Products, a major LCD supplier in which it had raised its stake in just a day earlier. 
Still, with all its commitment to competitive areas, Samsung has proved itself resourceful in quickly responding to innovative areas.
In November, the company agreed to invest $8 billion in Harman International Industries (HAR) to boost its competitiveness in the fast-growing automotive electronics technology.
Samsung has also snapped up Viv Labs, an open artificial intelligence platform.
(Apple is held in Jim Cramer's charitable trust Action Alerts PLUS. See all of his holdings here.)