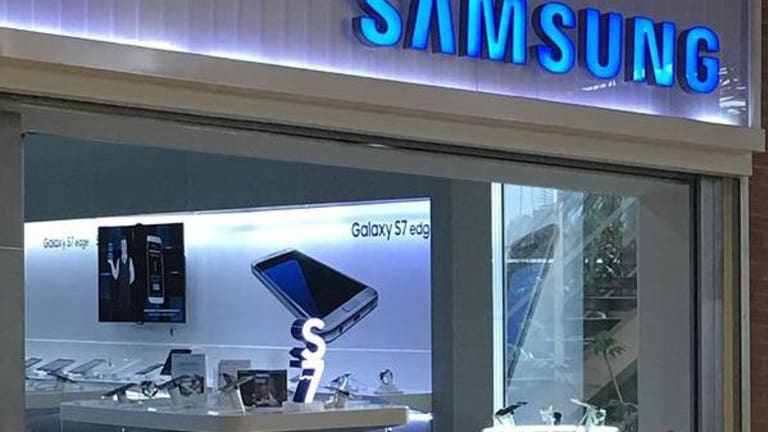 Publish date:
Samsung Expected to Report Profit Jump Despite Galaxy Note 7 Woes
The South Korean company could prove it has the capacity to offset Galaxy Note 7 and consumer product fiascos.
The South Korean company could prove it has the capacity to offset Galaxy Note 7 and consumer product fiascos.
SamsungElectronics (SSNLF) is expected to say profits jumped in its latest quarter, likely showing it has abundant capacity to offset damning incidents with other parts of its widespread business line. 
The Suwon, South Korea-based tech group typically releases quarterly guidance a couple of weeks ahead of is formal earnings statement, which this year year falls on Jan. 27. 
A consensus of 40 analysts compiled by FactSet forecasts net profit of 5.9 trillion won ($5.0 billion) on sales of 52 trillion won for the three months ending in December. That represents a year-on-year profit increase of 82% despite a 2.7% sales drop. On a quarterly basis, analysts expect profit to have advanced 30% on 8.5% sales growth.
Growth is largely seen to come from the semiconductor and the display panel segments, with analysts expecting 9.3% and 8.8% expansions from each on a year-on-year basis. Those stand in stark comparison with a 10% slump for the IT and mobile communications segment and just a 0.3% climb for the consumer electronics segment.
At the end of the third quarter, Samsung anticipated sales and profits to improve for high value-added flash memory product in the semiconductor business, and for revenue and profits from LCD products to increase in the display panels segment.
Meanwhile, the company was less confident about the IT and mobile communications segment, only saying it wanted to generate solid earnings from its Galaxy 7 smartphone lines. It also said it wanted to improve earnings for its TV products and boost innovative products in the consumer electronics segment.
Samsung discontinued sales of the Galaxy Note 7 smartphone less than two months after its initial launch on August 19, after confirming dozens of cases in which the batteries exploded or ignited fire. It also had to recall 2.8 million washing machines in the U.S. following reports their tops can detach during use.
Tim Baxter, the president and COO of Samsung Electronics America, said the company will disclose a report on the cause of the demise "very soon."
"We continue our intensive efforts internally and with third party experts to understand what happened and to make sure it does not happen again," Baxter said at a press conference held at the Consumer Electronics Show in Las Vegas. "Very soon, we will be sharing the root cause report on the Note 7."
Meanwhile, Samsung has decided to initially manufacture 10 million units of the Galaxy S8, according to South Korea's Electronic Times, which cited unnamed sources. That would match the initial sales of the Galaxy S7 released last year. It also said the company will start manufacturing the new model in March and start selling it in April.
Samsung also having to seek new LCD suppliers after a subsidiary of Foxconn, a major contract manufacturer for rival (and Action Alerts PLUS holding) Apple (AAPL) - Get Report, reportedly told the South Korean player it would stop supplying it with LCD TV Panels from this year. The company is reportedly in talks with arch-rival South Korean rival LG Display (LPL) - Get Report to source new panels.
Over the last several weeks, Foxconn, also known as Hon Hai Precision Industry (HNHPF) , has made major steps towards entering the LCD TV business, a move that could prove a threat to Samsung, which has remained the market leader for the last decade. 
Last month, Sharp (SHCAY) , a Foxconn subsidiary, bought two Eastern European TV companies, making a comeback in a market it once retreated from and also said it would invest $8.8 billion to set up a factory in China with Sakai Display Products, a major LCD supplier in which it had raised its stake in just a day earlier.
Samsung is currently reviewing possible changes to its corporate structure involving splitting the company into holding and operating companies. It has yet to commit to the changes despite pressure from activist shareholder Elliot Associates to clean up its structure and governance, and return more cash to investors.
Elliot has also argued Samsung's operating company should list on the Nasdaq to boost shareholder liquidity. The shares are currently only listed in South Korea.
Samsung shares have jumped 47% in the past 12 months.
The company has, however, said it would appoint new board members with global experience within the next few months, and that it would create a new governance committee made up of independent directors. The current board is made up of nine people, five of which are independent, all are South Korean.
(Apple is held in Jim Cramer's charitable trust Action Alerts PLUS. See all of his holdings here.)