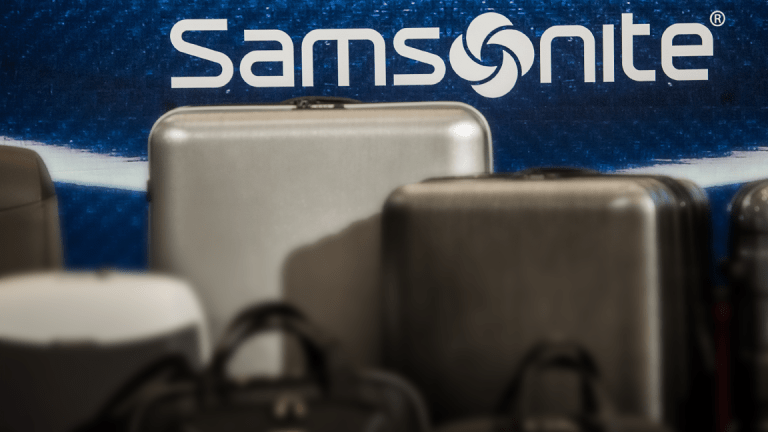 Samsonite CEO Reveals How Stock Has Packed Up 60% Gains This Year
Some eight years after its U.S. arm filed Chapter 11, the luggage maker has successfully shifted its base -- and focus -- to Asia.
It's only suitable that Indian-bred Ramesh Tainwala now heads the venerable luggage company Samsonite International (SMSEY) . For while the company got its start in the United States more than a century ago, it now has a Hong Kong headquarters and a very Asian future.
American entrepreneur Jesse Shwayder founded the company in 1910 in Denver, at first specializing in travel trunks. The company began calling its luggage "Samsonite" in 1941 to reflect the strength of the biblical Samson.
But Tainwala took the helm in 2014 and brings a distinctively Asian sensibility to his management approach. For example, he said in an exclusive interview with TheStreet that he accepts that he must "own [the] failure" for his part in the brand's recent disastrous attempt to launch "black-label" line of luxury Samsonite bags.
But rather than dwell on such errors, Tainwala aims to learn from them. So instead of sticking with its own high-end line, Samsonite made the largest acquisition in its history in August 2016 when it paid $1.8 billion for luxury luggage-maker Tumi Holdings. Samsonite is now using that buy to help segment its business by brand:
The company sells luxury bags under the Tumi label, often with leather finishing. These are "aspirational" pieces of luggage, with Tumi's black ballistic business case serving as a best seller. Tumi also offers an increasing number of pieces with fashion-influenced flair for female travelers.
Samsonite remains the company's flagship brand, offering mid- to high-end luggage that typically comes with a hard-metallic case.
American Tourister, which Samsonite bought in 1993, serves as  a "family brand" of more-affordably priced luggage.
Kamiliant is a budget brand aimed at backpackers and first-time travelers.
SMSEY has also acquired other brands such as Speck, which makes computer and phone cases.
That's a strategy change from earlier in Tainwala's tenure, when the company unveiled -- unsuccessfully -- a "Samsonite Black Label" line. The high-end label drew its inspiration from brands such as Johnnie Walker whisky, which successfully offers a multi-tier strategy in terms of quality: regular Johnnie Walker Red Label, premium Black Label and luxury Blue Label (not to mention the Green, Gold and Platinum labels).
As part of this luxury expansion of the Samsonite brand, Samsonite partnered with designers such as Philippe Starck and Alexander McQueen, who delivered a skeletal take on the company's classic ridged hard case. Samsonite also introduced a Blue Label line of lower-priced luggage.
But while such tactics might work for whisky, they didn't for luggage. "Samsonite Black Label stayed in our imagination and our internal communications -- but whenever the customer was seeing 'Samsonite Black Label,' he was seeing 'Samsonite,'" Tainwala recalled.
In turns out that the tiered structure simply confused consumers, with few willing to pony up extra cash for a high-end bag. Meanwhile, the Samsonite Blue label cheapened the company's reputation, encouraging consumers to shift down from the $300 "regular" bag to a $100 option. It also caused buyers of the regular bags to question whether they were really getting the same old quality in their trusty Samsonite.
Sales were dismal and a massive marketing push almost drove the company into bankruptcy (in fact, its U.S. retail division did enter Chapter 11). Samsonite had rented expensive retail space in luxury locations to promote its black-label bags, but few customers walked through the door. The 2008-09 financial crisis also hit at about the same time, decimating leisure and non-essential business travel. "You can spend a lot of money on these strategies very quickly, and we were losing money like hell," Tainwala said.
But he tried to learn from the disaster. "We have been in the business for more than 100 years. We have had an awful lot of success -- but we have made, equally, stupidities."
Samsonite's road from America to Hong Kong has been long and arduous. Private-equity group CVC Capital Partners bought the company in 2007, then put it through financial restructuring. The CEO at the time left and corporate-turnaround specialist Tim Parker came in 2008 as chairman (and later as CEO). But rather than clean house wholesale, Parker called the executive team together to perform an honest soul searching about what had gone wrong at the firm.
"When you are close to death, every truth of your life is glaring on your face," Tainwala said. "I like to believe that crisis is one of the best times for men and women to do an honest roll call of what worked and did not work."
CVC later wanted to exit the struggling firm, so it took Samsonite public in 2011. Under private-equity ownership, the company faced pressure to generate quarterly, monthly and even weekly profits. But with public rather than private equity behind it now, Samsonite is building for its future.
"The decision to go public was very timely," Tainwala said. "Sometimes businesses need a longer-term vision than the appetite of a private-equity fund would allow."
Rather than simply looking at the company's bottom line, the large institutional investors that now back the business look at Samsonite's comparables vs. those of similar companies. The institutional backers might also have a better grasp of the overall drivers governing performance at consumer stocks, which are sometimes at the mercy of macro forces beyond their control.
By contrast, Tainwala said the private-equity approach focused too much on cost-cutting. He said private-equity investors' demand of an exit strategy might have also damaged the company, whereas a public market makes it easy for a major backer to sell at any time without disrupting operations.
The result? Samsonite raised just $1.25 billion in its 2011 initial public offering (with shares priced at the bottom of their expected range), but is worth some $6.5 billion today. Shares are up some 60% so far this year, as this chart shows:
In terms of financials, Samsonite made just $53 million in 2009, but grew EBITDA to $486 million on $2.8 billion in sales last year. Profits should rise to some $650 million this year, and Tainwala aims to grow to $5 billion in annual sales and $1 billion in yearly profits in the next four to five years.
Asia and the U.S. market account for one-third of current sales, although the fast-growing Asian market (especially China) could easily produce 50% of revenues soon. "The center of the gravity of the world is moving toward Asia," Tainwala said. 
Samsonite provides quarterly sales numbers down to the country level for its top 30 countries, which represent 90% of its business. Tainwala also aims to operate the business as transparently as possible. To that end, he offers major institutional investors access to the company's country heads  if they so desire. "They don't have to listen the spiel that I am giving," the CEO said. "Very frequently, someone says: 'Can I meet Mr. China or Mr. Germany?' We will arrange the meeting if they would like to meet."
True, Samsonite's South Korean business recently posted a 3% to 4% decline in sales. But that is largely a byproduct of tension with China, which at one point ordered Chinese travel agencies to stop sending tours to South Korea. 
On the other hand, Britain's Brexit vote produced a 20% to 30% gain in sales in the immediate aftermath of the 2016 referendum, thanks to a slump in the British pound. Now that the company has adjusted its U.K. pricing, British sales have dropped 8%, but Tainwala said: "I don't think any investor is getting unduly worried about it. Consumer sentiment is weak, and now there is uncertainty over Brexit. Chinese tourists are back, still in England. But with the local demand, there's an element of pessimism."
China is currently the company's second-largest market, behind only the United States. The other nations that make up Samsonite's six largest sources of sales are all Asian: South Korea, India, Japan and Hong Kong. But the company's global footprint is always expanding. For instance, it's hiring Mandarin-speaking shop staff in Africa to service Chinese visitors.
"I see no reason why we should not in the next 10 years be a $10 billion business," Tainwala said. "It is my responsibility to create enough legs for this business to continue to grow for the next 10, 20 years, 100 years."
But in a reflective moment, the CEO notes that he can only take care of the now. When his time is done, he aims to leave the company in equally capable hands to take it forward.
"I try to live in the present," Tainwala said. "The future will be what it will be."
(This column originally appeared at 11 a.m. ET on Real Money, our premium site for active traders. Click here to get great columns like this from Jim Cramer and other writers even earlier in the trading day.)
More of What's Trending on TheStreet:
At the time of publication, McMillan had no positions in the stocks mentioned.