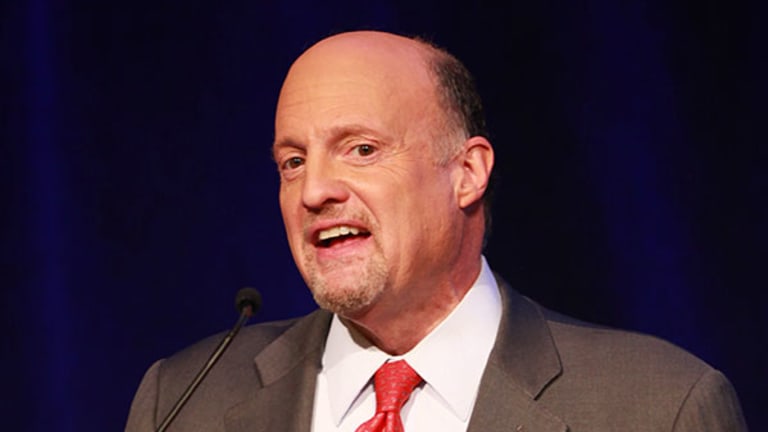 Saluting the Monster Wave in Health Care Mergers and Recognizing Signs of a True Recovery: Jim Cramer's Best Blogs
Catch up on Jim Cramer's ideas this past week on how the recovery really will begin (hint: think household formation) and his take on the health care consolidation trend.
NEW YORK (Real Money) -- Jim Cramer fills his blog on RealMoney every day with his up-to-the-minute reactions to what's happening in the market and his legendary ahead-of-the-crowd ideas. This week he blogged on:
The nucleus of a true economic recovery: household formation.
And what's at stake in the massive wave of health care mergers.
Click here for information on RealMoney, where you can see all the blogs, including Jim Cramer's -- and reader comments -- in real time.
Household Formation Points to the Start of the Real Recovery
Posted on May 20 at 10:49 a.m. EDT
You can't get real growth in retail unless you grow as a country. We can grow two ways: new, budding families and immigration.
Both forms of growth have been weak ever since the Great Recession. Household formation has been abnormally weak because younger people are staying with their parents longer, including married young people, and are therefore less likely to have children and need to move out. Immigration's been running below the norm because the patchwork immigration process we have has kept more people from crossing our borders and allowed for much easier exportation.
Let me say at the outset I am not musing about immigration. Heaven knows there is enough written about that polarizing topic; you do not need me to wade in on it.
But the former, the lack of growth in the indigenous population, has been behind a lot of the problems the economy has had since the Great Recession; it's just hidden and not really talked about.
Except on the Home Depot (HD) conference call. That is chiefly when Carol Tome, the CFO, opines on the issue and puts it in the context of consumer spending at Home Depot, both on an absolute and on a relative basis.
She knows that household formation -- departing from the parents and starting a household in your own home -- is the key to the real growth of her industry and much of the growth of a spending society like we have in the U.S.
For many years, the country was in a decent balance. We had been growing households at a nice clip of more than about 1.3 million. That kind of formation can easily eat into single-family housing starts of anything more than 1 million, which until right before the Great Recession was pretty much standard fare.
Once the Great Recession started, however, we began to get highly unusual household formation figures, a dramatic drop, sometimes to as low as just 400,000 to 500,000 a year. That's just not enough to spur a lot of growth for new housing units or even for existing ones.
But now things seem to be coming back to normal and yesterday Home Depot flagged a plus 1 million number as one of the reasons why its numbers are getting stronger.
If the trend continues, Tome says, we could see a dramatic increase in growth for Home Depot, because if we just returned to trend line, there would be 4 million new households created rather quickly. That's because an astounding one-third of the 18-to-34 cohort are still living at home.
Now we don't know if this trend really is a trend. Warren Buffett famously talked about how hormones -- the need to have children -- would get us back to normal. But that was three years ago and it didn't happen.
If it happened now, though, it could really make a difference to sales.
Household formations aren't the only things that drive retail sales. Employment matters. That's getting better. Growing salaries matter, too, and that's not getting better. Credit matters, and, according to Tome, that's beginning to thaw. But she says, "It seems to be thawing slowly like a glacier melt."
But if more households are formed, then that puts a bid under the value of housing. If more people are more confident about their homes moving up in value, then they consider buying goods for their homes to be an investment -- capitalized, so to speak -- not spending.
And that process is behind the better-than-expected numbers that Home Depot is seeing, particularly as people are starting to spend on bigger and bigger tickets and not just doing maintenance.
This trend is so important and yet so obscure that people don't realize the potential permanence of Home Depot's growth. As we get more and more households, we will get more and more investment in those households.
That's how you get a high single-digit increase in items that are, say, $900, like water heaters, that were specified on the call. It's also, though, how you get hard goods being favored over soft goods because the soft goods have no tangible value to the home, as management pointed out.
Watch this household number. This is the rising tide. Initially it will pull up all home-store boats. Ultimately, it will pull up all household spending and then the real, long-awaited recovery sans the Fed will at last begin.
Health Care Mergers Are Just Getting Started
Posted at on May 21 
6:49 p.m. EDT 
We're seeing something amazing in the world of health care: massive consolidation. Shake-and-bake deals coming fast and furious. This morning's
 of 
CVS's
(CVS)
 buying 
Omnicare
(OCR)
in a $12 billion deal is one more example of what's been going on in this group, and I can tell you that we are in the early innings of these mergers.
Omnicare is a company that provides critical medical care to senior citizens, typically in assisted-living facilities. This is a fabulous niche business that won't be niche as baby boomers get older.
Now, we know CVS already owned a pharmacy-benefit manager, Caremark, not that long ago and, when it took tobacco out of its stores, it became CVS Health, much less of a drugstore chain and much more of a health care provider.
Not that long ago, Rite Aid (RAD) made a similar move to purchase a pharmacy benefit manager, a move I liked very much.
Now I think it is the turn of Walgreens Boots Alliance (WBA) to step up to the plate and buy a company that controls drug costs, or merge with one.
It's one of the reasons why I think McKesson (MCK)  never seems to go down, as it is a formal partner of Walgreens, but I see no reasons why they can't merge. Sure, Walgreens used to own a pharmacy benefit manager and shed it, but that was the old management team and this group isn't bound by history.
Plus, it wouldn't surprise me one bit to see more consolidation in the health maintenance world. Do we really need Anthem (WLP) and Humana (HUM) and Aetna (AET) and Cigna (CI)  and United Health (UNH) ? I can see a world where five becomes three very easily.
Then there's the rampant talk of mergers in acquisitions among the drug companies. I was amazed yesterday when Deutsche Bank put out a piece suggesting that Pfizer  (PFE)  might be soon merging with GlaxoSmithKline (GSK) . There was a time when no major firm would even think of having a piece of research that would speculate about such a merger. Now it's a given that a deal has to be done.
Same with the generics. Think of all the combinations there: Mylan (MYL) wants to buy Perrigo (PRGO) . Teva (TEVA) wants to buy Mylan. We have come to expect that Valeant (VRX) is always about to pounce on a company in the industry. Even after Actavis (ACT) did the biggest deal of the year in 2014, $70 billion, we keep hearing that CEO Brent Saunders is queueing up another major acquisition.
Why is all this happening? First, there are way too many players bashing each other's heads in the health care segment. Every deal I have seen has raised gross margins dramatically.
Second, many of the users of health care, like the hospitals or doctors, really don't want as many providers calling on them.
Third, the government's gotten stingy, and without the largesse of Medicare, many of these companies can't make their long-term profit margins.
That's why I always reiterate that I like Rite Aid, a company that is asked about on Twitter (TWTR) @jimcramer more than any other. That's why my trust owns Walgreens because any deal it makes will be viewed like the Omnicare deal that CVS did that drove that stock up almost $2.50 today.
It's why I think owning a drug or a biotech is a must.
I understand there are several deals being worked on that could be imminent before the summer begins involving just the players I have reeled off.
My bottom line: Every time there's a deal, the whole group moves. Own one of these; right now it's the single best group in town.
Action Alerts PLUS, which Cramer co-manages as a charitable trust, is long ACT, TWTR and WBA.