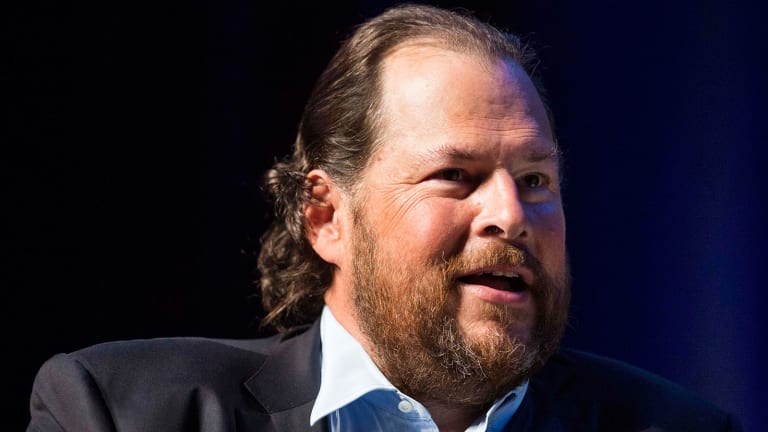 Salesforce Is an Easy Stock to Like, Here Is How to Play It
Timing is important on CRM, buy any pullback below $144.
Long-time favorite Salesforce.com  (CRM) - Get Report reports tonight, and expect a strong report.
The industry is looking for EPS of $0.47 on revenue of $3.23 billion. These numbers would be good enough for year-over-year growth of 42%, and 26%, respectively. You may recall that back on July 11, I raised my target price for CRM from $145 to $152. The last sale that morning was $142.45. 
The stock was unfairly punished as trade-related headlines made waves. Twenty days later, on July 31, with the last sale at that point down to $138.03, I again increased my target price from $152 to $160. May the Salesforce Be With You.
I think that Salesforce is an easy name to like. Seems highly valued? Sure, 56 times forward price-to-earnings multiple is expensive. The whole cloud space is expensive, because that is where the growth is in 2018. Margins are rising, cash flows are solid. Debt is manageable. How much of the valuation was priced into having a well known, well liked, obviously competent CEO like Marc Benioff at the helm.
Well, we have not lost Benioff. He is still the visionary and the marketing guy. Nearly a month ago, the firm promoted COO Keith Block to the position of co-CEO. Block is going to run operations and execution. Can this work? I think it already might be. I also think that this is an example that maybe a firm such as Tesla (TSLA) - Get Report should probably follow -- for very different reasons.
Impact of Mulesoft
Back in May, the firm closed on the Mulesoft acquisition. That acquisition is now expected to provide the lion's share of revenue growth for the entire year. What the Mulesoft deal does is provide Salesforce with a high-end technology that facilitates data transfer from a client's on-premise sight to the "cloud."
Over the past two weeks, Action Alerts Plus holding Salesforce has seen upgrades and increased target prices from the likes of Cowen, Morgan Stanley, Credit Suisse, Piper Jaffray, and Barclay's. Those target prices now range from $165 to $178. CRM closed last night at $152.99 after trading as high as $154.88 on Monday morning. Those of us long this name have something significant to protect going into tonight's numbers. Let's take a look.
View Chart »View in New Window »
Everything looks stellar, which almost scares me. Relative Strength, Money Flow, the daily MACD. Hot, hot, hot. The name most obviously finds support on selloffs at traditional Fibonacci levels, and just as obviously colors within the lines regarding a year-long Andrews' Pitchfork model that has used the central trend line consistently as a pivot, but more recently as support.
There's one other important item to see here -- and that's timing. Salesforce holds its big dog and pony show, the annual Dreamforce Convention in San Francisco, in late September, from the 24th through the 28th. My thought is to expect positivity around this name at that time, regardless of what happens tonight.
My Thoughts
I don't like to violate basis, but when a long position runs for a year or more, you end up with a rule that will not allow you to add at any price if you stick to it. If the name takes off tonight, I likely leave my equity position unchanged. On a pullback of any kind, the $144 level looks like a spot to me to maybe add a partial buy. Or maybe.... short a put option.
Salesforce.com
Price Target: $170 (up from $160).
Panic Point: $140 (up from $132).
Trade Ideas (minimum lots)
Sell (write) one 144 Sept 28 put option (last: $2.58). Note that there was no volume for this product yesterday, and the bid went out at $1.94, so the valuation is volatile and any participation will impact price discovery.
Buy 100 shares at $144 or better on a weak reaction to earnings (which is possible, given the recent run). If hit on such a bid, my immediate reaction would, in my opinion, be to sell (write) a Sept 28 call option with a strike price of a roughly $8 premium to the equity purchase price. This should, in theory, pay the investor $2 to $2.50. If that premium is not there in the morning, the trade then becomes less worth it, and I figure something else out.
Free White Paper: 7 Things All Investors Must Know in 2018. Start the second half off right with our free white paper on seven key things to watch this year. From how much cash to have on hand to the three reasons this bull market might die, our white paper features key takeaways from an all-star panel that TheStreet and Fisher Investments recently hosted in New York. Click here to register for your free online copy.
At the time of publication, Guilfoyle was long CRM equity.