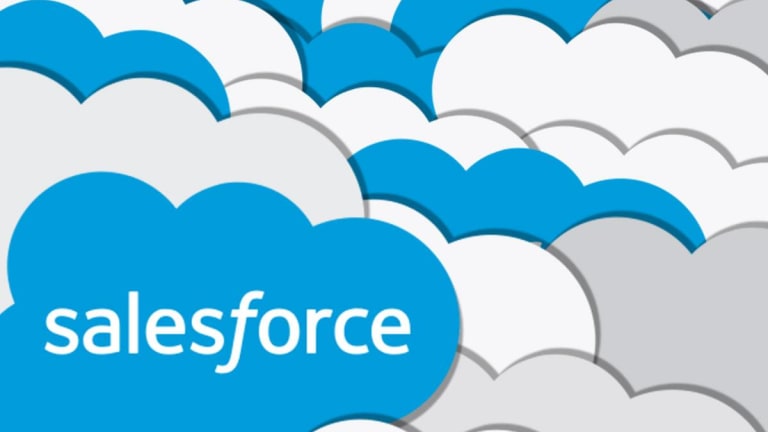 Publish date:
Salesforce: Buy the Weakness
The software maker remains a high-growth cloud stock, yet for now, investors are not being asked to pay too much for it.
The software maker remains a high-growth cloud stock, yet for now, investors are not being asked to pay too much for it.
Salesforce (CRM) - Get Report has seen its stock remain largely unchanged over the past twelve months. Meanwhile, the S&P500 has only just eked out a couple of percentage points growth over the same time frame.
Are investors becoming concerned that high-flying cloud-stocks have run their course? Given the nosebleed valuations of many of them, they probably have. But Salesforce is not like the rest. Salesforce stands head and shoulders above me-too companies, making its stock a buy on this weakness.
Q2 2020 Results - Still Delivering Surprises
Salesforce Chairman & co-CEO Marc Benioff came out swinging with last month's Q2 2020 quarterly result, reminding investors that companies are clamoring for Salesforce's platform to facilitate their digital transformations.
On the back of its solid Q2 results, Salesforce is well-positioned to raise its full-year guidance. Looking ahead we can see that Salesforce now expects its top-line to get back to growing at delivering 26%-27% full-year growth.
The sort of revenue growth rates which Salesforce is delivering is astonishing in and of itself. But it's particularly noteworthy given that for Q1 its revenue growth was 24% and this past quarter saw its revenue growth simmer down to 22%. So what is reigniting this impressive growth for the rest of its fiscal 2020?
Salesforce's Vision
Salesforce is not content to stand on the sidelines and let promising growth opportunities go by. Other companies might opt for a slower pace of growing capabilities in-house -- but not Salesforce. When presented with a once-in-a-lifetime possibility to shape an industry, Salesforce jumped to the front and took its reins.
In more detail, we note how Salesforce in fiscal 2017 spent $4.4 billion, while in fiscal 2018 no material acquisitions took place as Salesforce consolidated its teams. Then, during fiscal 2019 Salesforce acquired Datorama for approximately $770 million and MuleSoft for $6.4 billion. More recently, the acquisition of Tableau for under $16 billion made made headlines.
This strategy is viewed as a high-risk, high-reward strategy. If executed as well as Salesforce has consistently shown it can, it can be tremendously rewarding for its shareholders. In fact, looking back longer than just 12 months, over the past five years, Salesforce's shares have delivered shareholders with a tidy 165% return over this time frame.
Valuation - A Margin Of Safety
Towards the end of a bull market, stocks don't come cheap. The onus is on investors to be highly selective and pick out the highest quality stocks that are not priced to perfection. Investors' strong business acumen will ultimately be rewarded.
The table above demonstrates that investors are not being asked to pay too much for Salesforce. In fact, we should note that despite Salesforce showing clear evidence that it has the mindset to consistently impress analysts and investors, its stock is not being reflective of everything it has shown it can accomplish and what it's likely to accomplish going forward. 
Moreover, despite Salesforce consistently growing its cash flows from operations, investors for now, are only being asked to pay 31.7x its cash flows, which is in line with what shareholders were historically paying for its stock. 
In other words, despite Salesforce showing that has what it takes to grow its top-line while being attentive to its generation of cash flows, investors are still not having to pay a premium for its stock. 
The Bottom Line
Berkshire Hathaway's  (BRK.B) - Get Report CEO Warren Buffett has often noted that his errors of omission of letting very high-quality companies go by because he was too price-sensitive have lead to huge returns being left on the table.
Salesforce is no doubt one of the flagship companies in the cloud space, and for now, investors are not being asked to pay too for the potential to become shareholders of this very well-oiled machine. Investors should avoid unnecessary errors of omission. 
Salesforce is a holding in Jim Cramer'sAction Alerts PLUS Charitable Trust Portfolio. Want to be alerted before Cramer buys or sells CRM? Learn more now.