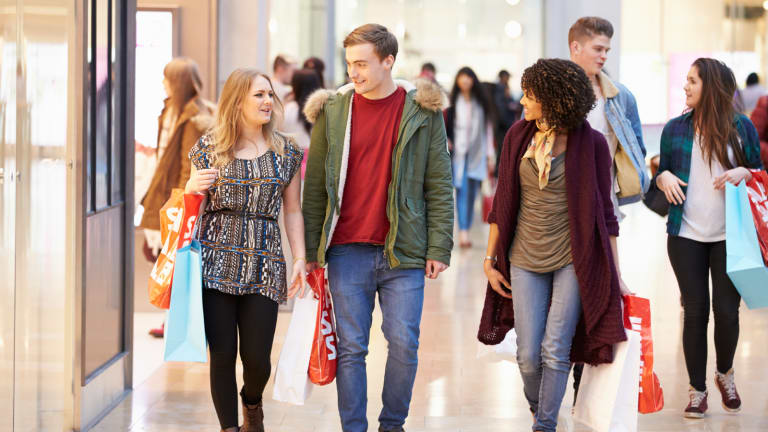 Sagging Consumer Spending Could Drag on GDP, 1% per Quarter
There are hidden reasons why consumer spending might not pick up as anticipated.
WEST CHESTER, PA. (TheStreet) -- If U.S. consumer doesn't pick up in the second half of the year, it could shave a point of GDP growth every quarter. 
U.S. consumer spending should be stronger than it has been this year. With an enormous windfall from low gasoline prices, consumers are either being cautious, choosing to save more, or there are other weights on spending that have flown under the radar, including the potential that the Great Recession altered household behavior.
Stronger vehicle sales in May don't alleviate concerns about the consumer. Consumers are spending on vehicles and travel and entertainment but not on much of anything else aside from medical care. But don't give up on the consumer (despite increased worries). Real spending is barely tracking north of 2% at an annual rate this quarter after rising 1.8% in the first three months of the year.
Fundamentals support stronger spending, and our forecast is for real consumption to rise around 4.5% in the second half of the year as consumers use more of the windfall from low gasoline prices. For argument's sake, if spending rises a less impressive 3% because fundamentals are less supportive than we think, or consumer behavior has changed, it would shave more than 1 percentage point off GDP growth per quarter.
Why the recent weakness? Here's a look at the possible explanations for the disappointing recent spending and assign a high or low risk that it will be more persistent than we anticipate.
Saving the Gasoline Windfall (probability it will prove more persistent than expected: high)
The boost to spending from low gasoline prices hasn't been as visible or significant as anticipated. Some services, including restaurants and movie theaters, have benefited, but the boost to spending hasn't lived up to expectations.
There are a number of possible explanations. Consumers are pocketing some of the savings from lower gasoline prices. Since mid-2014, nominal spending on gasoline and other motor fuels has fallen by $128 billion at an annual rate, but a large chunk has ended up in savings, which have risen $86 billion at an annual rate.
This suggests that only one-third of the eventual boost to spending from lower gasoline prices has occurred, implying that more spending should be on the way. However, consumers could opt to save the windfall from low gasoline prices or use it to pay down debt.
Perceptions are a factor. Consumers may view the decline in gasoline prices as temporary, making saving more attractive than spending. This is likely part of the reason, because it has been rare over the past few years to have gasoline prices south of $3 per gallon. Therefore, a rational consumer may anticipate higher gasoline prices in the future.
Another reason why less spending at the pump hasn't boosted discretionary spending is the mix matter. Low-income households spend a higher share of their household income on gasoline, but they account for a lower percentage of total gasoline consumption. Higher-income households have a lower marginal propensity to consume, and the additional cash from lower gasoline prices could find its way into savings. For perspective, the highest 20% in the income distribution account for more of total gasoline consumption than the lower 40% combined.
Incentives vs. Base Pay (probability it will prove more persistent than expected: high)
Wage growth has accelerated but the composition isn't as favorable for spending as it appears. Wages are key. The correlation between wage growth and spending has been stronger this cycle than in past cycles, implying that consumption should have been stronger over the past few months because of the gain in wages.
The employment cost index for wages, our preferred measure, rose 0.7% in the first quarter and was up 2.5% on a year-ago basis. But, incentives are a big reason why private wages are up. On a not seasonally adjusted basis, private wages excluding incentive pay were up only 2.1% on a year-ago basis in the first quarter. This may suggest businesses are reluctant to boost base pay, dampening some of the enthusiasm about the improvement in wages and the impact on spending.
Incentive pay could be viewed as temporary, causing consumers to save rather than spend this additional income.
Fatigue (probability it will prove more persistent than expected: low)
The weakness in the first quarter could be attributed to some fatigue. Real consumer spending rose 4.4% at an annual rate in the fourth quarter of 2014. The gain in the fourth quarter was noticeably stronger than the 2.3% average annualized gain in the prior three quarters and the largest increase since 2006.
This has proven to be a significant hurdle. Only once since 2000 has real GDP exceeded 4% annualized and growth in the following quarter matched or exceeded it. The difference between real spending growth in the fourth quarter of 2014 and first quarter of this year was 2.6 percentage points, a touch larger than the average deceleration since 2000 when real spending rises in excess of 4% in the preceding quarter.
Old Man Winter (probability it will prove more persistent than expected: low)
There are significant effects of unusual weather on consumer spending. The impact varies by retail segment and for an entire season the effect is lessened. There were a number of severe storms this winter, preventing consumers from shopping. This is only a temporary drag on spending because many of the put-off purchases are made soon after the storm; therefore we don't believe the bulk of the weakness in first quarter consumption is weather-related.
The bad winter caused households to spend more on electricity, heat and other utilities this winter. This provided a boost to real consumption as it is counted as spending on household utilities. The increase was near $20 billion at an annual rate in the first quarter, roughly in line with that in the first quarters of 2013 and 2014. Therefore, more spending on utilities likely didn't come at the expense of other spending and as weather has normalized, utilities have been a drag on spending, particularly in April.
Deflationary Mindset (probability it will prove more persistent than expected: low)
Persistently low inflation and outright declines in retail prices could be altering consumers' behavior, causing them to delay spending. The retail price index fell 8.5% at an annual rate in the first quarter following a 4.4% decline in the final three months of 2014. The decline in the first quarter left retail prices down 2.9% on a year-ago basis, on par with the declines during the Great Recession and among the largest at any time in the past 20 years.
Declines of this magnitude are not sustainable and lower energy prices were a factor. However, retail inflation has been weak for several years, averaging 0.2% since 2012, well shy of its historical average of 1.3%. Year-over-year declines in retail prices were broad-based as increases were mostly isolated to healthcare and food and beverage stores. Telling is the decline in retail prices for department store-type merchandise, which fell 2.5% on a year-ago basis in the first quarter, just shy of its largest drop on record.
Persistently low retail inflation could have caused consumers to adopt the deflationary mindset of waiting for lower prices before spending.
Shadow of the Great Recession (probability it will prove more persistent than expected: low but rising)
The downshift in spending growth has raised some concern that the Great Recession has altered consumer behavior. For example, the recession could have caused consumers to adjust their expectations for future incomes. The difference between the share of consumers that expect incomes to rise minus those that anticipate incomes to decline has improved noticeably over the past several years but is still consistent with an economy in recession.
The recession could have caused households to question the sustainability of the gains in asset prices. The Fed's latest Survey of Consumer Finances showed that families in the lower income deciles were less likely than in the past to hold stocks. This change could help explain why the stock market wealth effect-the tendency to spend more when equity prices rise-has diminished.
Debt and Credit (probability it will prove more persistent than expected: low)
Though more households are likely borrowing-constrained today than prior to the recession, net worth is well above prerecession highs, providing an offsetting boost to spending.
Credit is a mixed bag. According to the Fed's Senior Loan Officer Survey, lending standards for non-mortgage loans are essentially back to normal. However, the net percentage of banks willing to make installment loans has steadily declined over the past several years. Consumers could be hesitant to take on additional credit card debt but they don't appear unwilling to borrow for other consumption.
The importance of better access to credit is clear in vehicle sales. Without financing to support sales, the recovery would have been far slower. A return of subprime lending has been important in putting vehicle sales just shy of 18 million annualized units.
Data Issues (probability it will prove more persistent than expected: low)
We don't find evidence of residual seasonality -- a predictable pattern in seasonally adjusted data -- in first quarter real spending. Growth in the first quarter is not significantly weaker than in subsequent quarters but there could be other data-related issues in the first quarter, particularly for health care.
Last year, the government appeared to have an issue with measuring health-care spending; that doesn't seem to have occurred in the first quarter of this year. Health-care spending accounts for 11.5% of GDP, making it important to get the assumptions correct regarding changes in the health-care landscape following the passage of the Affordable Care Act. This proved difficult for the government in the first quarter of 2014. Health-care spending was surprisingly weak in the first quarter of 2014, and it was unclear if this was a symptom of the lack of accurate real-time data or if the ACA changed individual and business behavior. The rebound in subsequent quarters suggests that it is the former as health-care spending rose 5.3% at an annual rate in the first quarter of this year.
Implications for the Economic Outlook
The persistence of these drags has implications for the outlook. Fortunately, the odds are that most will prove temporary. The biggest concern is that the consumer will spend the windfall from lower gasoline prices over a longer period than assumed in the baseline. We believe history will repeat itself as consumers have shown a tendency to initially pocket the savings from low gasoline prices, then spend it in subsequent quarters. It's difficult to justify a higher savings rate going forward, as the job market will be tightening and concerns about job security will fade further. Also, consumers' income expectations are improving and asset prices are appreciating.
Wage growth is expected to accelerate through the remainder of this year and into next. However, the turnaround could be slower than we anticipate, taking a toll on spending. Other threats are less threatening. The one moving up our list is the potential that the shadow of the Great Recession is altering household behavior. If spending remains sluggish through the remainder of this year even as fundamentals improve, it would suggest that the consumer psyche may have changed.
For more on consumers and spending: 
-- Real-Time Look at U.S. Consumer Behavior
-- Moody's Analytics Deep Dive into Consumer Outlook
-- Why U.S. Consumers Will Eventually Spend Gas Savings
This article is commentary by an independent contributor. At the time of publication, the author held no positions in the stocks mentioned.