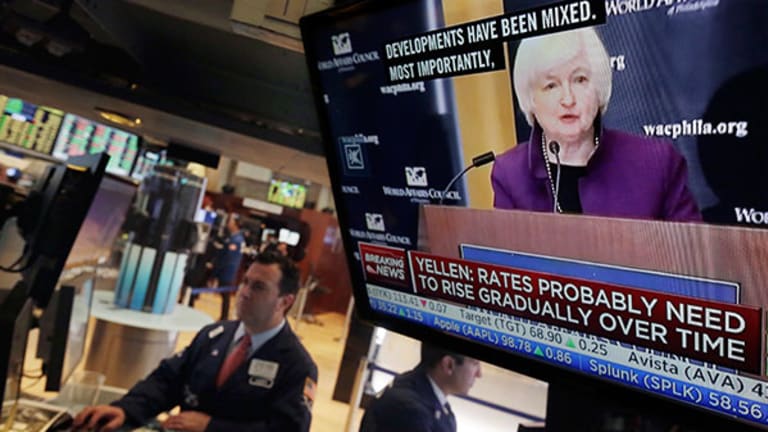 Safe Havens No More: Dividend Stocks Face an Epic Reckoning
As the Federal Reserve gets ready to tighten, investors' flight to safety has reversed course. Here's how to trade in the week ahead.
The "flight to safety" that we've witnessed during the course of the year has taken a sharp 180-degree turn. Investors seem rattled at the prospect of higher interest rates, prompting them to rotate out of utilities, telecommunications, real estate, and gold and into riskier technology and financial services stocks.
As Wall Street adjusts to a higher rate world, we look at the perils and opportunities in the week ahead.
Since the financial meltdown of 2008, the Federal Reserve has kept rates near zero. That's about to change, compelling investors to flee the high-yield stocks that prosper when rates are low.
The U.S. Labor Department on Friday reported that employers hired last month at a slower pace than estimated but not slowly enough to indicate the recovery is stalling. Traders concluded that conditions are ripe for the Fed to hike interest rates later this year, an expectation that's clobbering so-called safe havens. These high-income equities tend to fall when rates rise, as fixed-rate alternatives become more attractive.
Last week, the iShares U.S. Utilities ETF (IDU) - Get iShares U.S. Utilities ETF Report lost 3.88%, the iShares US Real Estate ETF (IYR) - Get iShares U.S. Real Estate ETF Report lost 5.07%, and the iShares US TelecommunicationsETF (IYZ) - Get iShares U.S. Telecommunications ETF Report lost 2.17%. By comparison, the S&P 500 (SPY) - Get SPDR S&P 500 ETF Trust Report only lost 0.72%.
The traditional safe haven of gold is losing its luster as well, with the SPDR Gold Trust ETF (GLD) - Get SPDR Gold Trust Report dropping 4.34% last week.
Among the biggest losers in the broader stock market last week were telecom stocks Verizon Communications (VZ) - Get Verizon Communications Inc. Report (-3.96%) and AT&T (T) - Get AT&T Inc. Report (-4.54%), and utility stocks Dominion (D) - Get Dominion Energy Inc Report (-3.05%) and Southern Co. (-4.17%). Among the biggest gainers were banks: Citigroup (C) - Get Citigroup Inc. Report (+4.15%), Bank of America (BAC) - Get Bank of America Corp Report (+2.88%), and JPMorgan Chase (JPM) - Get JPMorgan Chase & Co. (JPM) Report (+2.10%).
Even corporate villain Wells Fargo (WFC) - Get Wells Fargo & Company Report was up 1.80% for the week, which indicates that Wall Street expects the beleaguered bank to eventually overcome its political woes and return to its profit-making ways.
Most analysts said they expect the Fed to raise rates in December, a likelihood that poses a major test for this aging, seven-year bull run in stocks. But higher rates would be a boon for beleaguered banks.
In the week ahead, a slew of big money center banks are scheduled to release third-quarter earnings, including Citigroup, JPMorgan Chase and Wells Fargo. All three are expected to post earnings declines that are modest in light of the headwinds they've been facing.
Higher interest rates boost the net interest spread that determines banks' profit margins. Additional advantages right now for banks include steady economic growth and rising energy prices. Oil prices seem to have found a floor and are hovering at $50 a barrel. Other major earnings reports to watch in the week ahead include aluminum giant Alcoa (AA) - Get Alcoa Corp. Report and Delta Air Lines (DAL) - Get Delta Air Lines, Inc. Report , both of which are cyclical and generally move in tandem with broader economic prospects.
CITIGROUP, WELLS FARGO and ALCOA are holdings in Jim Cramer's Action Alerts PLUS Charitable Trust Portfolio. See how Cramer rates the stock here. Want to be alerted before Cramer buys or sells C, WFC or AA? Learn more now.
Amid this tumult, certain "Steady Eddie" blue chip stocks are providing both growth and ballast, such as aerospace giant Boeing (BA) - Get Boeing Company Report , which gained 1.73% last week after announcing new multibillion-dollar aircraft orders that will buoy BA shares regardless of economic or interest rate gyrations.
Among the key economic reports to watch this week are jobless claims (Tuesday), and retail sales and the Baker Hughes (BHI) rig count (Friday).
Fact is, dumping inherently strong real estate, telecom and utility stocks would be foolhardy, because conditions remain treacherous and expectations could be thrown into a cocked hat. Oil prices could tumble again, economic growth could stall and a "crash catalyst" (e.g., terrorism, war or international banking crisis) could tip the scales in favor of safe havens again.
Notably, the much-ballyhooed agreement OPEC recently hammered out in Algiers to tighten the oil spigots could easily unravel, as the checkered history of these accords has shown. OPEC officials in the week ahead will be scrambling to nail down the details of the production curtailment, but members are fractious, and that goal may prove elusive.
The upshot: Stick to quality and don't panic. If you own rock-solid stocks like Verizon and Dominion, hang on to them. As this year's crazy U.S. presidential race has amply shown, anything can happen.
If you think Hurricane Matthew is bad, listen to this: A blistering financial hurricane is about to hit our shores. When it hits, weak companies and their investors will be washed away. You need to put yourself on solid ground. And that doesn't just mean changing your investment allocations or loading up on cash. I'll show you how to protect yourself and prosper when you click here.
John Persinos is an investment analyst at Investing Daily. At the time of publication, he owned stock in BA, WFC and VZ. Persinos also covers the aerospace industry and serves as an analyst with the research consultancy Teal Group. Follow him on Twitter.