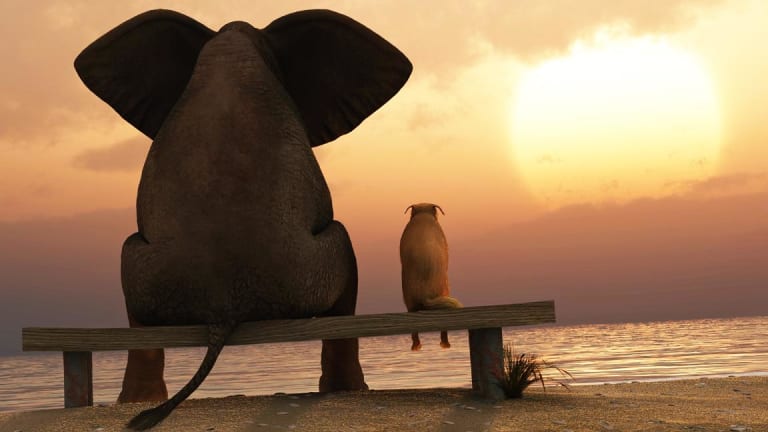 What Jim Cramer's Favorite Indicator Is Now Saying About the Stock Market
The S&P Oscillator Index is an indicator used by traders who conduct technical analysis and can signal where the stock market is headed, demonstrating the current sentiment in stocks.
The S&P Oscillator Index is an indicator used by traders who conduct technical analysis and can signal where the stock market is headed, demonstrating the current sentiment in stocks.
Technical traders who are searching for data to help them conduct research for market moves can use this index, which TheStreet's Jim Cramer has been using religiously since the 1980s.
The S&P Oscillator Index is an overbought, oversold technical indicator that is supposed to indicate short-term trading sentiment in the market and is proprietary to the S&P, said Patrick Morris, CEO of New York-based HAGIN Investment Management.
Traders utilize the index, because it is used to predict the direction of an individual stock or index, and it also serves as an indicator to provide more information on the causes of volatility occurring in the market currently, said Giacomo Santangelo, an economics lecturer at Fordham University in New York.
"It is measuring momentum of capacity in the market and whether trading is slowing down or speeding up," he said.
The index assists traders in their technical analysis and provides more data for traders, which is helpful since the market is often driven by perception.
"A market's only efficient if there is more information," Santangelo said. "The more information people have, the more accurate pricing is in the market and there is also less opportunity for arbitrage and volatility. Information increases efficiency."
Similar to other technically-driven trading strategies, traders should pair the S&P Oscillator Index with other technical indicators to obtain a "confirmation on the reading - either oversold or under bought, " said Shawn Cruz, a senior trading specialist at TD Ameritrade.
The Oscillator index is a momentum indicator that compares current prices to the range or fluctuation of that same price over a past period, said Edison Byzyka, chief investment officer of Hefty Wealth Partners in Auburn, Ind.
While there is not a single index which can accurately predict market moves every time, but momentum can certainly "help guide someone in the right direction," he said. "Buyer beware, however, as the oscillator has had its fair share of buy signals, which turned out to be wrong, much like other indicators. The index has also displayed a fair share of sell signals, which turned out to be wrong."
The index has also displayed various correct calls, but traders must remember that momentum is a very hard factor to analyze.
"Market herding behavior can artificially push markets higher with no clear signal as to why, which makes the catalyst for a potential reversal be one of an exogenous shock rather than an economic downturn," Byzyka said.
The index is back up to its five-year highs at this point since the velocity of individual equities is closing at near highs for a large majority of them.
"This doesn't necessarily mean much since the index was near the five-year low back in mid August, following the nearly irrelevant -2% move on the S&P 500," he said. "That particular low indicated a buy signal, which did prove positive."
Factoring in risk levels and considering the fact that its possible the index could be signalizing a false positive, rational analysis would indicate a downside move is possible, although something as little as -2% on the market could produce another buy signal, Byzyka said.
Traders must examine volatility and volume concurrently because volatility with low or high volume signals different things, said Santangelo.
A market that is driven by traders instead of investors becomes very dangerous since investors tend to have faith in the market while traders are just "making quick money," he said.
When a market has both high volatility and volume, it is driven by traders and may signal a bubble, Santangelo said.
"There is no cookie cutter formula for reading the market," he said.
The S&P Oscillator Index is a market timing tool and is a short-term measure of market sentiment, said Robert Johnson, president of The American College of Financial Services in Bryn Mawr, Pa.
When market indicators such as the S&P Oscillator Index provide certain readings, some market participants believe that action is warranted.
"Cramer has said in the past that when the reading is very low -- that is, very negative -- it is the time to be bullish," he said. "When the reading is very positive, it is a time to be bearish. He has said when the indicator is over five he would be bearish and when it is under minus five he would be bullish."
Market timing is not always an effective strategy and the amount of time investors are in the market is more important, Johnson said.
"Investors should not attempt to spend their time or invest their assets by trying to figure out the short term direction of the stock market," he said. "Many market participants are searching for the magic bullet that will provide them insight into the future direction of markets."
Watch the replay of Jim Cramer's full NYSE live show:
Don't miss these top stories on TheStreet: