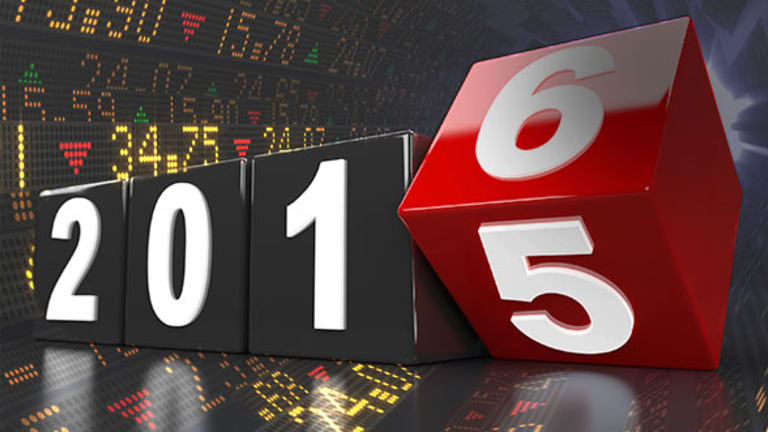 S&P Capital IQ's 5 ETFs to Watch in 2016
When it comes to ETFs in 2016, investors should consider rising interest rates and continued low energy prices.
When it comes to ETFs in 2016, investors should keep an eye on the SPDR Barclays Short Term High Yield Bond ETF (SJNK) - Get Report , said Todd Rosenbluth, director of ETF research at S&P Capital IQ.
That's because the SJNK won't suffer as much when the Federal Reservehikes interest rates -- while still offering a compelling yield in a diversified portfolio.
"You get to protect the downside by still get paid because it yields around 6%," said Rosenbluth. "We think that credit quality is still going to be relatively strong in 2016 and this is a low-cost, diversified way of getting exposure to high yield." The SJNK has dropped 9.2% in price so far in 2015.
Rosenbluth will also be watching the Vanguard Total International Bond ETF (BNDX) - Get Report . In his view the European Central Bank will continue to stimulate economies with bond purchases held by BNDX. This ETF, down about 2% since its launch last January, also hedges currency, limiting the negative impact of the weak Euro.
When it comes to stocks, Rosenbluth has high expectations for the iShares Core S&P Small-Cap (IJR) - Get Report , which is down 2.2% so far this year. He said small caps have historically outperformed large caps in presidential election years, and he also sees strong earnings growth in 2016.
"The weaker U.S. dollar is going to hurt some of the larger cap companies, so this is a low- cost, diversified, very cheap way of getting exposure to U.S. small cap companies tied to an S&P index," said Rosenbluth.
The Consumer Discretionary Select Sector SPDR ETF (XLY) - Get Report has had a remarkable year, up 10%, primarily due to the improving employment picture and low energy prices. Rosenbluth said it's his favorite large cap sectors because it should have the strongest earnings growth in the coming year.
"It's not just shopping. It is also made up of a big chunk of media companies, so it's well diversified," said Rosenbluth.
Finally, Rosenbluth suggested that investors add the iShares MSCI USA Minimum Volatility (USMV) - Get Report , up 3% in 2016, to their portfolios in case the market gets choppy in the coming year.
"If the market proves to be more volatile, this ETF offers exposure to lower risk U.S. stocks but has meaningful stakes in all sectors," said Rosenbluth.