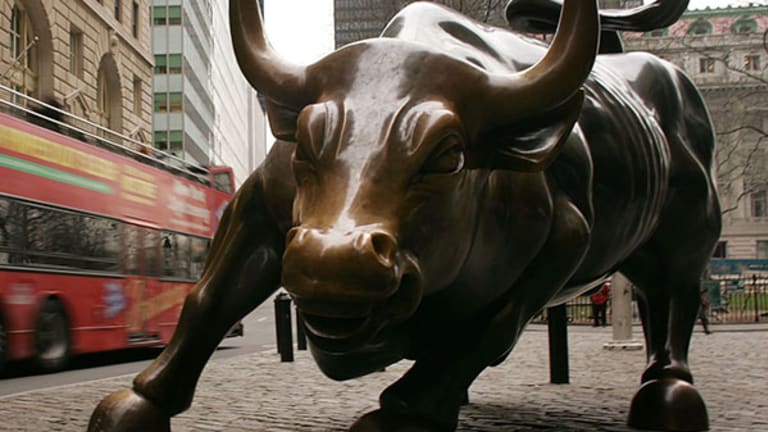 These Are the Golden Rules of Investing During Crazy Earnings Seasons
In order to survive earnings seasons, you need a series of rules. Here are several of mine.
The first thing you need to know about a selloff after a huge gain? It never goes down enough to entice you. Stocks will sell off for certain but only damaged merchandise falls to levels that look like opportunities. Of course on days like this you are looking for cheaper stocks for solid enterprises that are declining, not stocks that are put on sale because the companies they belong to have performed poorly.
AMD (AMD) - Get Advanced Micro Devices, Inc. Report failed to deliver on its promise. Hmm, this one matters. It matters because AMD is data center, gaming and crypto-currency, think Bitcoin. While the latter is related, obviously, to a new form of money, the rest are red-hot areas. That means AMD's guidance has a lasting impact on lots of different portions of the tech world.

So, when you have a really punishing day yet nothing's fallen to where you want to do some buying, what are the rules to protect yourself. What should you be looking for?
I have a set of disciplines that I think forces you to confront the "nothing's down enough" excuse for not taking action.
Yes, I think it is an excuse because, let's face it, what's the probability that on any given day you are going to get a repeal of an entirely justified move and can pick up a stock below where we found out that the company underneath it is doing well?
Let me give you Cramer's rules for selloffs during earnings period, because earnings period, like no other, is totally fraught with risks that aren't normally at hand.
How unusual is it? Last night I am listening to one of the myriad calls I like take. An analyst pops on and says that before he asks his question he wants to apologize because the question might have been asked before but he has to pop back and forth on calls because there are so many going on all at once.
Therefore, let's stipulate that this selloff is happening just about the time when exhaustion is setting in given the sheer number of calls going on. That means don't take your cue from the "action" in stocks themselves. Take your cue from what I call the craft, the notion that you have listened to the call, seen the analysts' reactions and computed that perhaps a bargain is in the offing.
So, let's stipulate that people are operating on insufficient information and we can't necessarily say that something's right or wrong about a stock depending upon how it is doing.
Second, in earnings season I always like to figure out what the proximate cause of the selloff might be. Was there a large company or companies that disappointed and just colored the tape in a hideous way? Was there an exogenous event that drove things down? Something in Washington? Something in the broad market? Some piece of broader information about the economy?
Disappointments. Let's see. There were those who felt that AT&T (T) - Get AT&T Inc. Report delivered subpar results and that this big capitalization company could have cash flow issues if subscribers flee. However, I didn't think the subscriber losses were so awful while at the same time the merger with Time Warner (TWX) will increase cash flow. You get a big cost takeout, you get some growth and we will think why didn't we purchase a stock that yields almost six percent.
Chipotle (CMG) - Get Chipotle Mexican Grill, Inc. Report reported a number that showed there's not much growth in what was once a high growth company. Not big enough to impact trading.
Still, though, I cannot countenance the idea that ATT, Chipotle and AMD are responsible for the magnitude of the selloff.
Washington? The usual food fights. Can't finger this particular food fight with this selloff.
How about overseas? Here the answer is yes, there's a tie-in. That's helpful. Lately the dollar's been rallying and that's excellent for the European companies trying to sell into our markets. It is also contrary to what we are looking for. Lots of the fantastic earnings we have seen are coming from companies that sell overseas and their numbers have benefited from the weaker dollar.
I think European weakness is playing a big role in our own drop. That's encouraging. It means that there's a prop to buy. Our market has been reacting to the European markets of late. If they are going down because the dollar's too weak, we have a potential for a positive readthrough here.
What else has changed? This run has been largely built on the backs of the industrials, because of global expansion and a weak dollar and on the backs of the banks which have done well because interest rates have been going higher. At one point rates were going higher today, the point where our stocks were doing well. When rates reversed our stocks went down with them.
Okay, all pretty benign contributors to the decline.
What else could it be? I am conscious that Tuesday night we looked at Carley Garner's charts about how overbought we are, meaning that we have gone up too far too fast.
She talked about a potential for a very big decline. That can never be ruled out. My advice, though is to say "I don't think we will get a huge one but I will obey and respect how much the market is up and I won't buy anything all at once and I won't start to buy anything that is in the blast zone of the reasons why we are going down. In other words I am not looking to buy AMD or a bank stock, especially if this is day one of rates going back down. Can't tell. Too early.
Now here's the big fork in the road. Do you want to go after stocks that have already reported that have moved up and now you can take advantage of the broader market decline that is not related to them to do some buying? Or do you want to buy the stocks of companies that are about to report extrapolating positives from those that have told us how things are doing.
I always say go with what you know. Why not? It's not like you are going to get hit by the next AMD or ATT, although, again, I can make a case for that latter stock because of that 5.8% yield.
So now we check down. I like to split this exercise into three buckets. The first I would like to think is my own patented way: which stocks are so strong that they are actually up today and do they deserve to be so.
And with that I have my first idea: Visa (V) - Get Visa Inc. Class A Report . Extraordinary quarter, fantastic growth, so well run, probably would have been up five or six if it weren't for the broader selloff. I actually like that idea more than most of the merchandise that is down. People can raise numbers tomorrow and it will take off again.
Second idea? I see Anthem (ANTM) - Get Anthem, Inc. Report up 8 points, which is extraordinary, but the health insurer had amazing numbers. I can't buy anything up 8. My discipline is to say I missed it. But, as good as health insurer Anthem is, I could argue that the stock of United Health (UNH) - Get UnitedHealth Group Incorporated Report is even better. It's down a little bit from its all-time high. That's okay. You buy a little knowing that tomorrow analysts can raise earnings estimates on the whole group.
Cramer breaks down this week's big tech earnings. 
Next up? I made a mental note last week that if you wanted to own a technology company that would allow you to sleep at night you should choose Texas Instruments (TXN) - Get Texas Instruments Incorporated Report because it reports consistently and it has a gigantic buyback. Sure enough it reported Tuesday night, it was real good, with lots of Internet of Things and auto growth. I would buy a little of that.
Speaking of tech: IBM (IBM) - Get International Business Machines Corporation Report has now given back almost its entire gain from when it inflected or gave you the last bad quarter before a string of good ones. It's got a 4% yield. Time to pick.
Finally, one other. I praised a bunch of companies Tuesday night for delivering incredible quarters, notably Caterpillar (CAT) - Get Caterpillar Inc. Report , 3M (MMM) - Get 3M Company Report and Stanley Black & Decker (SWK) - Get Stanley Black & Decker, Inc. Report . I like that the latter is down because it had 9% tool growth, comes complete with hurricane rebuild, emerging growth and finally the Craftsman brand in 2018. That's good enough for me.
Now, there's no need to have more than that. This could be day one of a larger selloff. You also don't buy all at once. Bet on your own fallibility.
Now I know you could say "why do I ever have to do anything on down days?" The answer is, of course, "you don't." But let's start from the fundamental supposition: we want to buy when merchandise is on sale, not when it's going up in price. We want to be disciplined. We want to be consistent with that has worked before. This method has worked for me for thirty years. No reason it won't work for me now.
Originally published Oct. 25 at 3:42 p.m. EDT. Jim Cramer fills his blog on RealMoney every day with his up-to-the-minute reactions to what's happening in the market and his legendary ahead-of-the-crowd ideas. This week he blogged on:
More of What's Trending on TheStreet: