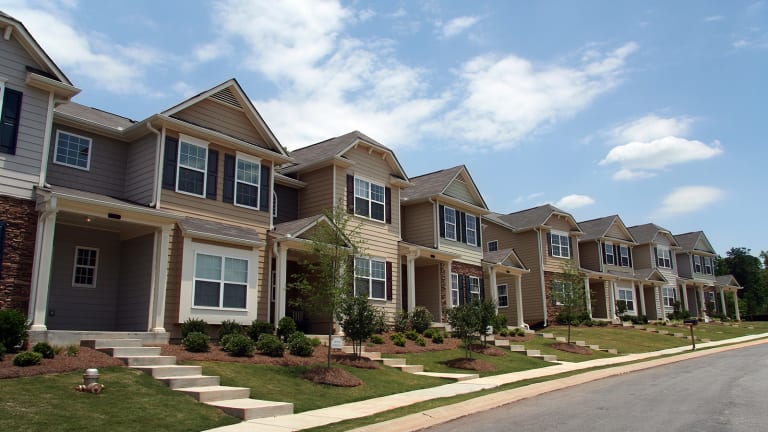 Publish date:
Rule Changes at Fannie Mae, Freddie Could Add $400 to Monthly Mortgage Payments
Congress is exploring changes to Fannie Mae and Freddie Mac to reduce risk to taxpayers.
Congress is exploring changes to Fannie Mae and Freddie Mac to reduce risk to taxpayers.
Fannie Mae (FNMA) and Freddie Mac (FMCC) , two government-sponsored enterprises that finance more than 45% of U.S. mortgages, could raise monthly mortgage payments by $400 based on new rules being discussed in Congress. 
Government officials have been looking to limit the exposure U.S. taxpayers have to the lenders in case the housing market crashes again, and an analysis by Zillow Group Inc.  (Z) - Get Report suggested that those rules changes could result in mortgage bills that are hundreds of dollars steeper per month.
Based on Zillow's analysis, the typical borrower would pay an additional $390 per month on the median U.S. home for a 15-year fixed rate mortgage. A 30-year non-conforming loan would cost borrowers $20 more per month. 
The two GSEs have been in government conservatorship since 2008 after taxpayers bailed them both out with about $150 billion in funds due to the number of foreclosures during the housing crisis. 
"Some GSE reform proposals could lead to the end of the 30-year mortgage as we know it, which has long been the bedrock for financing homeownership in America," said Zillow's senior economist, Aaron Terrazas. "If monthly payments do rise and, more importantly, stay elevated, at some point we'd expect home prices to come down a bit in response to this decreased purchasing power, and some long-time owners could opt not to sell to preserve their smaller monthly payments."
Zillow said that homeownership could become significantly less affordable if Congress follows through with its plans to change the way Fannie and Freddie do business. 
Fannie Mae  (FNMA) shares rose 1.24% while Freddie Mac  (FMCC) shares closed the day up 1.92%.
Subscribe on Youtube for extended interviews, Cramer Replays, feature content, and more!