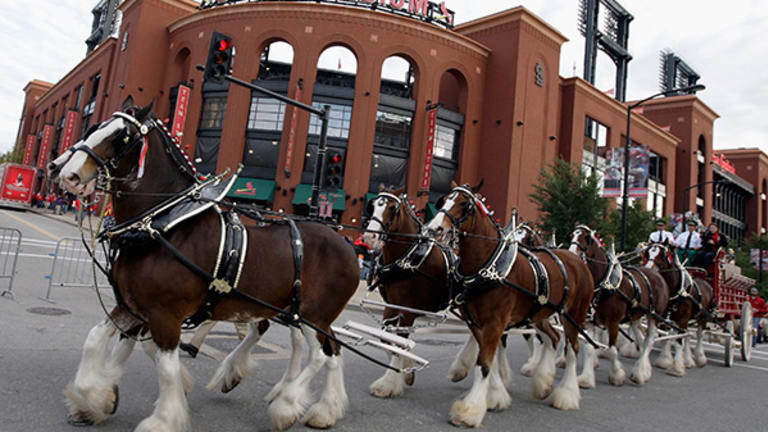 Publish date:
RSQ International Fund's Four Must-Own Stocks
Anheuser-Busch, SAP, Ryanair Holdings and Tencent Holdings all made the list.
Anheuser-Busch, SAP, Ryanair Holdings and Tencent Holdings all made the list.
Wall Street is still abuzz over Anheuser-Busch InBev's (BUD) - Get Report massive $46 billion bond offering earlier this month. Riad Younes, portfolio manager for the RSQ International Equity Fund, said the success of the largest bond deal in history bodes well for the stock.
"They did the offering because they had to finance the acquisition of SABMiller, so in this economic environment where you expect low economic growth you need a stock that is dominant in a very defensive sector and beer consumption is usually very resistant to recessions."
Younes added that Anheuser-Busch is not purely a defensive play because it has a strong presence in the emerging markets, which will snap back once those economies regain steam.  Shares of Anheuser-Busch are flat in the past 12 months.
Meanwhile, Younes is also bullish on SAP (SAP) - Get Report , which has seen its shares surge 19% in the past 12 months to the consternation of rival Oracle (ORCL) - Get Report , which has dropped the same amount over the same period.
"SAP was a little bit late moving to the cloud but the transition period is over and they are executing," said Younes. "People see the numbers, people see the progress."
Ryanair Holdings (RYAAY) - Get Report is up 15% over the last year, primarily due to the drop in oil prices. Nevertheless, the recovering European economy and a smart expansion strategy is also providing a tailwind to the discount airline.
"This company is very well known for its on-time arrivals which is a key attribute for business passengers," said Younes.
Finally, Younes is bullish on Chinese e-commerce and social media giant Tencent Holdings (TCEHY) . Shares of the company are up almost 9% in what has been a brutal year for Chinese stocks when it comes to volatility.
"This is a company that is firing on all cylinders with great management," said Younes. "And China's secular growth will be there for many years to come. You will have a hard time finding a better or more stable vehicle to participate in China's growth."