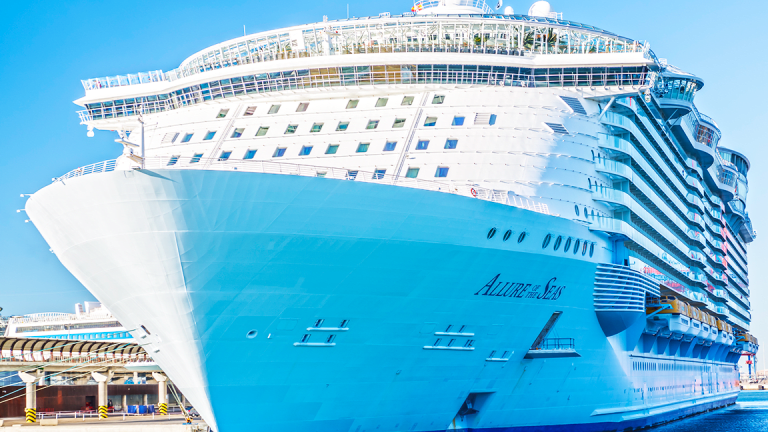 Royal Caribbean Earnings Cruise Past Analysts' Expectations
Royal Caribbean reports record first-quarter results that sail past analysts' forecasts and updates its full-year earnings guidance amid strong demand for its luxury cruise vacation packages.
Royal Caribbean Cruises (RCL) on Wednesday reported record first-quarter results that sailed past analysts' forecasts and updated its full-year earnings guidance amid strong demand for its luxury cruise packages.
The cruise line operator posted net income of $249.7 million, or $1.19 a share, vs. $218.7 million, or $1.02 a share in the comparable year-earlier quarter. On an adjusted basis, net income rose to $275.8 million, or $1.31 a share, from $232.8 million, or $1.09 a share.
The results surpassed both Royal Caribbean's own forecasts and the $1.11 a share expected by analysts surveyed by FactSet. Revenue rose to $2.44 billion from $2.02 billion.
"We are very pleased to report another record-breaking quarter and to be driving towards record earnings for the year," CFO Jason Liberty said in a statement. "The demand trends are strong, further exhibiting the strength for our brands and the public's growing propensity to cruise."
The company also raised its adjusted full-year earnings guidance to between $9.65 and $9.85 a share.
While the guidance reflects the negative impact of a recent accident involving the collapse of two construction cranes onto the deck of the company's Oasis of the Seas as well as the impact of a stronger U.S. dollar and higher fuel costs, "the vast majority of these impacts are being offset by better first-quarter results and an improved revenue outlook," the company said.
On April 1, the Oasis of the Seas was undergoing maintenance at the Grand Bahama Shipyard when an accident involving the drydock caused two construction cranes to collapse on the stern of the ship. The ship will return to service for its normally scheduled May 5 sailing.
The company estimated the direct financial impact of this unusual event, net of insurance, will be a reduction of approximately 25 cents a share to the company's full-year adjusted per-share earnings.
Shares of Royal Caribbean jumped more than 5% in early trading, gaining $5.36 to $126.30 on the New York Stock Exchange.