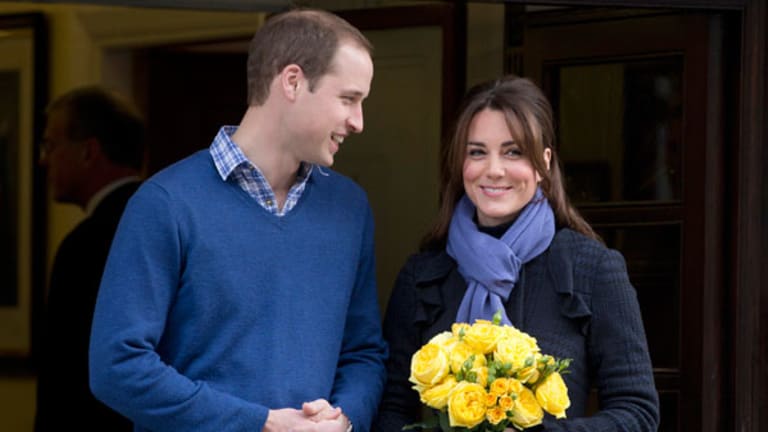 NEW YORK (
) - It's a Boy!
Catherine, the Duchess of Cambridge, sometimes known as Kate Middleton, has given birth to a boy. The child weighs 8 pounds, 6 ounces. His birth comes a month and a day after his father, Prince William, turned 31 years old on June 21.
The child's birth was not announced by placing the hospital's official announcement letter on an easel but broke with tradition. The new prince's birth was announced via email.
"Her Royal Highness The Duchess of Cambridge was safely delivered of a son at 4:24 p.m.," the statement said. "The baby weighs 8 pounds, 6 ounces."
"I'm very grateful indeed for the kind wishes for my rather slowly approaching grandfatherhood," William's father, Prince Charles said in an interview with Sky.
Prince William took leave from the Royal Air Force, where he serves as a captain completing RAF Search and Rescue Operations, to be present at the birth. He is expected to take the standard two weeks military paternity leave following the arrival of his child.
The royal couple elected not to know the sex of the child prior to birth.
British news agencies had been speculating that the baby would be a girl with Alexandra being the most likely name. The Duchess had been hoping for a boy whereas the Prince would have preferred a girl.
British succession recently adopted a rule stating a first born daughter will not be replaced by a younger brother in line for the throne. The royal child will be the 43rd monarch since William the Conqueror became the first Norman king of England in 1066.
The Centre for Retail Research, based in Nottingham, expects the royal baby to generate $372.7 million in sales. Festivities, like celebratory champagne and barbeques, are predicted to bring in 87 million sterling pounds alone. Souvenirs and toys such as royal baby diaper covers and throne shaped potties are expected to bring in an additional 80 million pounds. The organizations see the gender and products given to the child to set trends. The group expects stroller sales to rise by 13%, as new parents seek to emulate the royal couple. British exports are also predicted to rise, totaling 37 million sterling pounds.
This is the first time that a monarch was alive for the birth of their great-grand child in the last 120 years. Taking advantage of the new LED light system installed in the fountain in Trafalgar will be lit blue in the honor of "Baby Cambridge," as he will be known before being named. As is tradition, Gun salutes will be held by the King's Troop Royal Horse Artillery and the Honorable Artillery Company in Green Park and at the Tower of London, respectively, tonight.
-- Written by Robert Arenella in New York
>To contact the writer of this article, click here:
.