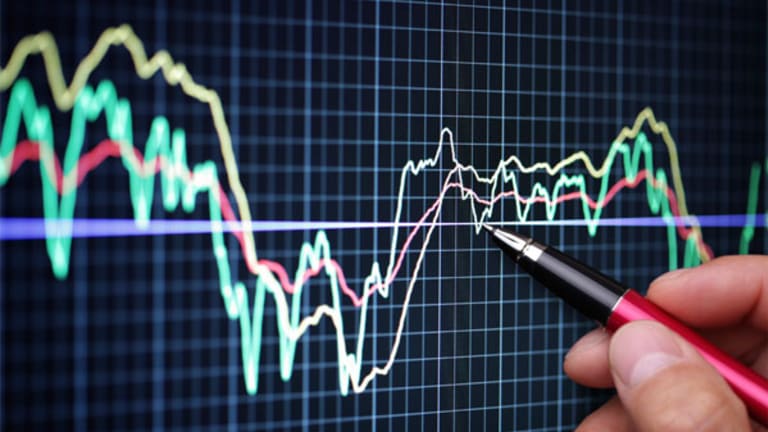 Rosy Financials, Bull; Three-Day Weekend: Best of Kass
In highlights from this week's trading diary and posts, Kass discusses the financials outlook and offers some advice at the cusp of the three-day weekend.
Doug Kass fills his blog on RealMoney every day with his up-to-the-minute reactions to what's happening in the market and his legendary ahead-of-the-crowd ideas. This week he blogged on:
How the rosy financials outlook is bull.
How nice it is that a three-day weekend has arrived.
Click here for information on RealMoney, where you can see all the blogs, including Doug Kass'--and reader comments--in real time.
Rosy Financials Outlook Is a Bunch of Bull
Originally published May 26 at 1:57 p.m. EST
The outlook for financial stocks appears less rosy than the bulls think.


Given the 15-month low in the US Citigroup Surprise Index discussed in my opening missive this morning--it appears that, once again, that consensus domestic economic expectations (of a hockey stick of growth) are at risk.
This, coupled with further delays and dilution of the Administration's policy initiatives could also mean that general expectations of much-higher interest rates is in jeopardy.
If the 10-year U.S. note yield stays in the recent trading range of 2.20% to 2.60% through 2017, financial intermediaries that have an imbalance of rate-sensitive assets over liabilities (meaning that they thrive when rates rise) could be vulnerable both with regard to EPS estimates and in achieving the Street's ambitious share price targets.
Everyone's favorite "value group"-- money center banks--could be headed for an extended period of underperformance. The same may apply to other, selected financials.
For these reasons (and others), over the holiday weekend I will be considering shortly reinstituting shorts in both banks, brokerages and life insurance stocks. ( (MET) ,  (LNC) ,  (GS) and  (MS) remain on my Best Ideas List, short.)
Position: None.
TGIF! (Holiday Weekend Edition)
Originally published May 26 at 7:26 a.m. EST
Mr. Market moved higher this week and during the month of May--not, as I suspect, based on improving fundamentals (see the prior post that shows a chart of Citigroup's U.S. Surprise Index, which is making a new 15-month low) but rather based on pure price momentum.
As equities move higher, the reward vs. risk ratio has deteriorated measurably.
I am in the minority, surrounded by an investment world that has morphed into nothing more than cheerleaders (self-evident in most of the business media) and momentum players of a retail and institutional-kind, which now even the mutual fund world is joining.
Politically, we have major disagreements with our allies on Russia, climate change and trade that must be resolved. At the same time, we have what I believe to be an unjustified optimism on the fronts of regulatory, fiscal and tax reform.
I like to say that we have never faced as many economic and market outcomes, many of them adverse, in the face of 95%+ decile valuation metrics.
From my perch, we have a unique combination of economic, profit, valuation, political and geopolitical risks.
I now believe that there is likely as much as 4x downside to upside in the S&P Index.
Accordingly, I stand at my highest net short exposure in some time.
Most shouldn't short, as it requires a lot of trading and price discipline to operate successfully.
Many should listen to the words of an old partner of mine, John Jakobson, who recently passed away: "Yell and roar and sell some more."
Gold is beginning to make sense from a longer-term perspective.
TGIF.
Position: Long SDS large, SDS calls.
Action Alerts PLUS, which Cramer manages as a charitable trust, has no positions in the stocks mentioned.