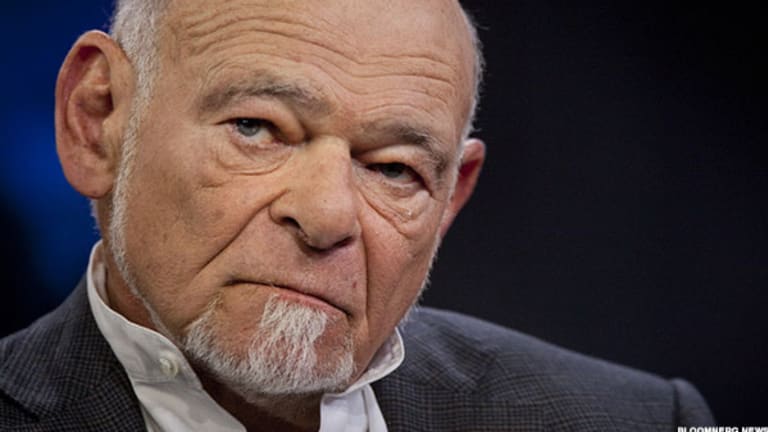 Publish date:
Roll-Ups and Yahoo! Look Risky; Trust Sam Zell; A Bit of Bafflement: Best of Kass
In highlights from this week's trading diary and posts, Kass talks about roll-up problems, why he sold Yahoo!, what one proven prognosticator is selling, and why he's just plain confused.
In highlights from this week's trading diary and posts, Kass talks about roll-up problems, why he sold Yahoo!, what one proven prognosticator is selling, and why he's just plain confused.
NEW YORK (RealMoney) -- Doug Kass of Seabreeze Partners is known for his accurate stock market calls and keen insights into the economy, which he shares with RealMoney Pro readers in his daily trading diary.
This past week, Kass talks about the problems inherent in roll-ups, why he sold his Yahoo! shares on Alibaba's good news, what one proven prognosticator is selling now (and why it matters), and why he's just plain confused by the current behavior of the market.
A Word About Roll-Ups
Originally published Oct. 29 at 9:58 a.m. EDT
Zero interest rates, massive liquidity and slow global economic growth breed financial engineering, accelerated M&A activity and the proliferation of "roll-up" strategies. That's where companies boost earnings not through organic growth, but via acquisitions.
The breeding ground for roll-ups is a flourishing mid-business-cycle condition, when liquidity is abundant, the stock market is euphoric, there's little introspection and less of a focus on earnings quality.
But problems often get exposed later in the business cycle. Accounting issues tend to arise toward a bull market's end after companies that used roll-up strategies have problems growing sales and profits further.
Marginal and/or aggressive executives with questionable business ethics often cut corners and take advantage of accounting conventions. But as the cycle matures and credit markets tighten -- as we're seeing now with widening spreads between investment-grade and high-yield bonds -- roll-ups often turn sour.
Recent questions surrounding Valeant Pharmaceuticals (VRX) and SunEdison (SUNE) could be examples of this. For all we know, so could the U.S. Securities and Exchange Commission's investigation of revenue recognition at IBM (IBM) - Get Report . Other firms will likely also face questions as well.
Position: None
Selling My Yahoo! Long
Originally published Oct. 27 at 7:43 a.m. EDT
I'm calling an audible on Yahoo! (YHOO) now.
I'm taking off the balance of my Yahoo long at over $35.60 a share in premarket trading this morning in light of the earnings beat at YHOO-affiliated Alibaba (BABA) - Get Report and BABA's roughly $8-a-share rise in the premarket. I'm also removing YHOO from my "Best Long Ideas" list.
While I continue to expect a "transaction" at Yahoo (i.e. a takeover), I remain concerned that CEO Marissa Mayer will continue to try to improve the company's core business through a series of undistinguished and unsuccessful acquisitions. (That's been the case over the last two years.)
Indeed, BABA's beat -- which is unrelated to Mayer's execution -- could give the Yahoo! CEO some "breathing room" to destroy more capital through untimely acquisitions.
Click here to see my YHOO comments from yesterday.
Position: None

Look Who's Selling
Originally published Oct. 26 at 7:36 a.m. EDT
"History doesn't repeat itself, but it does rhyme."

-- Mark Twain
I'm a great admirer of Sam Zell -- who, cycle after cycle, knows when to buy and when to sell.
As I wrote in a Barron's editorial in 2006 (subscription required), he was selling real estate to Blackstone back nine years ago, shortly before the Great Recession began.
Well, look who's selling real estate now to Starwood -- $5.4 billion worth. Sam Zell, according to today's Wall Street Journal (subscription required).
It remains my contention that we're approaching a downturn in global economic growth ... again. And I believe that Zell has -- once again -- caught the cycle perfectly.
Caveat emptor!
Position: None
Wall Street's Strange, Confounding Brew
I'm wondering whether Wall Street's remarkable sector bifurcation -- coupled with the increased volatility we're seeing in individual stocks and groups -- represents a measure of the market's health (or lack thereof).
Originally published Oct. 26 at 11:26 a.m. EDT
The sharp advance that stocks saw on Thursday and Friday highlight this bifurcation. The TFANGs resumed their leadership, but investors took retail and health-care shares to the woodshed. (Some retail and health-care stocks were down by as much as 25%.)
This resulted in a lopsided rally. Standard & Poor's reported that Alphabet (GOOGL) - Get Report , Amazon (AMZN) - Get Report and Microsoft (MSFT) - Get Report accounted for over half of Friday's S&P 500 gains.
Yes, there are more areas of strength than weakness in the market these days. But I can't recall when the S&P 500's two largest sectors (technology is 20% of the index and healthcare is 15%) traveled in entirely different directions.
Health care has been over-owned by hedge hoggers, which is surprising considering the sector's six-year run of outperformance. But perhaps this "offsides" position best explains why some money managers decided to shoot first in recent days and ask questions later. There's also little doubt that the price-trending strategies of the machines and the algos contributed to health-care's dramatic share price weakness last week.
As I've written in the past, this cycle's fast erosion of market leadership -- with little chance to exit -- is unusual. It's also typically characteristic of a maturing market, although not this time.
As for individual stock volatility, that's also been pronounced -- and the market ramifications are subject to debate.
For example, the 300-point-plus rally that the Dow industrials saw Thursday had more stocks down by at least 8% (21 in total) than up by 8% or more (17). The New York Stock Exchange's 20-most-active equities had a similar negative bias, with only seven stocks higher but 13 lower.
This is no doubt in part because of heightened market volatility in addition to structural issues. Liquidity is declining ever further -- and so, in time, might confidence in the markets.
For now, players prefer large caps over small caps and high-growth stocks over cyclicals, but the leadership ranks have continued to narrow and breadth continues to lag.
Although the averages have made huge moves higher, market breadth isn't very impressive and certainly isn't following the strength that we've seen in large-cap averages like the S&P 500 and Dow 30.
The NYSE Composite and S&P SmallCap 600 are lagging and creating short-term momentum divergences. Moreover, the S&P 500 Equal-Weight Index (which is different from the "regular" S&P 500) is continuing to decline toward new lows even as the main indices' October rally advances. This should be concerning because sustainable advances don't narrow, they broaden -- at least historically (as this chart shows):
Source: StockCharts.com
While the two observations above suggest a market retracement, most players seem unconcerned about the sector/group volatility and divergent performance that I mentioned above. Few are questioning the three-week-old bull advance's character and sustainability.
Finally, sentiment is beginning to get more bullish (albeit not yet in the extreme). The American Association of Individual investors Sentiment Survey showed bears falling to a three-month low last week, while the 10-day CBOE put/call ratio has dropped to its lowest level (0.93) since July.
It's a strange and confounding brew ... at least to me.
Position: Short SPY (small) Long SPY (small), SPY (puts)
At the time of publication, Kass and/or his funds were short SPY (small) long SPY (small), SPY (puts), although holdings can change at any time.
Doug Kass is the president of Seabreeze Partners Management Inc. Under no circumstances does this information represent a recommendation to buy, sell or hold any security.