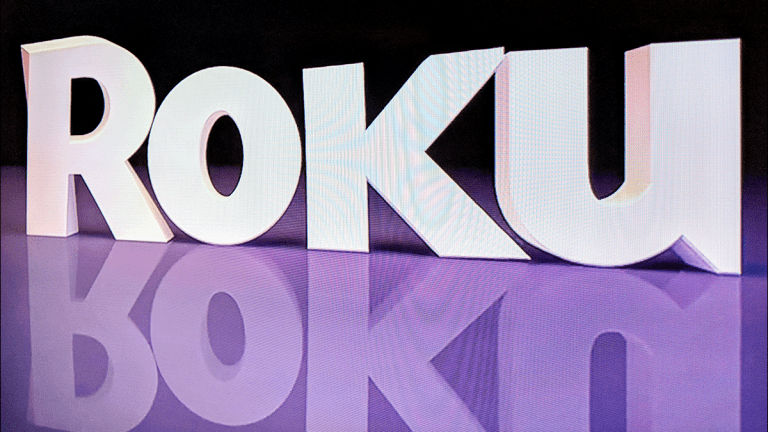 Roku Streaming Higher After Bank of America Analyst Boost
Roku, which makes streaming players that connect to the TV as well as Roku TVs, stands to benefit from the mounting competition in the streaming sector, writes Bank of America analyst Ziv Israel.
Shares of Roku (ROKU) - Get Free Report shot up Monday after an industry analyst kicked off coverage of the streaming device company with a buy rating.
Roku's stock price jumped 7.1% to $143.23 a share as Bank of America opened coverage of the company's stock with a price target of $154 a share.
Roku, which makes streaming players that connect to the TV as well as Roku TVs, stands to benefit from the mounting competition in the streaming sector, BofA analyst Ziv Israel wrote. Giants like Amazon.com  (AMZN) - Get Free Report , Walt Disney (DIS) - Get Free Report and Apple (AAPL) - Get Free Report are launching or beefing up their streaming services, which in turn is leading to an explosion in content and services for consumers.
"As a neutral provider with a large installed base, Roku benefits from rising competition among streaming services," Israel wrote.
In particular, "Roku should continue to benefit from increasing consumer demand for affordable smart TVs" that require Roku devices to tap into streaming services, the analyst wrote.
Eric Jhonsa, technology columnist for TheStreet and RealMoney, offered a similar take.
"To the extent that the launch of new streaming services boosts the use of Roku's platform, it's a positive," Jhonsa said.
But Roku is also poised to benefit from an advertising shift towards streaming platforms as well, with the company having already "effectively shifted to generating the majority of revs through monetizing its user base, primarily through video ads," the analyst wrote.
To that end, Roku last week cut a deal to acquire Boston-based technology advertising company Dataxu for $150 million.
"This is expected to strengthen Roku's ability to develop long-term consumer relationships with advertising clients and also support the company's proprietary data management capabilities," Zacks Investment Research noted.
BofA's Israel also contends there has been an excessively negative market reaction against Roku based on rising competition in its particular streaming sector niche.
He noted Comcast's (CMCSA) - Get Free Report decision to offer its " Xfinity Flex streaming device for free to its internet-only subscribers," and Facebook's (FB) - Get Free Report launch of "a new video and streaming device, the Portal TV."
Among other factors, the offerings by these competitors are significantly more expensive than Roku's products, Israel wrote.
"We view the market reaction as excessively punitive, as total cost of ownership for both products is significantly higher than for the Roku device," Israel wrote.
Jhonsa also noted the competing products offered by Comcast and Facebook also lag Roku in quality and breadth of offerings as well.
"Comcast and Facebook's offerings aren't major threats to Roku," TheStreet and Real Money's Jhonsa said. "Comcast's new box only targets its Internet-only subs, and Roku's software, UI and content library remain superior. Facebook's Portal TV supports just a handful of streaming services (its video chat features and Alexa support are emphasized."
Roku is set to release its latest quarterly earnings report on Nov 6.
Save 57% during our Halloween Sale. Don't let this market haunt you and join Jim Cramer's Investment Club, Action Alerts PLUS. Click here to sign up!