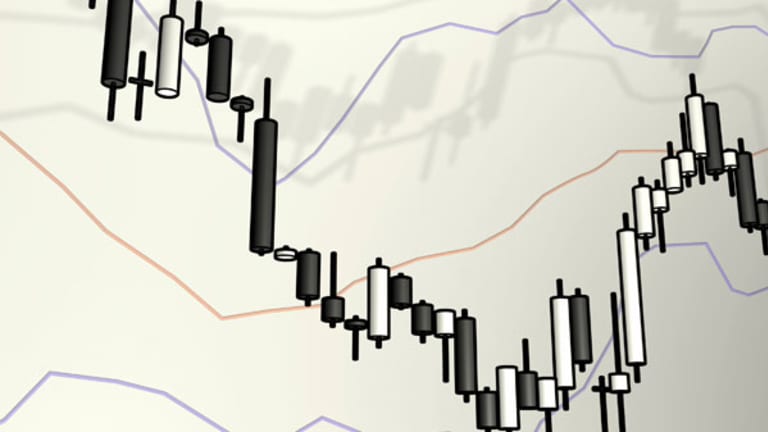 Rocket Stocks: JPMorgan, First Solar, AMD
These stocks with rising analyst expectations could surge higher in the coming week.
BALTIMORE (Stockpickr) -- Last week's selloff is sure to be at the front of investors' minds to start the new week, a factor that should help make trading interesting to start the month of March. Last week, the S&P 500 shed 1.72%, a number that's somewhat toned down thanks to a significant bounce in the index on Friday. Early indications are pointing toward a positive effort on Monday, a good confirmation that last week's correction was just that.
All the more reason to turn to a new set of Rocket Stocks this week.
For the uninitiated, our weekly Rocket Stocks list consists of companies with short-term gain catalysts and longer-term growth potential. Despite the strong market performance since 2009's market bottom, our plays managed to do even better: in the last 93 weeks, our Rocket Stocks have beaten the S&P 500 by 78.24%.
Related:
5 Dividend Stocks for Any Portfolio
This week, we'll continue our trend of looking at stocks with rising analyst expectations. On Wall Street, expectations can mean everything -- and stocks with rising expectations often benefit from increased buying pressures from institutions and retail investors alike. To find them, I run a quantitative screen that seeks out stocks with a combination of analyst upgrades and positive earnings surprises.
Without further ado, here's a look at
.
JPMorgan
Among the nation's biggest banks,
JPMorgan Chase
(JPM) - Get JPMorgan Chase & Co. Report
is a standout. The firm was one of the best-positioned ahead of the financial crisis, and it has remained financially strong ever since, snapping up bargain-priced growth opportunities along the way.
This quarter's earnings were a good example of JPMorgan's dominance. The company reported earnings surprise that completely dwarfed the mediocre earnings reported by peer banks such as
Bank of America
(BAC) - Get Bank of America Corp Report
and
Citigroup
(C) - Get Citigroup Inc. Report
. And right now, shares look poised for more growth.
Leading up to the financial crisis, JPMorgan was a laggard -- the company's relatively conservative balance sheet didn't provide the returns of its competitors. Clearly, that changed in 2008, when financial services firms saw their exposure to exotic instruments as a major liability. In short, JPMorgan cleaned up in the wake of the credit crunch, picking up subsidiaries such as Bear Stearns and WaMu for pennies on the dollar. More recently, JPMorgan has finally been able to stretch its operational legs and deliver growth to investors.
Of course, that growth has lately been relegated to JPMorgan's income statement; shareholders have been snubbed by underperformance of the stock in the last 12 months. If correlations between JPMorgan and the S&P are any indication, investors should expect some outsized gains from this bank as the company makes up lost ground. We're betting on shares this week.
Also banking on JPMorgan is Appaloosa's David Tepper -- the stock is one of
Tepper's nine favorite Dow stocks
as of the most-recent reporting period. It also showed up on a list of the
for the quarter. According to Dan Freed, it's one of the
10 cheapest big U.S. bank stocks
, and Maria Woehr recently identified it as one of
.
First Solar
Another casualty of 2008 was the "green energy" boom that investors had been excited about in the preceding few years. But in 2011, green energy is coming back in a big way. And the poster-child for the sector is
First Solar
(FSLR) - Get First Solar, Inc. Report
, a $13.4 billion solar power module maker.
Even as the solar industry faced considerable economic pressures, First Solar's well-capitalized balance sheet meant that the company wasn't subject to setback-inducing cost-cutting measures that others are continuing to deal with. Further, as the world's largest solar systems manufacturer, the company benefits from major cost advantages over peers, typically the deciding factor in a solar company's ability to compete. As cash continues to flow into the solar industry this year, expect First Solar to be an outsized beneficiary.
On Friday, shares of First Solar took a hit on
investors' reaction to Thursday's fourth-quarter earnings
-- revenue missed the mark by $38 million. That reaction was overblown considering that profits beat expectations, and the revenue shortfall was the result of a change in revenue recognition rules, not a decrease in top line sales. As investors digest the economic reality of fourth-quarter numbers, opportunistic buying should help buoy shares.
Al Gore's Generation Investment Management
increased its position in First Solar by 65.3% in the most-recent quarter, to over 730,000 shares, or 3.7% of the entire portfolio. Roberto Pedone recently highlighted it as one of
six solar stocks that are heating up
.
Advanced Micro Devices
In the bitterly competitive microprocessor market,
Advanced Micro Devices
(AMD) - Get Advanced Micro Devices, Inc. Report
is has played perpetual catch-up to outsized rival
Intel
(INTC) - Get Intel Corporation Report
, the dominant player in the field. But that could be changing.
The launch of two new chip architectures could help AMD stand up to Intel in 2011 -- in the lucrative enterprise market, no less, the most attractive battleground for hardware manufacturers in the next several years. At the same time, the company's ATI division has been gaining share of the graphics market -- new integrated graphics and processor technologies stand to give AMD chips an edge in the consumer PC market as well. To be sure, Intel's advantages in scale and technology pose long-term challenges to AMD's offerings, but good decisions by management have helped to narrow that gap.
In the last few years, AMD has opted to spin off its manufacturing operations, a move that freed up some balance sheet breathing room and decreased the firm's capital risks. The decision to acquire graphics chipmaker ATI five years ago was another important move that significantly diversifies AMD's income streams -- a crucial move given the fragmented nature of the microprocessor business. Expect continued incremental improvements in AMD.
For more stocks that made this week's cut, including
SunTrust Banks
(STI) - Get SunTrust Banks, Inc. Report
and
Cognizant Technology Solutions
(CTSH) - Get Cognizant Technology Solutions Corporation Class A Report
, check out
at Stockpickr.
-- Written by Jonas Elmerraji in Baltimore.
RELATED LINKS:
>>5 Dividend Stocks for Any Portfolio
>>David Tepper's Top 10 Tech Stocks
>>Must-See Charts: Citigroup, Apple, Petrobras
Follow Stockpickr on
and become a fan on
Facebook.
At the time of publication, author had no positions in stocks mentioned.
Jonas Elmerraji is the editor and portfolio manager of the Rhino Stock Report, a free investment advisory that returned 15% in 2008. He is a contributor to numerous financial outlets, including Forbes and Investopedia, and has been featured in Investor's Business Daily, in Consumer's Digest and on MSNBC.com.