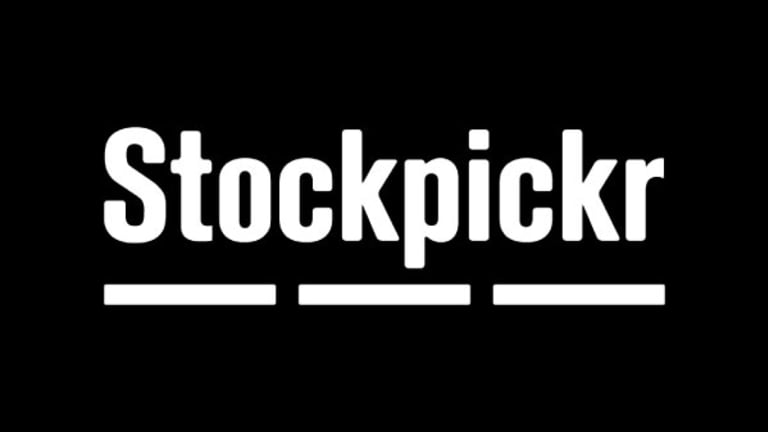 Rocket Stocks: J&J, CarMax, AmEx
These stocks with rising analyst expectations could move higher in coming days.
BALTIMORE (Stockpickr) -- A slight pullback in stocks last week gave pause to the market's broad-based rally, paring 2011's performance down to 2.04% -- a nonetheless favorable start to the first three weeks of the new year. Earnings season continues to be the driving force in sentiment for stocks as Wall Street digests the latest market data from reporting companies, but a few key news items next week could set the tone for stocks.
The first is President Obama's State of the Union address on Tuesday night, followed by a
Fed
rate decision on Wednesday afternoon and consumer confidence numbers on Friday. But impactful events aside, as usual we're turning to our weekly Rocket Stocks list to eke out maximum performance out of the market.
For the uninitiated, Rocket Stocks are our weekly list of companies with short-term gain catalysts and longer-term growth potential. In the last 88 weeks, our Rocket Stocks have beaten the S&P 500 by 77.96%.
Related:
3 Stocks That Could Rebound in 2011
This week, we'll continue our trend of looking at stocks with rising analyst expectations. On Wall Street, expectations can mean everything -- and stocks with rising expectations often benefit from increased buying pressures from institutions and retail investors alike. To find them, I run a quantitative screen that seeks out stocks with a combination of analyst upgrades and positive earnings surprises.
Here's a look at
.
With earnings slated to be released tomorrow, analysts are turning their attention to health care giant
Johnson & Johnson
(JNJ)
. While Johnson & Johnson's stock performance has been somewhat tepid in the last year, the stock's standing as a bellwether for the health care industry makes it a popular choice for investors seeking blue chip exposure and a sizable dividend payout.
In fact, the stock's underperformance could make for a strong buying opportunity amid improving fundamentals.
Johnson & Johnson owns a diverse portfolio of product offerings that encompass everything from over-the-counter consumer products to medical devices and pharmaceuticals. And the company holds the top-three spot in nearly every business it operates. That market domination has helped Johnson & Johnson build impressive coffers -- the company's balance sheet is net cash positive and has provided the company with the highest credit rating (and lowest cost of capital) in the industry.
While tomorrow's earnings call does provide some added event risk for investors who are considering buying Johnson & Johnson ahead of the call, the sheer size and analyst coverage of this stock means that any earnings surprise will likely be subdued. We're betting on shares to start the week.
Johnson & Johnson makes up 5.4% of
and 2.4% of
David Tepper's at Appaloosa Management
, as of the most recent reporting period. It's one of Buffett's
10 highest-yielding dividend stocks
, and one of
10 Dow stocks likely to boost dividends
in 2011.
American Express
(AXP)
has been a bit of a mixed bag in recent years, but investors shouldn't discount this stock's impressive attributes. Like most other credit card issuers, American Express took a significant financial hit back in 2008 as write-offs mounted and the risks of extending consumer credit outweighed the rewards. In response, the company switched gears, focusing once again on its best-in-breed charge card products, which benefit from significantly diminished lending risks and a more affluent customer base.
Because of AmEx's wealthier demographics, the company's payment network accounts for a massive dollar volume of worldwide transactions -- a factor that helps the company continue to collect outsized merchant fees as competitors like
Visa
(V)
and
MasterCard
(MA)
slash their own costs to retailers.
Of course, AmEx isn't ready to slash its credit card offerings completely. Instead of piling on additional balance sheet risks by issuing new cards to consumers, the company has taken on a big initiative of licensing its payment network to other traditional issuers (such as retail banks), a move that will help the company collect transaction fees while minimizing the risk AmEx is forced to take on. Watch out for the company's earnings after the bell tonight.
American Express shows up in the holdings of
Bill Miller's Legg Mason Capital
, at 2.1% of the total portfolio,
, at 2.9% of the total. According to Jake Lynch, it's one of the
10 cheapest Dow dividend stocks for 2011
, and it's one of TheStreet Ratings'
top-rated consumer finance stocks
.
2010 was a phenomenal year for shares of used car retailer
CarMax
(KMX)
. The company saw a 52% increase in valuation at the hands of increased car sales and consumers more willing to spend once again. Now that the company is seeing consecutive growth in same store sales once again, investors could see a repeat performance in 2011.
CarMax's unique superstore model has proven to be a phenomenal way to sell vehicles, spreading each store's overhead across multiple units and increasing overall efficiency. For consumers, who have traditionally been wary of used car dealers, buying from a mega-brand like CarMax offers guarantees that close the gap between the used and new car buying experience without the premium cost.
That's not to say that used cars are CarMax's sole focus -- new-car sales make up around 3% of revenues, while wholesale auto sales make up 17%. The former should become a larger chunk of the top line as new car sales perk up. Expect continued outperformance for CarMax in the coming quarters.
Major holders of CarMax include
Tom Gayner at Markel Gayner Asset Management
-- 8.8% of the total portfolio, it's his top holding as of the most recent period -- and
Chris Davis at Davis Selected Advisers
. According to Robert Holmes, it was one of the
10 best S&P 500 stocks of the decade
.
For more stocks that made this week's cut, including
Taiwan Semiconductor
(TSM)
and
CSX
(CSX)
, check out
at Stockpickr.
-- Written by Jonas Elmerraji in Baltimore.
RELATED LINKS:
>>David Tepper's Top Tech Stocks
>>Dividend Stocks: CVS, International Paper
>>2 Commodity Pair Trades for Absolute Returns
Follow Stockpickr on
and become a fan on
Facebook.
At the time of publication, author had no positions in stocks mentioned. Jonas Elmerraji, based out of Baltimore, is the editor and portfolio manager of the Rhino Stock Report, a free investment advisory that returned 15% in 2008. He is a contributor to numerous financial outlets, including
Forbes
and
Investopedia
, and has been featured in
Investor's Business Daily
, in
Consumer's Digest
and on
MSNBC.com.
Jonas Elmerraji is the editor and portfolio manager of the
Rhino Stock Report
, a free investment advisory that returned 15% in 2008. He is a contributor to numerous financial outlets, including
Forbes
and
Investopedia
, and has been featured in
Investor's Business Daily
, in
Consumer's Digest
and on
MSNBC.com
.