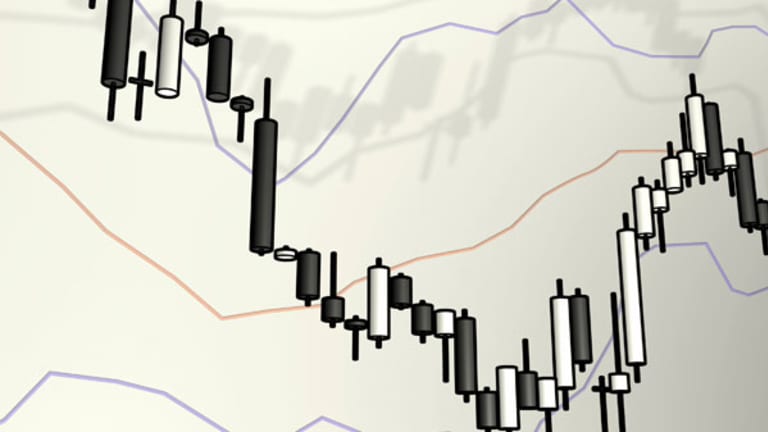 Rocket Stocks: GE, Capital One, Blackstone
These stocks with rising analyst expectations could surge higher in coming days.
BALTIMORE (Stockpickr) -- Volatility looks to be the name of the game once again this week, following the 25% increase in the CBOE S&P 500 Volatility Index -- better known as the VIX -- on Friday. The index, which measures the implied volatility of the S&P 500, is the primary indicator of volatility for equity investors, and such a large uptick suggests that continued price swings could be ahead. The catalysts for those increased trading ranges are pretty obvious.
First up, we're smack dab in the middle of earnings season, that time each quarter when significant event risk surrounds hundreds of major firms' earnings calls. Although this earnings season has been fairly strong across the board, it's been clear lately that even stocks with decent earnings are getting sold off if they fail to meet Wall Street's lofty expectations. At the same time, strife in Egypt -- and throughout the region, for that matter -- is having a palpable effect on many markets.
Chief among them is commodities. Crude oil rallied hard on Friday as speculation loomed that protests in Egypt could disrupt supply coming through the Suez Canal. We'll need to wait to see exactly how the tumult abroad pans out -- and how it will impact the financial markets.
Related:
10 Small Stocks With Big Potential
Meanwhile, we'll attempt to outperform the market by turning to our weekly list of Rocket Stocks. For the uninitiated, Rocket Stocks are our weekly list of companies with short-term gain catalysts and longer-term growth potential. In the last 89 weeks, our Rocket Stocks have beaten the S&P 500 by 76.51%.
This week, we'll continue our trend of looking at stocks with rising analyst expectations. On Wall Street, expectations can mean everything -- and stocks with rising expectations often benefit from increased buying pressures from institutions and retail investors alike. To find them, I run a quantitative screen that seeks out stocks with a combination of analyst upgrades and positive earnings surprises.
Here's a look at
.
Even though
General Electric
(GE) - Get General Electric Company (GE) Report
may be the prototypical blue-chip stock, don't think that this $215 billion conglomerate doesn't move much. In the last 12 months, shares of GE have rallied more than 25%, the company's 2.8% dividend yield notwithstanding. That's an impressive bit of performance for GE -- and Wall Street analyst sentiment is pointing toward continued gains for this newly added Rocket play.
While GE's business interests are varied, the company competes aggressively to be the market leader regardless of the size of the industry -- a decision that's panned out well for industries such as clean tech, which started off small, but now have massive growth potential (particularly abroad). And GE's portfolio is far from haphazard. The company has done a good job of leveraging its scale to take advantage of cross-promotion and increased efficiency, making it one of the few firms where over-hyped buzzwords like "synergies" actually have palpable financial statement effects.
To be sure, GE isn't without some detractors. Chief among them is GE Capital, the firm's financial division, which has heavy exposure to consumer lending and mid-sized commercial loans -- two areas that have been under fire in years past. That said, the division's balance sheet is stabilizing, and is unlikely to produce too much of a drag on the overall company's earnings. As such, we're betting on GE for the week.
As of the most recent reporting period, GE comprises 1.6% of
Bill Miller's Legg Mason Capital Portfolio
and 0.3% of
. It is one of the
10 cheapest Dow dividend stocks for 2011
, according to Jake Lynch, as well as one of
10 Dow stocks likely to boost dividends
.
Of course, consumer lending exposure doesn't have to be a bad thing -- just look at
Capital One Financial
(COF) - Get Capital One Financial Corporation Report
, a firm that's emerged as one of the nation's biggest players in the credit card business. Now, with a burgeoning retail banking arm providing cheap capital, expect margins to expand for this company.
If you're a frequent TV viewer, it's hard to ignore Capital One's advertisements, which normally feature Vikings extolling the virtues of their credit card benefits. Cheesy though those placements may be, they've proven extremely effective at growing Capital One's brand equity, and ultimately its loan book. Securitization of those lending receivables was one of the reasons that this firm held up so well during the credit crunch. While other issuers were pummeled by defaults, Capital One had already sold off a material chunk of its riskiest assets. And now, as its business interests expand, the company is keeping that philosophy intact.
The decision to expand its banking division at bargain costs of the last few years is likely to be one of the more attractive moves Capital One has made -- but the full effects of those acquisitions likely won't be seen for a couple of years. That said, access to incredibly cheap capital in a rising-interest-rate environment is a best-case scenario for any credit card issuer. I think that we can expect Capital One's investors to benefit as a result.
Capital One comprises 2.6% of
John Paulson's portfolio at Paulson & Co.
, as of the most recent period, and 1.7% of
David Tepper's at Appaloosa Management
. It showed up on a recent list of
20 stocks with large insider selling
. With a B- buy rating, Capital One is one of TheStreet Ratings'
top-rated consumer finance stocks
.
Another firm that benefited from the bargain prices of the recession was
The Blackstone Group
(BX) - Get Blackstone Group Inc. Class A Report
, a private equity and alternative investment management firm with nearly $100 billion in assets under management.
Blackstone has significant exposure to the commercial real estate market right now, a position that many leading investment minds are thinking is due for a rebound soon. At the same time, Blackstone's positioning as one of the largest private equity firms in the world has given it access to considerably undervalued, illiquid assets at bargain prices. Because of its size, Blackstone is more capable than most of extracting value from those instruments.
With considerable speculation that we're heading toward a private equity rally, there's plenty of reason to watch this stock closely in the near to mid-term. Blackstone's multi-billion-dollar PE funds could get bid up considerably as retail and institutional investors clamor to gain exposure to the asset class. That said, longer-term investors will want to monitor the situation judiciously. With significantly less liquidity than publicly-traded stocks, getting caught on the wrong side of a bubble in private equity could be incredibly painful.
Blackstone was one of
Goldman's 10 best stock picks for 2011
, as well as one of
Keefe Bruyette & Woods' top asset manager stocks
.
For more stocks that made this week's cut, including
United Technologies
(UTX) - Get United Technologies Corporation Report
and
Shire
(SHPGY)
, check out
at Stockpickr.
-- Written by Jonas Elmerraji in Baltimore.
RELATED LINKS:
>>5 Stocks That Could Rebound in 2011
>>3 Dolls of the Dow Stocks for 2011
Follow Stockpickr on
and become a fan on
Facebook.
At the time of publication, author had no positions in stocks mentioned.
Jonas Elmerraji is the editor and portfolio manager of the Rhino Stock Report, a free investment advisory that returned 15% in 2008. He is a contributor to numerous financial outlets, including Forbes and Investopedia, and has been featured in Investor's Business Daily, in Consumer's Digest and on MSNBC.com.