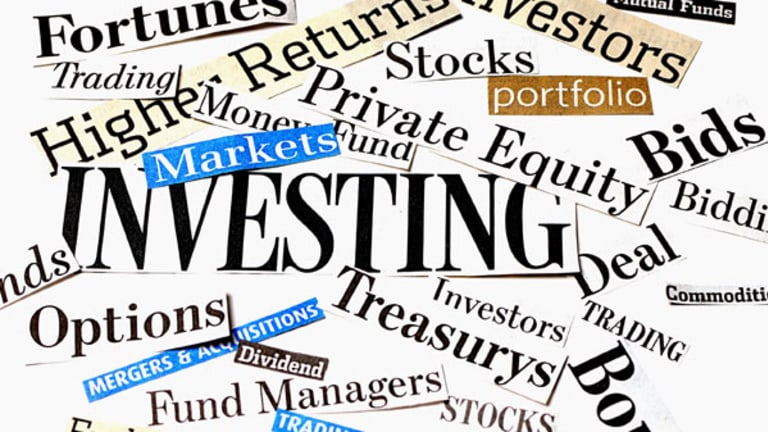 Rocket Stocks for the Week
These stocks, including Merck and Wal-Mart, could surge higher in the coming week.
BALTIMORE (Stockpickr) -- Anxiety over Greece's sovereign debt continues to weigh on investors coming into this week, a situation that threatens to hold the market down even further into February.
Year-to-date, the
index has stumbled 3.6%, giving 2010 anything but an auspicious start. As usual, that's kept us turning to our weekly list of Rocket Stocks to find gains in this market.
Rocket Stocks, our weekly list of beaten-down stocks with near-term growth catalysts and long-term growth potential, seek to separate the cream from the investing crop. And during earnings season, we typically turn to pre-earnings plays for a shot at speculative gains.
Playing the Rocket Stocks would have yielded solid performance last week -- an average 5.4% gain, vs. a 0.88% return from the S&P. That brings Rocket Stocks' 30-week outperformance over the broad-based index of 500 stocks to 48%.
Here's a look at
Finance Professor Scott Rothbort will be hanging out at Stockpickr Answers on Wednesday, Feb. 17, to answer your questions. Ask away!
Upscale apparel brand
Abercrombie & Fitch
(ANF) - Get Free Report
reports earnings Tuesday, giving early-to-the-party investors a shot at a post-earnings pop.
The company, which markets its aspirational brand to a younger demographic, has performed well in the past at the hands of thick margins and brand status. But the recession hasn't been kind to Abercrombie, as consumers have opted for less-expensive labels.
Now's a particularly interesting time for Abercrombie & Fitch. An increased susceptibility to consumer-spending headwinds has left shares of the company trading at a relative discount to their former valuations, and higher-priced merchandise means that upticks in sales volume translate to even bigger jumps in A&F's bottom line.
One of the biggest aces in the company's pocket right now is brand positioning. The company's biggest labels -- Abercrombie & Fitch and Hollister -- remain relevant to their core demographics, a feat that few newcomers can reproduce easily. An earnings surprise on Tuesday could be the catalyst for a big price jump this week.
Pharmaceutical giant
Merck
(MRK) - Get Free Report
stands to start seeing some impressive cost savings in 2010 following the acquisition of former rival Schering Plough in November 2009.
The company, estimates that cost savings will reach $3.5 billion annually by 2012. But short-term numbers should leave shareholders sitting in a stronger position this week regardless.
Merck announces earnings on Tuesday as well, and analysts are waiting with baited breath. Merck was already one of the biggest players in big pharma. Shares of the company have reflected that in the last 12 months, rallying 28.4%. Now, with the Schering acquisition, the company has a refreshed pipeline of drug offerings and a leaner financial structure.
That's not to say there aren't significant black clouds for Merck as well. Like many of its competitors, the company faces a number of key patent expirations in the next few years, and it's more than possible for Schering's integration to be expensive in the short term. All of that said, Merck's potential is too good to pass up right now -- especially during an earnings week.
2009 proved to be a mixed bag for
Wal-Mart Stores
(WMT) - Get Free Report
.
The world's biggest retailer saw a hiccup in its fundamentals last quarter as sales slowed and its hard-earned economic advantages dwindled. But Wal-Mart's market position should prove to be unstoppable given the current economic climate -- particularly against the stable of competitors that it faces in 2010.
Wal-Mart has perfected the business of volume. As the largest player in the retail market, Wal-Mart has substantial pricing control over its supply chain, something nearly unheard of in previous generations. And with sales-starved companies more than eager to win a lucrative Wal-Mart contract, management's ability to stay competitive shouldn't fade much this year.
Any sort of positive earnings surprise on Thursday should attract substantial institutional attention for the $202 billion company.
For more stocks that made this week's cut, including
Hasbro
(HAS) - Get Free Report
and
Ford
(F) - Get Free Report
, check out the
at Stockpickr.
-- Written by Jonas Elmerraji in Baltimore.
RELATED LINKS:
>>This Week's "Barron's" Roundup
>>2010's Biggest Week for Dividend Increases
>>Jim Cramer's Portfolios of the Week
Follow Stockpickr on
and become a fan on
Facebook.
Jonas Elmerraji is the editor and portfolio manager of the
Rhino Stock Report
, a free investment advisory that returned 15% in 2008. He is a contributor to numerous financial outlets, including
Forbes
and
Investopedia
, and has been featured in
Investor's Business Daily
, in
Consumer's Digest
and on
MSNBC.com
.