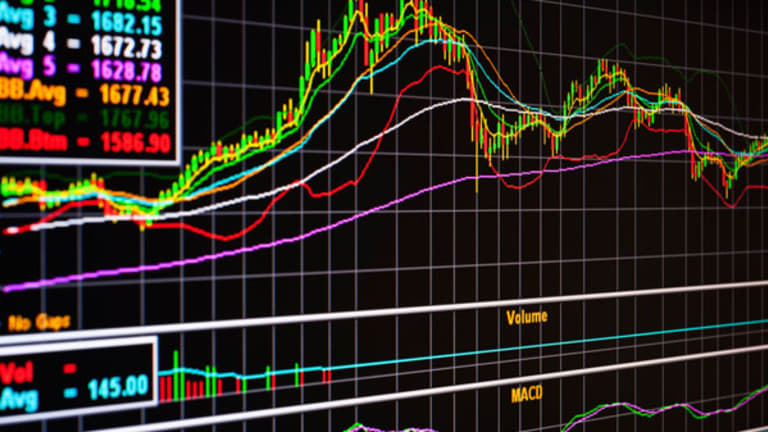 Rocket Stocks for the Week
Stocks such as CVS and American Express could move higher in coming days.
Stocks such as CVS and American Express could move higher in coming days.
By Jonas Elmerraji
NEW YORK (
) -- In the last two months, the
S&P 500
has jumped 14.3%, leaving investors scrambling to pick up whatever gains they could. But if you've been following our weekly
list, you've had the chance to do even better.
In fact, in the past seven weeks, our lists have returned 19.5%, a full 5.2-point outperformance.
five Rocket Stocks were no exception. The previous five trading sessions marked a week of meager gains for the S&P 500. But while the broad index of the 500 stocks gained just 0.27%, our biggest gainer,
American International Group
(AIG) - Get Report
, shot up 52.91% in
.
The beleaguered insurer made its moves on news that former, longtime CEO Hank Greenberg was rekindling his relationship with the company. Greenberg, who was one of the principal forces that formed AIG into the world's largest insurer, will take on a role advising current CEO Robert Benmosche.
At a distant second last week was
ITT Education
(ESI) - Get Report
, which gained 1.57%. As the company expands its reach on the education market, investors should be keen on continuing this stock's run.
Apple
(AAPL) - Get Report
and
Conagra Foods
(CAG) - Get Report
also made it into positive territory last week, gaining 0.49% and 0.3%, respectively.
Only one stock,
Vale
(VALE) - Get Report
, finished lower last week. Despite analyst upgrades and corporate expansion announcements, the company wasn't able to break a bearish streak and closed down 2.24%.
Now on to this week's
First up on this week's list is electronic payment company
VeriFone Holdings
(PAY)
. While the company, which is up 126% year-to-date, may not be a household name, chances are you used its credit-card readers the last time you were at the grocery store, or their card-acceptance software on your last online purchase.
VeriFone stands to gain on the flurry of upbeat economic news we've been seeing for the last month; as consumers step up their purchases, this company will profit. Investors will get a chance to see those profits firsthand on Tuesday when VeriFone reports earnings.
Shares of VeriFone were trading up 8 cents at $11.14 recently.
American Express
(AXP) - Get Report
has had a tough year. In the past 12 months, the financial services company has fallen 13.7%, largely on a higher-than-average default rate for Amex customers.
But there is a glimmer of hope for this iconic financial brand. The company managed to put the brakes to its losses in July, prompting a wave of increasing analyst sentiment that's already pushed shares up 21% in the last month. Couple that with American Express' penchant for beating expectations, and the stock could be set for another tear in the coming week.
American Express was losing 56 cents to $33.68 recently.
With the health care debate in Washington raging, many investors have been left wondering what will happen to their health care holdings. But shareholders of
CVS Caremark
(CVS) - Get Report
don't likely share that same concern. That's because this retail pharmacy doing great, reporting strong second-quarter performance at the beginning of the month.
Regardless of where you sit on the aisle, it's already become clear that while health insurers will likely bear the brunt of any forthcoming health care legislation, any changes that lead to more accessible prescription drugs should boost the margins of CVS and other retail pharmacies.
Shares of CVS were up 41 cents at $37.18 recently.
For more stocks that made this week's cut, including
Comcast
(CMCSA) - Get Report
and
Zale
(ZLC)
, check out the
portfolio at Stockpickr.
-- Written by Jonas Elmerraji in Baltimore.
Stockpickr is a wholly owned subsidiary of TheStreet.com.
At the time of publication, author had no positions in any stocks mentioned.
Jonas Elmerraji, based out of Baltimore, is the editor and portfolio manager of the Rhino Stock Report, a free investment advisory that returned 15% in 2008. He is a contributor to numerous financial outlets, including
Forbes
and
Investopedia
, and has been featured in
Investor's Business Daily
, in
Consumer's Digest
and on
MSNBC.com.