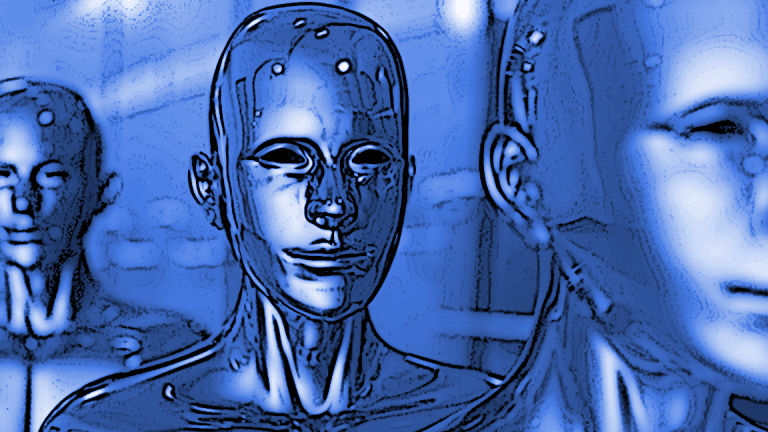 Are Robo-Advisors And ETFs a Match Made in Heaven?
Seamlessly blending robo technology and exchange-traded funds seems like a no-brainer, experts say. But watch out for a curveball or two
With exchange-traded fund assets up to $3 trillion in 2017 -- up from $800 million in 2010 -- one might think that ETFs have hit critical mass.
If so, one would be wrong, and automation, via the robotics-based investment advisor, is a big reason why.
According to a recent report from PwC, most survey participants "expect that ETF growth will continue over the next five years, with more than 41% predicting that global ETF AUM will reach at least US$7 trillion by 2021."
"Many expect that robo-advisors and ETF strategists -- e.g. an investment advisor that constructs portfolios of ETFs -- are likely to accelerate the penetration of ETFs into portfolios of individual investors," the PwC study also notes.
The blend of robotics-based advisory services and ETFs seems to be clicking nicely with the investing public, for multiple reasons.
"Robo-advisors typically use ETFs to create a group of diversified, risk-adjusted portfolios for their clients," notes Scott Schneider, president of Zacks Advantage in Chicago. "The benefits of ETFs are that they allow for broad-based investment exposure to a 'basket' of stocks or bonds in a particular sector or asset class minimizing the risk associated with single stock portfolio design."
Another big advantage of the robo-advisor ETF portfolio design is the low cost associated with using and managing an investment portfolio created exclusively with ETFs, Schneider says. "These cost savings are often passed onto to robo advisor investors through highly competitive lowered management fees," he states.
There are some risks for regular investors looking to go the robo-ETF route.
"The cons of investing with ETFs is the over-abundance of wide-ranging ETF products without a high level of industry regulation," Schneider adds. "Like any investment product or stock, investors must take the time to properly research each ETF, what they have to offer, how they are invested and the liquidity and the long-term viability of ETF itself."
Investors should also pay close attention to how robo-ETFs are structured.
"Robo advisors use ETFs that track indexes of U.S. stocks, foreign stocks, emerging market stocks, dividend stocks, real estate investment trusts (REITs), fixed income/bonds and commodities," states Mike Kovacevic, founder of Finstead.com, an investment research firm. "They typically go for the lowest cost ETF and don't necessarily pay attention to parameters such as tax efficiency of individual ETFs. Popular choices often include Vanguard and Schwab ETFs, and occasionally Blackrock/iShares."
"All ETFs that robo-advisor use are broad-based, and they cost the least amount of money," he adds.
Kovacevic also notes that robo ETFs are selected based on category, segment, cost, and breadth of coverage. "But they're not selected for tax efficiency, liquidity, and bid/ask spread, and investors should understand that," he says.
Potential robo-advisor investors should be aware that while all robo-advisors use similar technologies, they all are not the same, Schneider says.
"Each robo-advisor has their own investment management style and strategy when creating their unique group of risk-adjusted investment portfolios," he notes. For example, at Zacks Advantage, Schneider says his firm takes a pro-active, performance-driven approach. "We actively manage our investment allocations and portfolio selections on an on-going basis, which is a unique approach as compared to many of the 'set-it-and-forget' approaches in the robo-advisor space," he says.
The more transparent an investor is with his or her investment goals upfront with a robo-advisor, the likelier the ETF experience will be a positive one.
"An investor's money is allocated among robo ETFs depending on his or her investing strategy, as determined by the answers he or she provides upon opening the account, Kovacevic says.
Wealthfront, for example, assesses investor risk on the scale 1 to 10, and allocates invested funds based on the risk level.
"If a client indicates she is most concerned about principal protection and income generation, her allocation of fixed income and dividend stocks will be much higher than if she expressed growth as her priority," Kovacevic says.

"Ultimately, the pros and cons are about risk and reward," he adds. "The more risk investors take, the higher the potential reward."
More of What's Trending on TheStreet: