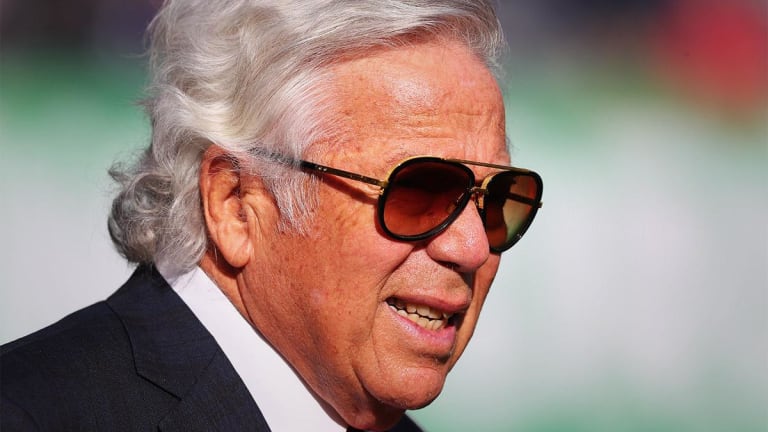 Patriots Owner Robert Kraft Denies Allegation He Solicited Prostitutes
Robert Kraft, 77, is the the owner of the New England Patriots and CEO of the Kraft Group.
Robert Kraft, 77, is the the owner of the New England Patriots and CEO of the Kraft Group.
The New England Patriots may still be celebrating their Super Bowl win, but owner Robert Kraft doesn't have much reason to smile after a warrant for his arrest was issued for soliciting prostitution in Jupiter, Florida. 
Kraft has denied the allegation through a spokesman saying, "We categorically deny that Mr. Kraft engaged in any illegal activity. Because it is a judicial matter, we will not be commenting further."
The 77-year-old CEO of the Kraft Group, a group of privately held companies in professional sports, manufacturing, and real estate development, has been accused of soliciting a prostitute on at least two separate occasions about "a month ago," said celebrity gossip website TMZ.
The police department in Jupiter said it has obtained evidence from body cam video and surveillance that was conducted during an investigation that spanned nearly eight months. 
By late afternoon Saturday, news photographers could still be seen set up across the street from Kraft's home near Boston.
Multiple law enforcement agencies were reportedly involved in the investigation, including Homeland Security, the IRS, and the Jupiter PD.
The investigation centers on a woman accused of running a sex trafficking ring that operated out of local spas which touted themselves as massage parlors. 
The NFL released a statement Friday afternoon saying, "The NFL is aware of the ongoing law enforcement matter and will continue to monitor developments."
The story has been updated.