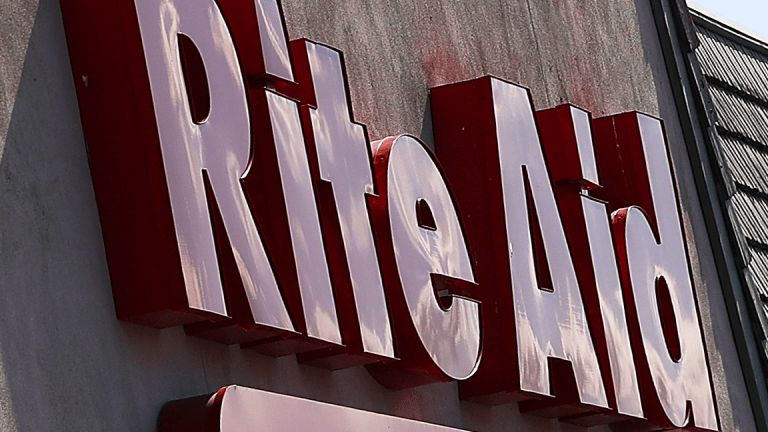 Rite Aid Climbs After Topping Earnings Expectations
Rite Aid rises after the pharmaceutical retailer beats Wall Street's third-quarter earnings expectations.
Rite Aid Corp. (RAD) - Get Report climbed 7.16% to 87 cents a share Thursday, Dec. 20, after the pharmaceutical retailer beat Wall Street's third-quarter earnings expectations. 
The Camp Hill, Pennsylvania-based company reported adjusted net income from continuing operations of $14.7 million, or 1 cent a share, which beat analysts' expectations tat called for a loss of 2 cents. Rite Aid reported year-earlier adjusted earnings of 1 cent.
Revenue totaled $5.5 billion, up from $5.4 billion a year ago. Retail same-store sales increased 1.6%, consisting of a 3.1% increase in pharmacy sales and 1.5% decrease in front-end sales.
Rite Aid narrowed its fiscal 2019 guidance. Total revenue is expected to be between $21.8 billion and $21.95 billion in fiscal 2019 with same-store sales expected to range from an increase of 0.5% to 1.0% from fiscal 2018. Adjusted net loss is expected to be between $33 million and $14 million and adjusted net loss per share is expected to be between a loss of 3 cents and 1 cent.
"Our third-quarter results reflect the progress we're making in growing our retail and pharmacy benefits management businesses," Rite Aid CEO John Standley said in a statement. "We realized our strongest prescription count performance in over two years and our best comparable store sales in over three years, driven by the success of our immunization business and other clinical pharmacy services that are benefiting our patients."