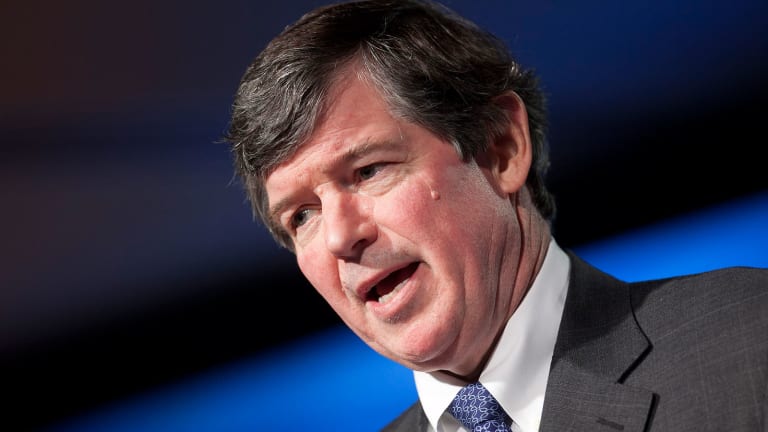 Publish date:
Rising Through The Ranks: Interview with PG&E CEO Tony Earley
Even during tough times in the energy industry, PG&E CEO Tony Earley said his military experience prepared him for the pressures of being a leader.
Even during tough times in the energy industry, PG&E CEO Tony Earley said his military experience prepared him for the pressures of being a leader.
Serving aboard a nuclear submarine during the Cold War, Tony Earley learned to keep a cool head whether his U.S. Navy vessel was monitoring a Soviet torpedo exercise or simply trailing one of the superpower's underwater craft.
Knowing how to stay focused and "keep things in perspective" is a skill that still stands him in good stead 40 years later, as the head of San Francisco-based utility company PG&E (PCG) - Get PG&E Corporation Report . Since he was named chairman, CEO and president in September 2011, the stock price has surged 43%, from $40.58 to its current price of $58.07. It gained almost 10% in the past year.
PG&E's performance, which includes a 10% gain in the past year, reflects the outperformance of companies led by former military personnel compared with markets as a whole, a trend identified in an analysis of corporate data by BoardEx, a subsidiary of TheStreet that monitors corporate relationships. In the Rising Through the Ranks series, executives and outside experts have attributed the edge to skills such as teamwork, communication and strategizing taught in the military.
The military "gives you the ability to deal with complex and challenging situations in a very productive way," Earley, 66, said in a telephone interview. "Hardly a week goes by where I don't use some of the skills and experiences that I learned in the Navy to help me in my business career."
Earley qualified as a chief engineering officer and served five years of active duty after completing the Navy Reserve Officer Training Corps (ROTC) program at the University of Notre Dame in 1971. The pressure he endured in the military helped him put the stresses of his post-Navy career in perspective, he said, recalling nuclear plant issues at a previous employer and navigating a widespread blackout in the northeastern U.S. in 2003.
"It's relatively easy to teach technical skills, he said. "But leadership skills take time and experience."
After taking the top job at PG&E, Earley grappled with the aftermath of the San Bruno, Calif., gas explosion in 2010, which killed eight people and injured nearly five dozen more while destroying about 100 homes. The company paid a $300 million fine levied by the California Public Utilities Commission in August, refunded $400 million to gas customers and agreed to pay $850 million for gas-system safety improvements. It also settled more than $500 million in claims involving victims of the disaster and their relatives.
A focus on safety was among the attributes of his military training, Earley said, along with leadership principles including planning and supply-chain management. The U.S. armed forces spend a huge amount of time not only on personnel safety but public safety, he added, and that's reflected in the mindsets that troops and officers bring to corporate leadership roles.
"They don't cut corners, they follow procedures," he said. 
Leaders should prioritize setting the conditions for their employees to be successful and then get out of the workers' way and let them use their skills for maximum benefit, he added.
In the Navy, Earley learned the concept of "servant leadership," meaning leaders actually work for their employees. While that's at odds with the "command and control" style the public typically associates with the military, the more rigid roles are used mostly in emergency situations, he said.
As a young officer, Earley realized he didn't know how to do some jobs himself, such as packing a valve or repairing a pump, so he focused instead on making sure his crew had the right resources to do them.
"My job is to make sure my employees are successful," he added. "Their job is not to make me look good."
In his current role, Earley has adapted several military procedures, including a planning tool where employees figure out what they want to accomplish, what the associated risks are and how to manage them.
"It's a good way to get everyone aligned on what the objective is for the day," Earley said.
Another technique is using a "patrol report" or "after action reviews," which are essentially self-assessments of each project's successes and failures.
"For any major operation, any major project we have, we take a very self-critical view of what was planned to happen, what actually happened, and then, 'Why do we have differences?'" Earley said. "The theory is, unless we really have this very self-critical view, it's hard to get better."