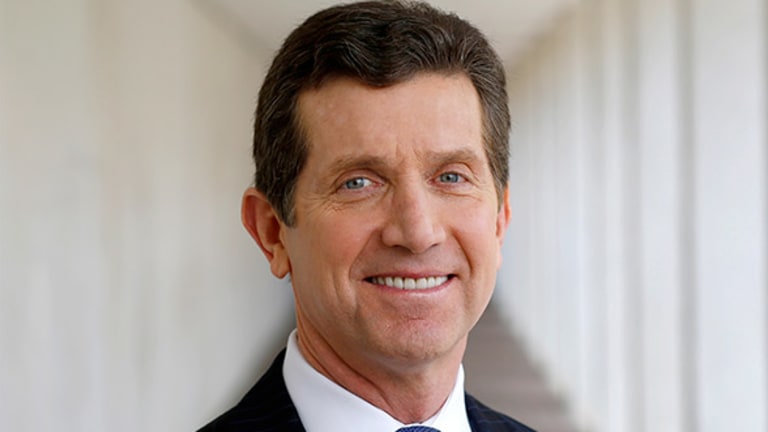 Rising Through the Ranks: Interview with Johnson & Johnson CEO Alex Gorsky
Influenced by his father's service in the Korean War, Alex Gorsky said that he had dreamed of attending the U.S. Military Academy at West Point since he was a boy.
Influenced by his father's service in the Korean War and close military friends, Alex Gorsky, 55, who graduated from West Point in 1982, said he had dreamed of attending the prestigious military academy since sixth grade.
While there he went to Army Ranger School and earned the Ranger Tab. Army Rangers are an elite military formation and the "Army's premier direct-action raid force," according to the Army website.
He said that Ranger School was one of the most challenging experiences he ever had in his life.
"No matter how high the wall, how wide, how deep the water, whatever it was, you would figure out a way to make it through successfully," Gorsky said during an interview for TheStreet's Rising Through the Ranks series.
"Always trying to see the glass as being half full and persevering through a lot of challenges to get to your ultimate goal is certainly something I learned in Ranger School."
He went on to serve six years in the military, ending his career with the rank of captain.
One important military strategy that Gorsky says he uses at J&J is making sure that people feel they are part of a mission that is greater than themselves.
"In the military that 'cause' really motivated people far beyond the day-to-day tasks that they do on their jobs," Gorsky said. "When they know that, ultimately, they are helping people live longer, healthier, happier lives, they feel pretty special and even that much more motivated."
Johnson and Johnson (JNJ)  has a mission statement, created over 70 years ago, before the company went public, by the son of J&J's founder and chairman at the time, Robert W. Johnson. "Our Credo," states the health care company's responsibility to serve.
"When we get 'Our Credo' right, we do well across all areas of our business," Gorsky said.
The first line of "Our Credo" reads, "We believe our first responsibility is to the doctors, nurses and patients, to the mothers and fathers and all others who use our products and services."
The second responsibility in "Our Credo" is to the J&J employees, a third is to the their local and world communities and lastly to their stockholders.
Since becoming the CEO and chairman of J&J in 2012, the stock has increased by 62% from $66.21 in April of 2012 to the current stock price of $107.28, while jumping 6% from last year's stock price of $101.06.
Gorsky attributes his success since becoming CEO to the J&J employees, a focus on innovation, and executing the business with a high level of efficiency and effectiveness. But he also utilizes a military concept of creating a well-executed and detailed plan.