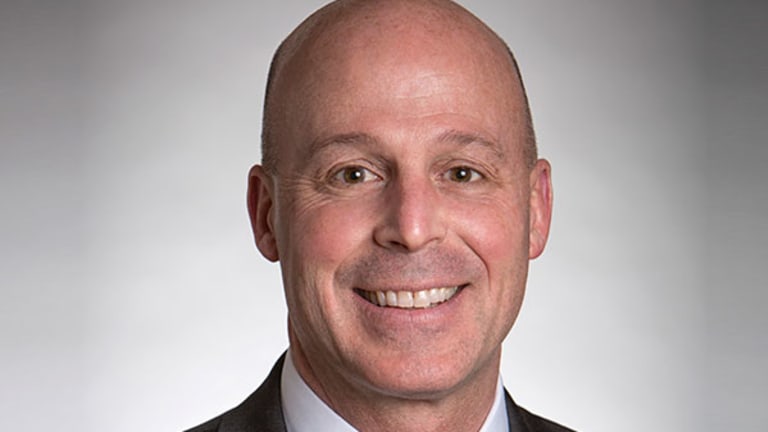 Among the most valuable lessons Mark Alles learned in the U.S. Marine Corps was saluting. Not so much the hand gesture itself, but the reasons for it and the mutual respect it signifies.
Junior personnel salute those with higher rank, of course, but the senior officer is expected to return the gesture, Alles explained.
"If he or she doesn't do that and greet the person that's more junior, that tradition is violated," he said. "There's almost nothing worse in the military than not returning a salute."
While the salute isn't generally used outside the military, showing respect up and down the chain of command is vital to engaging employees and building a successful enterprise, said Alles, 56, who became CEO of pharmaceutical-maker Celgene (CELG) - Get Celgene Corporation Report  in March. The Summit, N.J.-based company specializes in drugs for cancer and severe, immune, inflammatory diseases, according to its website.
Celgene's performance, which includes a 47% gain over the past two years that outpaced both the S&P 500 and the S&P Health Index, reflects the competitive edge of companies led by former military personnel compared with broader markets, a trend identified in an analysis of corporate data by BoardEx, a subsidiary of TheStreet that monitors corporate relationships.
In the Rising Through the Ranks series, executives and outside experts have attributed the advantage to skills such as teamwork, communication and strategizing taught in the military.
"You must have great respect for everyone who you work for and with," Alles said. "In organizations, if you don't have a culture of mutual respect up and down the organization and across the organization, you're going to find out very soon that the organization doesn't have a strong viable culture."
Alles served five years of active duty with the Marines, attaining the rank of captain, before entering the reserves. A graduate of Lock Haven University in Pennsylvania, he has nearly 30 years of experience in the pharmaceutical industry, starting as a sales representative and previously serving as president and chief operating officer of Celgene.
That enables him to lead by example, he said in an interview. "In 30 years I've done basically every job in the industry; in fact, in the military, that's how people get promoted." he said. 
From rappelling out of a helicopter on a rope or swimming for miles in the open ocean, his experiences in Marines taught him how to handle risky, stressful situations, he said.
"You're not afraid to make decisions," he said. "Leadership by example helps people understand that you're willing to take the risk to generate the reward."
In fact, the decision that Alles and a small team of Celgene leaders including former CEO John Jackson and current executive chairman Robert Hugin made more than a decade ago -- to build Celgene into a global company -- is paying dividends now.
In many respects, the team was "projecting a company -- like we would have projected our units in the Marine Corps -- into the global market that we sought to serve," Alles said. 
At the time, in 2005, Celgene was a smaller U.S.-focused organization with only about 400 employees. Now, it operates in 70 markets and has 7,000 employees, along with a market valuation of $78 billion.
"Someone in every enterprise has to be responsible for making those risky decisions that have, hopefully, more upside and better results than downside and tragic consequences," he said. "If we weren't successful, Celgene today would not be the company it is and I certainly wouldn't be the CEO of Celgene. I probably would be at a different company because that strategy would have failed."
Another lesson Alles learned in the military is that "human beings are always capable of accomplishing more than what they believe in or what they think is possible."
He said there were times in the Marines when he worked for days with no sleep or was so physically stressed he thought he couldn't move, but somehow did. He thinks the same drive can translate to business.
"Setting realistic, but very, very ambitious goals demonstrates to organizations time and again that they can do more than they think they can," he said. "People can accomplish much more than what they realize."