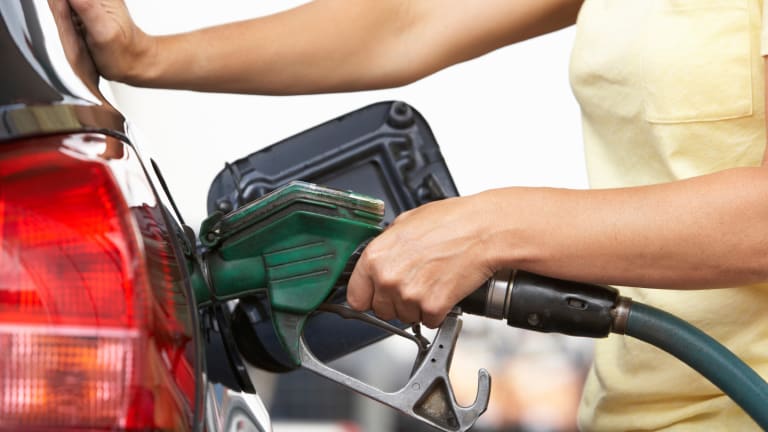 Rising Gas Prices Unlikely to Hurt Retailers This Summer
Gasoline prices are heading up, but they likely won't reach the tipping point that keeps customers away as they have during past surges, experts have told TheStreet.
Breathe a sigh of relief, retailers.
Gasoline prices have risen 6 cents a gallon in the last week, but they likely won't reach the tipping point that keeps customers away as they have during past surges, experts have told TheStreet.
"It depends on how far it rises," retail consultant Michael J. Berne told TheStreet on Wednesday, May 14. "Four dollars per gallon is considered a key threshold." 
On Monday, the national average for gas is $2.875 a gallon, according to Patrick DeHaan, head of petroleum analysis at the GasBuddy, a tech company that tracks gas prices nationwide. They could go higher, DeHaan said. It they rise to a $3-a-gallon, of which he gives a 65% probability, it may curb an extra trip to McDonald's Corp. (MCD) or to a Loews Corp. (L) movie-house to see the 3-D version of Black Panther.
Gas prices began rising steadily starting in January 2017, following an Organization of Petroleum Exporting Countries' announcement that it would cut oil production. Since President Donald Trump pulled out of the international nuclear deal with Iran, formally known as the Joint Comprehensive Plan of Action, last week, gas prices have been rising in reaction. Trump's action threatens Iran's oil exports, which constricts an oil market drained by robust demand and OPEC's planned production cuts. DeHaan estimated that the U.S. action has caused gas prices for Americans to go up a few cents per gallon. 
GasBuddy, which operates websites and apps to find the most current prices across the country, polled 135,000 gas stations to come up with its latest average price. On Monday, California had the highest gas prices, at $3.68, a gallon, whereas Mississippi had the lowest at $2.56.
Yet, DeHaan predicted Americans will still take vacations this summer that involve either driving or flying or both. The gas price hikes are manageable also, he added, because the economy is strong and the unemployment rate is low. 
DeHaan agreed with Berke that it's the $4-a-gallon price, which happened in 2008, that keeps Americans home.
Berke believes that gas price rises have the potential to boost online retail. "Consumers might buy even more online, forcing the retailer to absorb more of the last-mile costs, cutting further into their profit margins and, perhaps leading to additional increases in delivery and membership fee."
DeHaan added that GasBuddy predicted in January 2018 that the average American family will spend $1,898 for gas this year. With the recent rise in prices, he estimates the bill would go up between $35 and $85 more annually. In 2017, GasBuddy set the per family cost at $1,765.
Driving and the expenses that come with it are part necessity and part discretionary, said Brian Schaitkin, a senior economist at the Conference Board. He said if gas prices go high enough to affect consumer budgets, the first things to be eliminated are consumer durables like cars, electronics, some services, luxury goods and vacations.
For now, it appears, Americans and U.S. retailers are in the sweet spot with gas prices.