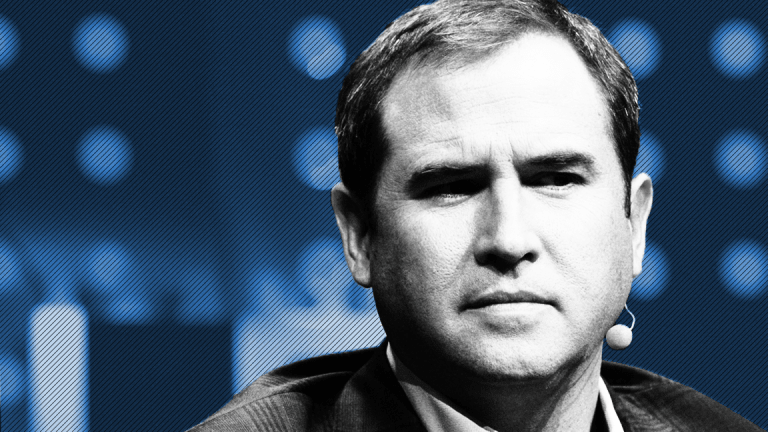 Ripple CEO: Bitcoin Is Controlled by China
Ripple CEO Brad Garlinghouse took to the stage at the Stifel Financial 2018 Cross Sector Insight Conference to talk cryptos.
TheStreet's Live at the 2018 Stifel Cross Sector Insight Conference.
Ripple's CEO Brad Garlinghouse took center stage in front of a packed house at the InterContinental Boston. He was interviewed by Lee Simpson, Stifel Tech Analyst.
Here's what Garlinghouse had to say:
Garlinghouse: "Blockchain Will Not Disrupt Banks"
"There's a lot of blockchain craziness, but there are three indicators of market winners." He explained:
Product Market Fit
Customer Traction
Regulatory Engagement"
"Blockchain will not disrupt banks..." He added "it will play an important role in the way our system works. It's a short-sighted view..."
Bitcoin is Not the Panacea We Thought it Would be
Garlinghouse told the crowd: "Bitcoin is not the panacea we thought it would be.."
He spoke about Ripple's XRP product.  He said, "This is how liquidity will be managed in the future." He focused on emerging markets.
XRP was described as "the best digital asset for settlement."  He said, "Bitcoin today takes 45 minutes to settle a transaction."  Whereas XRP could take 4 seconds to settle, claims Garlinghouse.
"Banks will use what is efficient and cheaper.  And if you deliver a better product at a better price... they will use it."  
Ripple CEO Explains Why There Is no 'Bit" or "Coin" in Ripple's Name
Garlinghouse told the crowd a personal story. He said, "About two and a half years ago, one of the biggest banks in Australia stopped by the office." The CEO of that bank said to Garlinghouse, "The smartest thing you've done is not have 'bit' or 'coin' in your name. I'll take it!"
Garlinghouse: "Bitcoin Is Controlled by China"
The Ripple CEO told the crowd, "A number of prominent people, even Steve Wozniak, has said that he sees a world where Bitcoin is the primary currency. I think that's absurd. I don't think that any major economy will allow that to happen. By the way, it doesn't make sense."
He continued by saying, "I'll tell you another story that is underreported, but worth paying attention to.  Bitcoin is really controlled by China. There are four miners in China that control over 50% of Bitcoin"
"How do we know that China won't intervene?  How many countries want to use a Chinese-controlled currency? It's just not going to happen."
Garlinghouse: "I Own Bitcoin"
"I own bitcoin," said Garlinghouse. "Many people consider it as digital gold. I acknowledge, I'm long crypto. I'd advise folks to only invest in crypto only what you're willing to lose. It's early to tell how it is going to play out. I think it's a pretty good investing strategy."
Garlinghouse paused for a moment, then added "I'm not an investing advisor - ignore everything I just said!" 
The crowd erupted in laughter.
What is Ripple's End Game?
When asked, "What is Ripple's end game" Garlinghouse said "I don't think about the digital asset market. I think about the customer experience. There are millions unbanked or underbanked."
He continued to say, "When I think about the transformation, it is fundamentally changing the way millions participate in banking. We can fundamentally change the way this works, to bring an entire population up a step in the system."
The crowd began to thin out after nearly an hour-long session at the 2018 Stifel Cross Sector Insight Conference.
Garlinghouse closed the conversation by saying, "We're at mile 1 in a 26 mile marathon"
The crowd erupted in applause.
Headline correction to reflect comments by Ripple's CEO