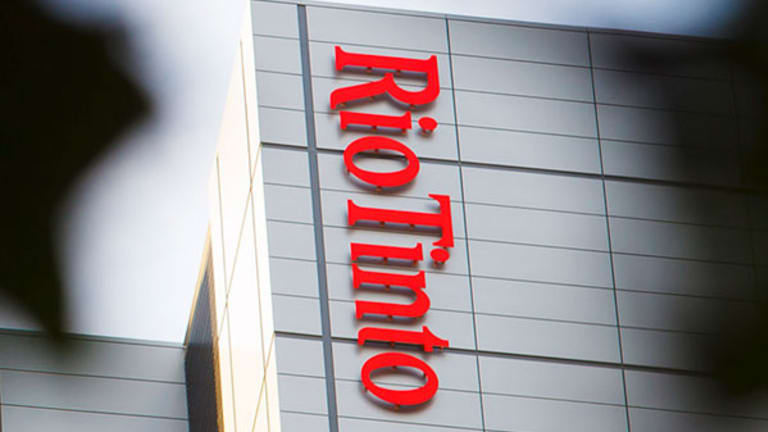 Rio Shares Slip After it Gets New Bid For Australian Coal Business From Glencore
Rio Tinto shares fell modestly Monday despite rival Glencore outbidding Yancoal for the miner's Coal & Allied Industries unit in Australia.
Rio Tinto plc (RIO) - Get Rio Tinto plc Sponsored ADR Report shares fell modestly Monday despite rival Glencore (GLNCF)  outbidding Yancoal (YACAF)  for the miner's Coal & Allied Industries unit in Australia.
Rio Tinto acknowledged an approach from Glencore, the world's biggest commodity trader, in statement published Monday which values the unit at $2.55 billion and offers the seller a coal price linked royalty, making for a superior offer to that already put forward by Yancoal.
"Rio Tinto acknowledges that it has received a proposal from Glencore to acquire Rio Tinto's wholly-owned Australian subsidiary, Coal & Allied Industries Limited," the company said. "The Rio Tinto board and management will give the proposal appropriate consideration and respond in due course."
Rio and Yancoal had agreed the sale of Coal & Allied for $2.45 billion in January, although the terms of the deal meant that Rio was afforded a so-called 'go-shop' period where it could entertain other prospective bidders. Glencore's move now paves the way for a possible bidding war between the two suitors.
Rio stock slipped around 0.5% in early London trading taking the shares further off a two month high and to an intraday low of 3,222.0 pence while Glencore shares fell 0.4% to around 294.1 pence in the opening hour. The Stoxx Europe TMI Mining index was down by 0.96% during early trading, quoted at 595.03, marking its lowest level for June so far.
Under the terms of the two proposed deals, Yancoal would pay around $500 million of its bid price in $100 million installment payments, while Glencore would also make five matching installment payments but its cash-up front offer is also greater.
Glencore has also agreed to buy Mitsubishi (MSBHY) out of its minority stakes in two Coal & Allied mines, for a total of $920 million, if it is successful in its offer to Rio.
The miner plans to sell other coal assets as part of its effort to fund the transaction.